My Cousin is a Ghost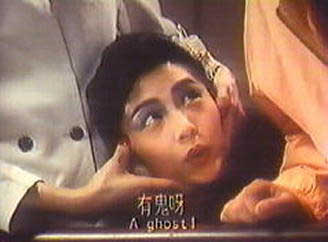 ---
In this Sammo Hung produced comedy, he allows a few of the very best HK character actors to take this film for a crazy ride and give the audience a few laughs along the way. It's all quite silly and it takes a while for it to start humming, but once it does it becomes an amusing tale of ghosts and family. This has a very Chinese feel to it – a large non-nuclear family all living together and loving each other – even if one of them is a ghost!
It begins with Richard Ng living in London and going to the park to catch pigeons for his restaurant by luring them into a basket while a dotty British couple keeps asking themselves "where did all the pigeons go?" Back at the restaurant Ng gets into a spat with his cousin Wu Ma,an illegal immigrant, and accidentally informs some immigration people to this fact. Ma is sent home to HK where he becomes a cook and his cousins – Kenny Bee, Mang Hoi and Tai Po – are all waiters. The film has a number of skit like routines such as Ma's old girlfriend having her wedding dinner at the restaurant and the cousins thinking he has poisoned her food and the lengths they go to not to serve the food.

One evening Ng shows up from London telling everyone he is back with loads of money and wants to start a business in HK. Needless to say the whole family welcomes him with very open arms! This whole male family lives together in a small house – oh – and there are two female ghosts living upstairs! Not that the men know this – the ghosts appear very human like and no one is the wiser. But the ghosts are getting lonely for male companionship and begin seducing two of the men – Ng and Mang Hoi. Ng falls immediately for his ghost (Wong Wan Si) and does a very funny window washing tango with her.

And to make things just a bit stranger, Kenny gets a call from his relatives in London telling him that Ng died a week ago! Ng's spirit hasn't realized this small fact yet – but if it does before the first day of the second week of his death, he will not be able to reincarnate. Wu Ma tells them this is what is called an "aggrieved ghost". So the boys get together and do everything they can to make sure he doesn't find out. No appetite? – due to the long trip, no reflection? – mirror, what mirror, no pulse? - bad diet.

It all starts getting completely wacky when the female ghosts reveal their true selves – by removing their heads among other things – but neither Ng nor Mang really seem to mind. The catch is the men have to be dead to accompany a ghost for eternity. For Ng that is no problem, but for Mang this is a bit of a hitch. Its all in good fun – with a few special effects thrown in for good measure.
My rating for this film: 6.0

---