Mr. Vampire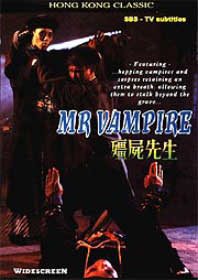 ---
Reviewed by YTSL
There are some Hong Kong movies that even this avowed Hong Kong film fan is afraid of approaching. "Bullet in the Head", "The Blade" and "Fist of Legend" intimidate on the basis of their dark and humorless reputations. On the other side of the coin, "Fantasy Mission Force", "Crazy Safari" and "The Blue Jean Monster" threaten to be too mindbogglingly and laughably inane as well as insane. The 1985 offering whose Chinese title is "Mr. Stiff Corpse" and English one is MR. VAMPIRE appeared to fall into the latter category and also be really too exotic and foreign to deal with.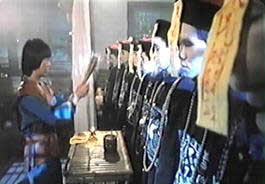 We are, after all, talking about a movie whose viewer is faced with the concept and sight of blue-faced, Ming Dynasty costumed, long-fanged, HOPPING stiff corpses -- not just one or two but at least ten of them (one of which is played, underneath lots of makeup, by the never disappointing Yuen Wah) -- here. You know you have an extraordinary picture when the cast of characters also encompasses an enchanting lovelorn ghost (who comes in the comely yet ethereal form of Pauline Wong), a one-eyebrow Taoist priest (Lam Ching Ying plays his part with dignity and gravity along with vexed capability), one mischievous apprentice who is in danger of turning into a hopping vampire himself (Ricky Hui is amusingly buffoonish) and a second high-spirited assistant who is gullibly ripe for seduction (charmingly portrayed by Chin Siu-Ho). Throw in such as high jinks over English tea (the afternoon meal; not just the drink) as well as in a coffin-filled room, detailed discussion of the most appropriate methods of placating the dead and subduing supernatural threats, stunt-filled action along with appropriately cartoonish (but not all that cheesy) special effects, and the viewer just has to accept that the best way to take in this movie is to go with the flow and just enjoy the weird ride!

To be sure, MR. VAMPIRE is definitely not for everyone. Someone I know (who admittedly has not seen too many Hong Kong movies) who was moved by the romantic segments of this movie went into shock over the quick mood change that came with one of the lover's head suddenly flying off in an attack on its person! From that one example alone, it should be starkly apparent to the reader of this review that this is most definitely one of those wild mixed-genre efforts that could only have come out of Hong Kong. I must admit to loving the comment found in Stefan Hammond and Mike Wilkins' ""Sex and Zen" & "A Bullet in the Head"" that: "There is a fine line between horror and humor, and MR. VAMPIRE does everything but jump rope with it" (1996:25-26)!

For the record: This Sammo Hung production is more slapstick comedy than serious horror and also successfully weaves in romantic, suspenseful thriller AND musical (The movie's "Ghost Bride" got nominated as Best Original Film Song and music makers did win a Hong Kong Film Award for Best Original Film Score!) elements. I am not sure that this Ricky Lau directed work could be labeled a primo "classic" but it did inspire and spawn many sequels and imitators, and has definitely aged better than quite a few of its contemporaries.

My rating for the film: 8.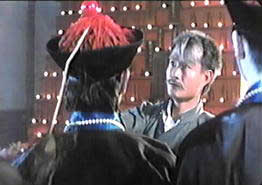 ---