Love Among the Triad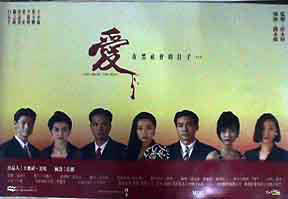 ---
Reviewed by YTSL
There undoubtedly are people (including fellow Hong Kong movie fans) who will be puzzled when I tell them that it is not Jackie Chan or Chow Yun Fat but the (promise of the fairly common) existence of this kind of production -- one which does not have either the look or feel of a big budgeter (even by Hong Kong movie standards); and that which performed respectably but not spectacularly at the Hong Kong Box Office (coming in 72nd out of 143 locally produced efforts) the year that it was released -- which has made me a Hong Kong moviephile. Despite this 1993 effort not getting into my -- and, I would wager, nobody else's -- Top Ten HK Movies List and not starring any of my ten favorite actors and actresses, it does contain so much more of what I do appreciate and hold dear, including: A strong ensemble cast (giving good performances); complex female -- not just male -- characters, whose interesting stories intertwine; and main and side plots and premises which make for the film being hard to put into only one category or genre (e.g., romance, action, drama).
LOVE AMONG THE TRIAD stars actors and actresses who are not quite megastars but still are respected enough to have appeared – albeit usually not in the limelight -- in highly thought of productions (e.g., Simon Yam in "Bullet in the Head" and "Naked Killer"; Rosamund Kwan in "Swordsman II" as well as "Once Upon a Time in China" I, II, III and V; Cecilia Yip in "Peace Hotel"; and Vincent Wan in "Portland Street Blues") or cult favorites (e.g., Pauline Wong in "Mr. Vampire" and "The Blue Jean Monster"; and Veronica Yip in "The Eagle Shooting Heroes"). Here, they are given their chance to shine, and quite a few, if not all, seize them with a vengeance.

I think particularly of those sequences in which the lovely Rosamund Kwan -- so often consigned to "flower vase" roles in support of leading men like Jet Li -- positively sizzles as her character telegraphs her intentions to Simon Yam's, recognizes who he loves more than her, and demonstrates that she loves him nevertheless. In the same movie, Cecilia Yip shows her singing ability (For some reason, I doubt that she was dubbed here) and dramatic mettle (especially in a moving scene, which is shared with Vincent Wan). Although Pauline Wong and Veronica Yip's roles are not as primary as that of the two other actresses, they (the former plays Kwan's character's business rival as well as hardly loving elder step-sister; the latter's character is the not unformidable sister of Yam's and the wife of Wan's) also do have their moments in the sun.

I absolutely agree with -- and therefore will repeat -- Barry Long's description of this movie as an "unusual combination of gangster film and woman's drama" and note that most of its "emphasis lies on the troubled love lives of the protagonists" (In "Hong Kong Babylon", 1997:258). Throw in a couple (at least) of musical numbers (whose lyrics I wish would have been translated into English!), a separate music videoish segment (in which scenes of triad action are interspersed with that from the main characters' domestic lives), a fairly fierce cat fight, a few love scenes and a plentiful scattering of sharp zingers of the kind that one is simultaneously shocked to get out of the mouths of society ladies yet -- my apologies in advance to those who think that it is going to sound sexist -- know that they could have only come out of women, and, by my reckoning, you've got a pretty interesting and entertaining film!

To put the (general) audience reception of and response to LOVE AMONG THE TRIAD into (greater) context, it is worth noting that 1993 also was when the celebrated likes of "C'est la vie, Mon Cherie", "City Hunter", "Fong Sai Yuk" (1 & 2), "Once Upon a Time in China III", "The Bride with White Hair" (1 & 2) and "The East is Red" were released. I must admit to suspecting that if this kind of dramatic ensemble piece was produced in a less competitive period, and with higher production values, it would have fared better. Still, even in a tough year, it actually did financially outperform such as "The Heroic Trio" (which Brian lists among his Top Ten HK Movies) along with its "Executioners" sequel, the "True Crimes" effort which won Carrie Ng a Best Actress Award ("Remains of the Woman") and a "Girls with Guns" offering that starred Moon Lee, Yukari Oshima, Cynthia Khan and Michiko Nishiwaki ("The Avenging Quartet"). As such, IMHO, its quality ought not to be underestimated.

My rating for the film: 9.

---