Misty Moon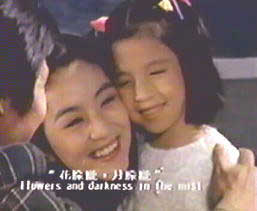 ---
For me there is a quaint pleasure in looking back at some of Brigitte Lin's early film work. Long before she became a huge HK film icon – and her films were full of baleful glares and swirling sleeves and mind-blowing imagery – she was a big star in her homeland of Taiwan – but in a very different type of film.
During the 1970's she performed in a large number of sudsy/weepy little dramas that have a little bit of comedy, some smaltzy music (which I must admit to having developed a weakness for), human drama and often a fair share of heartbreak. On some occasions all ends on a bleak tragic note, while at other times all the issues of love are resolved for a happy ever after ending. I think the audience for these films was likely lonely housewives and adolescent girls – who would sit in the dark theaters and cry their eyes out whenever Brigitte would have her heart broken yet once again.

Admittedly, I would never view these types of films if it weren't for the fact that Brigitte graces them. They feel very corny and outdated some twenty years after they were made – but Brigitte was just so stunningly beautiful back then that it tears at your heart. Her face just entrances you as it swerves between a myriad of expressions - from hesitant smiles to indignant glares to inconsolable grief.
Misty Moon has some nice moments – a bit of an edge to the characters – some nice natural dialogue – but regrettably a love story that doesn't exactly grab you by the heart. Brigitte is a kindergarten teacher and one-day she comes across the little girl who lives across the hall from her (Brigitte still lives with her family) in the stairwell of her apartment building. This kid is the evil seed – just a wretched child that needs a good thrashing – which is exactly what Brigitte does to her!

The child's father – Charlie Chin (also a big Taiwanese heartthrob in the 70's, but best known to HK film fans for his appearances in the first two Lucky Star films) – later tells Brigitte to mind her own business. He is a bit of a pathetic fellow – always saying things like "I'm worthless. Useless." – and gets drunk much of the time. His wife left him a few years back and he has seemingly not gotten over it. Still for some unexplainable reason Brigitte becomes attracted to him. It must be his saying things like "You can't keep a perfect pearl in a torn pocket", to which Brigitte tenderly replies "Let me sew that pocket". I'll have to remember that one – except I'm sure any girl I know would reply "Torn pocket? Perfect pearl? What the hell are you talking about – why don't you just take it to the tailor". Not Brigitte though - she understands this tortured soul perfectly.

It's all very . . . unconvincing and who really cares. Charlie is just such a wanker that who could believe that Brigitte would fall for him. And then the ex-wife shows up – and Brigitte wonders will Charlie still love her. Hopefully not, Brigitte!

This film is basically for the pleasure of viewing Brigitte only – watch her dance the twist, sing a lullaby, shed some tears and look so very lovely.
My rating for this film: 5.0

---