Full Moon in New York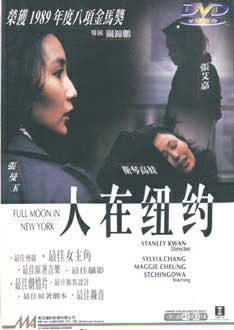 ---
Reviewed by YTSL
Early on in this 1990 Stanley Kwan film, Maggie Cheung does something with a high-heeled shoe that provides this multiple (Taiwanese) Golden Horse Awards winner -- including for Best Picture -- with at least one "only in Hong Kong movies" moment. At the same time, that act is one that I could definitely imagine an indignant feisty American female carrying out in real life. In this instance, and in many other often non-heavy-handed but nevertheless amazingly hard-hitting ways over the course of this fine dramatic work, certain transnational yet also culturally distinctive traits are shown to exist in our increasingly connected but still far from homogenized world.

At the center of FULL MOON IN NEW YORK are a trio of remarkable Chinese women (although I am unsure whether it is the film's main characters or the actresses who essay them who are the more interesting and amazing). Wang Hsiung Ping (Sylvia Chang) is a performance artist from Taiwan who finds herself auditioning to play horses as well as humans and being asked questions like "What makes a Chinese woman or Japanese woman think that she can play Lady MacBeth?" Lee Fung Tjiau (Maggie Cheung) works in the same Chinatown establishment -- a Hunan restaurant, run by Hong Kongers, which serves Peking Duck -- as her chef father but also owns apartments, stocks and other money-making assets. Zhao Hong (Siqin Gaowa) is a survivor of the Cultural Revolution -- thanks to her mother -- and the Mainland Chinese wife of a very American(ized) Chinese son (Richard Hsiung) of parents who themselves also are "yellow outside, white inside" Bananas personified.

Tony Rayns, the British movie critic who had a hand in subtitling this trilingual (English, Mandarin and Cantonese) film, has suggested that: "There's something fundamentally spurious about the basic concept (women from Hong Kong, Taiwan, and China meet in New York)" of FULL MOON IN NEW YORK (In Fredric Dannen and Barry Long's "Hong Kong Babylon", 1997:392-393). Perhaps it's my own experience that makes me think otherwise. Maybe it's due to the genius of the people, notably scriptwriters Zhong Acheng and Yau Tai On Ping, behind this rather -- but not exclusively -- female- as well as Sino-centric drama about the cultural clashes and confluences which occur where and when the paths of some individuals cross. In any case, this (re)viewer did find the occurrence of such a premise to be eminently plausible (particularly in one of the world's largest and most cosmopolitan cities).

This is not least when certain real life aspects of this production's star troika might seem more far-fetched to some people. More specifically, the odds surely would have been stacked higher against the following ending up in each other's company (than the characters they essay in FULL MOON IN NEW YORK): A Taiwan-born actress-singer-director-producer-screenwriter who spent her early teen years in New York (Sylvia Chang has an incredibly strong American accent in the film!); a former Miss Hong Kong who spent much of her childhood in England (Maggie Cheung is also now famously married to a French director); and someone who has been described as -- I REALLY am not making this up! -- Swiss-Mongolian-Chinese (The multi-ethnic Siqin Gaowa is (nevertheless) reputed to be one of Beijing's most popular actresses).

Still, for all of its being populated by people who from certain angles are hardly ordinary, much of what is depicted and focused upon in FULL MOON IN NEW YORK is domestic and recognizable in nature. Platonic yet loving same-gender friendships, familial relationships, (problematic, failed, continued, heterosexual and homosexual) romantic attempts and living arrangements, encounters between tenants and landlords (or a landlady, as is the case here) or waitress and customers. Surely we all have had them and therefore been in similar situations as the film's very human protagonists (or other characters; with the director of this effort being on the record as stating that the position of Josephine Koo's minor character is one with which he is all too familiar)?

As with his earlier "Love Unto Waste" and later "Hold You Tight", my feeling is that Stanley Kwan has successfully produced a "slice of life" portrait here that cuts through a lot of -- excuse my French! -- bullshit and provides much food for serious thought about matters that are political and socio-cultural even when personal(alized). It thus is very frustrating to have to report that different video versions of FULL MOON IN NEW YORK come with distinct language problems (i.e., some are unsubtitled; others have distractingly inaccurate English subtitles during the English dialogue portions of the film). For that reason alone, many people will want to give this minority movie a miss. Tolerant fans of intelligent dramas would do well to not do likewise though.
My rating for this film (with the annoying subtitles): 8.

---
DVD Information:
Distributed by Mei Ah
The transfer is not what it should be. At times the colors are off, its not very sharp and lines run down the screen occasionally. It's still quite watchable though.
Letterboxed
Subtitles: Chinese , English
9 Chapters
It includes it's own trailer plus Bride with White Hair 2 and Ghost Lantern.
The sub-titles are easy to read, but as YTSL points out above the fact that the English subs for the English dialogue is so far off at times is quite annoying and distracting.

---