Comrades, Almost a Love Story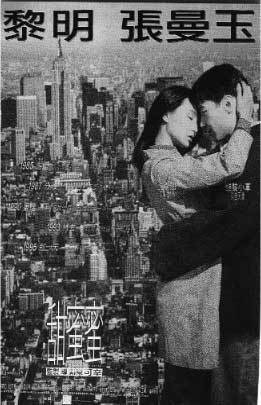 ---
Reviewed by YTSL
In 1997, this United Filmmakers Organization (UFO)-Golden Harvest co-production won Hong Kong Film Awards for Best Picture, Director (Peter Chan), Actress (Maggie Cheung), Supporting Actor (Eric Tsang), Screenplay (Ivy Ho), Cinematography (Jingle Ma), Art Direction, Costume & Make Up Design, and Original Film Score along with garnering nominations for Best Actor (Leon Lai) and Best New Performer (Kristie Yeung). That same year, it also was named as Best Picture and its female lead as Best Actress by Taiwan's cinematic academy equivalents. IMHO, this nostalgia-tinged romantic melodrama absolutely deserves the abundant industry acclaim and critical accolades it has received.
The mind thus boggles to think that the only way that Peter Chan managed to get this project green-lighted by the powers-that-be was to agree to commit to making a sequel to his economically successful "He's a Woman, She's a Man", AND shoot COMRADES, ALMOST A LOVE STORY at the same time as "Who's the Woman, Who's the Man?" (See Miles Wood's "Cine East" interview with Peter Chan, 1998:20). It is not much less shocking to read reports that this production's allocated budget was so small that Maggie Cheung's substantial -- by Hong Kong movie standards -- salary for this film ended up being partly paid from out of the director's pocket (This act says so much about Chan's commitment to the movie, and also his estimation of the actress).

One of the most amazing things about the movie makers of the so-called Eastern Hollywood though is that even with the significant commercial pressures, budget constraints and temporal limits imposed on them, so much -- and so much of it good -- can be produced. Indeed, when one beholds works like "Chungking Express" and COMRADES, ALMOST A LOVE STORY, one almost wonders whether the ideal condition for producing filmic gems is to make extra demands on recognized creative talents and thereby bring about "small" yet "deep" movies that are distillations of their genius. It must undoubtedly help that for this particular work, director Chan was able to call on the considerable talents of such as the Magster (who at that point had newly returned from a two year sabbatical during which she had done such as travel the world incognito) and Eric Tsang (a founding partner of UFO who has directing, producing and scriptwriting along with acting credits galore to his name). Still, he deserves praise for getting very effective performances out of a Cantopop "sky king" (Leon Lai), the man best known as Wong Kar Wai's usual cinematographer (Christopher Doyle) and a young film debut-maker (Kristie Yeung).
As it stands, COMRADES, ALMOST A LOVE STORY is an amazingly touching offering; one which, in the wrong hands, could have been really melodramatically overwrought and/or trite. We are, after all, talking about a film whose disarmingly simple main story is about a rather naive man (the initially unfamiliar-with-escalators-even Li Xiao-Jun is well played by Leon Lai) and a generally pragmatic woman (Maggie Cheung IS the enterprising Li Chiao) who come to know and appreciate each other -- as well as themselves -- in Hong Kong.

This duo's modest tale -- and the film -- is enriched as well as complicated by Li Xiao-Jun's having an aunt (Irene Tsu is charming in this small but not insignificant role) who is in love with William Holden (yes, the American star of "Love is a Many Splendoured Thing"), a hometown sweetheart (who comes in the agreeable form of Kristie Yeung) and a few itinerant friends (including a Thai prostitute and an Australian English teacher), along with Li Chiao getting involved at some point in the film with another man (Pao is portrayed by Eric Tsang, who manages to make a convincing case for how someone who looks like him could be a serious romantic competitor to a looker like Leon Lai). Such disparate cultural icons as Teresa Teng (the movie's Chinese title is derived from the name of one of her popular songs), the golden arches of MacDonalds and Mickey Mouse also have parts to play in this production which was shot on location in New York as well as Hong Kong (I am not sure which is a more surreal sight: Leon Lai's riding a bicycle on the streets of the Big Apple or Maggie Cheung's standing behind the counter of a Hong Kong MacDonalds outlet...).

Although COMRADES, ALMOST A LOVE STORY's story spans quite a bit of time (about ten years) as well as connects together what may otherwise seem like vastly disparate physical and cultural space, it truly is by no means a sprawling film. Rather, matters and things get personalized; and it is the sometimes whimsical, other times moving, always humanizing details which really "make" this movie. A Mickey Mouse tattoo, chicken feet, ATM machines, hoarded souvenirs from a meal at the Peninsula Hotel, and swim trunks worn as underwear: These are some of the items that will be seen to be capable of containing and evoking heartfelt feelings and memories after viewing this sweet offering with the excellent ending (and I include in my praise Leon Lai's rendition of the movie's theme song as the end credits roll!) that leaves the (re)viewer with -- in the words of one Hong Kong Film Critics Society member -- "the most profound aftertaste".
My rating for the film: 9.5

---