Flaming Brothers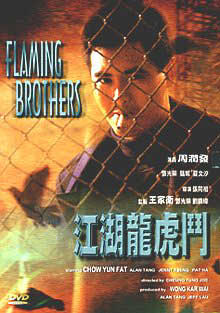 ---
This 1987 "Heroic Bloodshed" film followed on the heels of the success of A Better Tomorrow and it too delves into the world of the triads and ritualistic male bonding. In most ways it falls very short of A Better Tomorrow, but it has some interesting aspects to it.
The three main male actors all were major stars in their respective decades. Patrick Tse was a major heartthrob during the 1960s (and is the father of current heartthrob Nicholas Tse), Alan Tang was one of the top romantic stars of the 1970's (in particular in Taiwan where he teamed up a few times with Brigitte Lin) and of course Chow Yun Fat was the biggest male actor of the 1980s. All three are terrific actors and seeing them together is a treat.

A year before his directorial debut As Tears Go By, Wong Kar-wai penned this script for producer, Alan Tang. I can't say there is anything in the script that gives a hint of the promise of things to come from Wong – but that is not too surprising as directors tend to often dramatically change the substance and mood of scripts to their own liking. What is clear though is that Tang thought enough of it and of Wong to produce both As Tears Go By and Days of Being Wild.

In many of these male-bonding films, there is often much conjecture about the subtext of homosexuality within (much of it nonsense in my opinion). Though perhaps inadvertent, the English title "Flaming Brothers" almost seems to mock this. What was the Chinese title – "No, We're Just Good Friends"? In a number of instances in the film other characters make pointed references that unless the two friends – Tang and Chow – find girlfriends everyone will think they are lovers. Needless to say, they always take offense at this suggestion!

Outside of this though, the film is often flat and slow moving. Almost from the beginning you know exactly where the film is heading – but it takes a circuitous path getting there. There are a couple decent action sequences – but the film becomes bogged down in three love stories – the men's ones with the women – and of course the underlying one with each other.

Tang and Chow grow up together – both orphans – and depend completely on one another into their adult years. They open a ritzy nightclub in Macao, but almost immediately run into trouble in the form of big triad honcho Patrick Tse and his right hand man Norman Tsui. They want to sell drugs in the club and Tang being the righteous man he is tells them that "pimping, robbing, gun smuggling" is all fine and dandy – but no drugs. Tse doesn't take kindly to this rejection.

Tang goes to Thailand to complete an arms deal – and a good shoot out and a tuk-tuk chase occurs on the streets on Bangkok – and he falls in love with a lounge singer (Jenny Tseng). Back in Macao Chow comes across the little girl he knew as a child – all grown up into Pat Ha -and one look into her sweet honey dew eyes and he is ready to forsake the triad life and his life long friend. But the life pulls him back – as his friend, Alan, has to face Tse on his own – and Chow knows he has to be there too. The last twenty minutes of the film turns into one excellent guns a blazing blood bath.
My rating for this film: 6.0

---
DVD Information:
Distributed by Universe
The image quality is quite good - very clean
Letterboxed
Cantonese and Mandarin language tracks
Subtitles - : Chinese (Traditional), English, Chinese (Simplified), Japanese, Korean and French.
8 Chapters
Includes it's own trailer and the trailer for The Witch from Nepal, Hearty Response and The Fun, The Luck and the Tycoon.
Star files on Chow Yun-fat and Alan Tang.
---