Modern Romance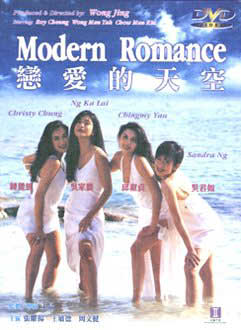 ---
Every now and then a piece of silly fluff is just what you are in the mood for. Something in which you don't have to use even an iota of brainpower to follow. You could be cooking, cleaning and playing Mahjongg and still follow it. This is that sort of film. It's as old as film itself – girl meets boy – – they fall in love and problems ensue. This film offers this scenario in nice bite size pieces. It is only ever so slightly amusing, but comes in the lovely wrappings of Chingmy Yau, Carrie Ng and Christy Chung. Along for the ride is Sandra Ng to add some crude and comic seasoning.

The film basically follows the love lives of these four career women. They all work in the same office and share their romances with one another and receive moral support from one another. In almost "Love - American Style" chapters, the film is broken down into four segments in which each of the women looks for and finds love.
First up to bat is Christy Chung – looking I must admit as smooth and lovely as a fresh moist slice of pumpkin pie. One feels like they could dive in and swim the 100 meter butterfly in her big brown doey eyes. Her character is incredibly superstitious - won't wear yellow, won't get into a cab with the wrong license plate numbers – and will only marry a man with "five elements" in his name, born in the year of the Ox and he has to be her twentieth boyfriend. Her nineteenth boyfriend tries to sabotage this by setting her up with Michael Chow – his patient who is both impotent and incontinent.

Carrie Ng is very much enjoying herself - romancing and bedding three different men. There is Roy Cheung, a cop, who she likes playing kinky cop games with, then a married man and finally her ex-husband, Natalis Chan, who has just gotten out of jail. She tries juggling them around, but eventually they all find out about one another and decide to play a game of Russian Roulette to decide who should woo Carrie.

Chomping on a cigar and hitting on all the ladies at work is the boss – but in this case the boss is a female, Sandra Ng – an avowed lesbian with not an inkling of an interest in the male sex. She and another fellow both attempt to court the same woman and both are fleeced out of money from her. The woman tells them to play the song "Love Affair of Swindler" for her and she will be right back. No such chance. They commiserate with one another, get drunk, and end up in bed together. Sandra is horrified when she wakes up to find a man in her bed. But you can guess where that story is going.

The final story concerns the very adorable Chingmy Yau – who lives by the creed "marriage is the grave of love". That is until she runs into the perfect man – Michael Wong. Don't bletch, please. He has money, he has looks and as Chingmy happily sighs to her friend Sandra "we did it six times last night". What more could a woman want? Well, fidelity perhaps – as Chingmy thinks he has cheated on her and she tries to "bobbitt" him with a pair of scissors.

That would be about it. Not a lot to hang your hat on – but you don't always need a hat. It is an easy way to pass some time while you are contemplating the problems of the world.

My rating for this film: 6.0

---
DVD Information:
Distributed by Mei Ah
The transfer is pretty good - a few signs of wear - but very clean and bright for the most part.
Letterboxed
Cantonese and Mandarin language tracks
Burnt on Chinese and English subs - but usually easy to read - a few instances of blending into the white background.
9 Chapters
Trailers for I Will Wait for You (one of the worst trailers I have come across) and for this film.

---