Young and Dangerous 5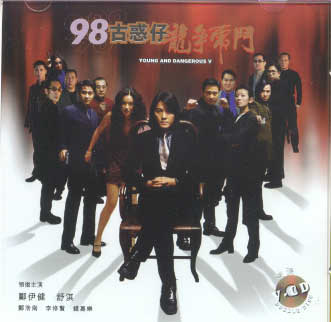 ---
Reviewed by YTSL
Jordan Chan, Gigi Lai, Simon Yam, Francis Ng, Chingmy Yau, Roy Cheung, Spencer Lam, Karen Mok, Michelle Reis. These are some of the acting talent who graced previous episodes of the series of movies that arguably made director (not just cinematographer) Andrew Lau and producer Manfred Wong into the major players in the Hong Kong movie industry that they now are. Understandably re most of them (but less so for others), the characters which they brought to life are missing from the 1998 addition to the "Young and Dangerous" saga. With additional personalities -- I think specifically of those played by Anthony Wong and Sandra Ng but also Vincent Wan -- who contributed to my interest in the stories of the Hung Hing society either being relegated to or remaining on the sidelines for this installment, I was rather skeptical that I would be able to derive that much interest from that whose Chinese title of "98 Wise Guys: Dragon Contend Tiger Fight" has been culturally interpreted as the "Battle of the Heavyweights".

As ever though, I found myself pleasantly surprised that intriguing and amusing twists, turns, angles and personalities continue to be created or found to keep things fresh (even if not all that unfamiliar). Once more, one obvious way in which this was done involved travels to and bringing in characters from other lands. In YOUNG AND DANGEROUS 5, some time is spent in Malaysia (probably best known to Hong Kong moviephiles as the territory where the stunt-filled climactic chase scene of "Supercop" took place and from which Michelle Yeoh hails. In light of such as the latter fact, it is pretty amusing to hear opinions voiced in this film about Malaysian "girls" being known to be "always enthusiastic", there being quite a few in them to be found in the brothels of Hong Kong's infamous Portland Street, and those from Ipoh -- the real-life hometown of Ms. Yeoh and Angie Cheung -- being particularly highly valued by the clients of those establishments!). And it is in the Malaysian capital of Kuala Lumpur that we are introduced to the characters played by Hsu Chi and Paul Chun Pui (One of whom starts off seeming to be trouble but turns out to be a "good egg"; the reverse of which applies to the other) along with an elderly personage named Uncle Six whom Sister Thirteen (Sandra Ng) describes as dressed like "Wong Fei Hung"!

Back in Hong Kong, a challenger appears once more to Ekin Cheng's Chan Ho Nam. Rather ironically and somewhat bizarrely, not only is he also named Ho Nam but so too is the actor who plays him (Mark Cheng's Chinese name really IS Ho Nam). Before too long, not only do the paths of Chan and Szeto Ho Nam intersect but also theirs with that of the Malaysian individuals...all of whom are involved in the kind of business that interest the Triads. But as Chan Ho Nam states at one point in the film, what isn't?! And therein lies another theme of YOUNG AND DANGEROUS 5: I.e., that as Triad society and individuals mature, they (should) become more concerned with making money -- irregardless of whether this is by legal or illegal means -- than with just being hot-headed rascals.

Still, it seems that trouble will always dog Chan Ho Nam. Even though he finds an unlikely ally (of sorts) in the new anti-Triad section head (As one might expect, Danny Lee has few problems making his policeman character into a substantial and credible figure), misfortune and tragedy of one sort or another continues to befall him and his ever dwindling group of close buddies. Lucky for him that he seems to as easily find new friends and allies -- not to mention cute and sweet female admirers -- as lose old(er) ones.

The way in which YOUNG AND DANGEROUS 5 ends (with more than a hint of nostalgic yearning), the sense is that this is as far as the series will go. Having now viewed all but the Prequel, I actually do think that it is a shame that this is so. Though not without flaws (with regards to this production: I thought that the fight scenes were unexpectedly badly choreographed, executed and filmed), each and every Triad Boyz episode has definitely kept me engrossed in the affairs and development of quite a few characters who really don't seem all that individually interesting yet have worked well as a group.

My rating for the film: 8.
---