Come Fly with Me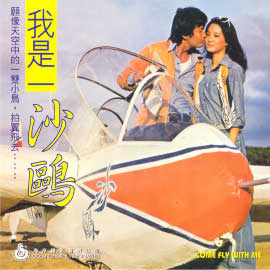 ---
I suppose it is easy to mock some of these old Taiwanese Brigitte Lin films from the 1970s – they are sort of bland and now seem irredeemably corny – but one thing they had down to a science was the close up. And in a Brigitte Lin film the close up is a sacred moment – a reverential moment – a time to quiet the kids and the barking dogs - a time to give thanks. Each close up is a bit of a journey – a new opportunity to study the fabulous face that conquered Asia from the 1970s to the 1990s.

In some films you focus on the dramatic thick eyebrows, in others the sculpted cleft chin, in others the irresistible pout - but in this one I went for a glorious swim in the infinite pools of her honey sweet eyes. One of the first things that clearly came naturally to Brigitte as an actress was how to use her eyes to convey an incredible range of emotions – and she can use them to seduce softly or to wreck vengeance. In these early films though thoughts of mass destruction were far off in the future – she is only on the verge of adulthood – a slender but hardy willow – and her eyes are as soft and lovely as a late night moonlight sonata.

Here she is teamed up with Charlie Chin – in these Taiwanese films for the most part it seems her lead male was almost always either Charlie or Chin Han – in a light social comedy of manners. Brigitte comes from a good family in which her father wants to marry her off to the son of his boss. The son is a bit of a pompous prig – easy to discern by his loud checked suits and wide dull ties – and Brigitte of course wants as much to do with him as she does with a case of hepatitis. Instead she wants Charlie.

Charlie – quite charming and handsome in this film (I much prefer him to Chin Han) – does not come from the right stuff – he dropped out of college – comes from a lower middle class family – and wants only to build and fly gliders (and usually crash them!). Just the sort of guy that fathers hate and daughters love. Brigitte has her first kiss ever with Charlie – but she thinks that he is more interested in gliders than he is in her. Take a look in the mirror Brigitte, I don't think you have much to worry about.

This is an easy going reasonably enjoyable little fluffy film that has a few comical scenes and Brigitte needless to say is terrific. She grins, she pouts and has many wonderful "hmmphs!" in the film. A few other Brigitte scenes to look for – Brigitte showing her skinny legs in a flimsy negligee, Brigitte blowing bubbles in a sudsy bath and Brigitte changing outfits every five minutes. It may not be much – but it is all I need.

My rating for this film: 6.0
---