Teppanyaki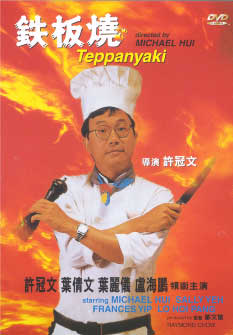 ---
By the time Michael Hui made this film in 1984, he was no longer collaborating with his brother Sam (who had gone on to make the Aces Go Places films for Cinema City) and a bit of the satiric edge and the playful jesting seems to be missing here. There are certainly some funny scenes - and the middle third of the film in particular cracked me up consistently (as does his geriatric and v e r y s l o w m o v i n g father) - but much of the humor feels repetitious and far too blunt and broad for a Michael Hui film.

The term "deadpan" humor is often applied to Hui's comedy - sly, subtle and satirical - but here the term "frying pan" humor is much more apt as an inordinate amount of the scenes seem to deal with hitting people or tennis balls with a frying pan. Hui is a chef in a restaurant and basically his life is hell. The owner is his nutty gun-toting father-in-law and his wife is a very large and demanding harridan. Both browbeat Hui constantly and the only refuge he finds is in his daydreams about his calendar girl.

One day this calendar girl (Sally Yeh) walks into the restaurant and Hui immediately tries to impress her with his culinary and tennis skills. The tennis match against another suitor is quite funny as Hui exchanges a racquet for a frying pan and begins to heat up the court. Sally Yeh looks absolutely lovely here and she is photographed as a dream girl should be - all in lovely soft light.

She knows Hui is married but she doesn't seem to be too bothered by that. They arrange to meet in the Philippines - but Hui is sadly forced to bring along the wife and father-in-law and tries to conduct a secret affair. Things, of course, don't go as planned as he rents a small plane for him and Sally to get away and it goes down into the ocean. As in his daydreams, they are soon running on the beach, but it isn't exactly frolicking as Sally is soon kidnapped by natives. Though Hui's depiction of Filipinos is fairly insulting on the whole, this section that includes parodies of Jaws and Indiana Jones is very amusing. Though this is not on par with his earlier work – it is missing those one or two classical routines that his early films always had - this is still a solid piece that works more often than not.

My rating for this film: 5.5
---
DVD Information:
Distributed by Universe
The transfer is fine - quite clean for an older HK film.
Letterboxed.
8 Chapters.
Star Files - Michael Hui and Sally Yeh.
Subtitles: Chinese and English.
Language: Mandarin or Cantonese
There is a trailer and also previews for Games Gamblers Play, The Last Message, Private Eyes, The Contract.

---