Love Soldier of Fortune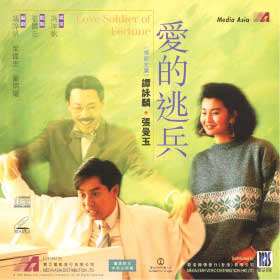 ---
Reviewed by YTSL
This fluffy romantic offering stars two individuals who are in noticeable possession of buckteeth here yet are considered to be physically attractive by more than a few members of the opposite sex. The male lead, Alan Tam, is probably best known in East Asia for having been part of a music band called "The Wynners" (one of whose other players included Kenny Bee; and which, for a while, was so much a part of pop culture that it got parodied in "Armor of God" -- a 1986 movie in which Alan Tam appears as Jackie Chan's dopey sidekick). Although it may sound improbable to some now, there was a time when this 1988 film's female lead, Maggie Cheung, was mainly thought of as a cute comic -- rather than beautiful dramatic -- actress.

It also is a sign of how much things have changed that LOVE SOLDIER OF FORTUNE is primarily a star vehicle for Alan Tam (as opposed to the woman's whose reputation increased upon her appearing in another production that came out in 1988, "As Tears Go By"). Additionally, unless we're talking about casting that majorly goes against type, it just would not be the case these days that THE vamp role in a film would go to Sandra Ng -- someone who can look glamorous when she wants to but....! -- rather than the Magster. It has to be said that for this Hong Kong moviephile, all this makes for there being at least some novelty value in viewing this otherwise rather innocuous -- but consequently not very interesting -- work.

Though its title may sound somewhat strange, LOVE SOLDIER OF FORTUNE is a generally simple and also innocent-feeling film about a modest piano tuner (played by Alan Tam) who has been a long time, long-distance (he only knew her from her hosting a radio program he avidly listens to) admirer of a DJ portrayed by Maggie Cheung. One day, on an assignment to tune the piano of an arrogant and rather sleazy pop musician, he manages to help the woman he secretly adores -- who had gone to the piano owner's house to interview the musician -- fend off the unwanted advances of his client.

Around this time, Alan Tam's character is forced to move into his ancestral abode even though he knows that it's haunted due to the relative he had previously been living with electing to migrate to Canada (N.B. It really is amazing how much migration can pop up in Hong Kong movies made between the realization that China was not going to renew the lease the British temporarily had had of the territory and its being handed back to China). As it turns out, the ghost of his great grand uncle (Stanley Fung) is not only benign and friendly but also musically talented and (consequently) helpful in making the young man into a popular composer cum singer, and be considered as a worthy friend -- and maybe more -- of the famous DJ.

Invariably though, problems will crop up even in LOVE SOLDIER OF FORTUNE's lovey-dovey world and the two lovebirds have to find out how genuine each person is as well as how sincere are their affections for each other. Still, it has to be emphasized that this is a largely light piece in which there really are no absolutely horrible villains and the most violent actions are those of an amazingly well-meaning ghost's -- invisible to the humans involved -- attempts to get a couple into an intimate position. As such, those seeking spectacle or substance are strongly recommended to look elsewhere. Should you be content though with having a(nother) opportunity to view a young -- and chubby cheeked -- Maggie and/or Alan (another performer whose acting has definitely improved since this movie was made), you could do worse than give this offering a try.
My rating for the film: 6.
For More Photos of the Magster from this film, click here.

---