Aces Go Places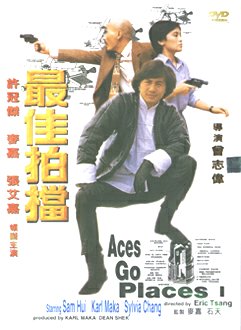 ---
In 1980 Karl Maka, Dean Shek and Raymond Wong formed a new production company that they called Cinema City. Over the next decade the company produced a large number of films that in general were family oriented comedies that contained loads of slapstick antics, sight gags, corny romances and stunts. A lot of the comedy often appears – 20 years later – juvenile in nature, but some of it still feels inspired and amusing as well.
The largest success that the company had was the series of the Aces Go Places films that began in 1982 and continued with four sequels until 1989. The films were extremely popular (and still are today) and the three main actors – Samuel Hui, Karl Maka and Sylvia Chang - were to appear in all of them (with the exception of Sylvia in the fifth film). The list of directors for these five films is fairly impressive – Eric Tsang directed the first two, Tsui Hark the third, Ringo Lam the fourth and Lar Kar-leung the fifth.

The films are incredibly high spirited – very silly at times – full of slapstick and pratfall humor, eye opening stunts, a tune from Sam Hui and excellent action sequences. Though the action and stunts tend to be quite fun and imaginative, I find the comedy to be very hit and miss. Some of it is extremely clever – but much of it is too broad and farcical for my taste – almost Three Stooges type humor – which can wear a bit thin at times.
What the films do have going for them though is terrific chemistry between the three main characters. Hong Kong films had a tradition of the "buddy film" that was made very popular by Michael Hui in the 70's. This series of films continues that tradition, but adds the wonderful Sylvia Chang to the mix. Sam Hui (Michael's younger brother) is King Kong – smart, good looking, a great physical athlete (performs the majority of the action scenes), a weakness for a pretty face and the heart of a fifteen year adolescent. Karl Maka plays Kodojack a.k.a. Baldie a.k.a. Albert – a Chinese American cop completely full of his own high opinion of himself – and very little of it justified. Then to round them out is Sylvia Chang – as HK policewoman Nancy Ho - who can be as ferocious as a pit bull or soft and tender as a lullaby. The three of them play off one another to wonderful advantage – have great timing – and beneath the insults, threats and the braggadocio they create a warm sense of friendship and loyalty to one another.
In this first episode the three characters are introduced to one another and are initially all at odds with each other. The film begins in James Bondian fashion with a pre-credit action sequence that is very good. Sam has a bit of a larcenous nature and steals a bag of diamonds from some Mafioso types by shooting a harpoon from a roof top into a building across the road and then sliding down the rope, crashing into the room, grabbing the diamonds and escaping on a hidden motorcycle in the building and then later on a hang glider.

The Mafia head – doing his best Brando stuffed mouth imitation – sends White Gloves to HK to recover the valuables and to kill Hui. Word of this leaks out and White Glove's number one nemesis in the world – Super Sleuth Kodojack – also comes to HK to track down his prey. He is teamed up with a tough grouchy cop - Sylvia Chang - and it is loathing on first sight. They do eventually warm up to each other – and Sylvia soon gets as giddy as a schoolgirl around her Albert. And Albert is only to happy to remind her, that she is closing in on thirty – old maid territory – and who but him would still marry her!

Eventually, the two of them force Hui to co-operate with them to catch White Glove but he has given the diamonds to his accomplice – Dean Shek – who has hidden them and then disappeared. The only clues they have to the whereabouts of the loot are tattoos on the bottoms of two of Shek's girlfriends! Trying to uncover them leads to crazy shenanigans involving the triads and the HK ballet (run by Tsui Hark). Much of this is fairly entertaining and the comedy feels a bit lower key in contrast to the sequels in many ways.

My rating for this film: 8.0

---
DVD Information:
Distributor - Universe
The transfers for all the films in this series are universally excellent. Crisp image and great color.
Letterbox - almost extremely so!
Trailer + previews of: Aces Go Places II, III, IV
8 Chapters
Subs - English, Chinese, Thai, Vietnamese, Japanese, Korean, Bahasa Malaysian and Indonesian
Star files - Sam Hui, Karl Maka, Sylvia Chang and Eric Tsang.
Easy to read subs on black border beneath picture.

---