The Banquet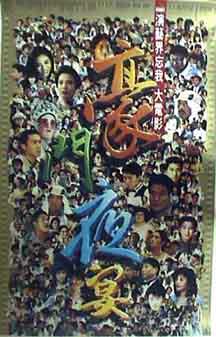 ---
This is really only a film for die-hard HK film fans that might simply get pleasure from seeing a boatload of HK stars pop in and out of a film. This film was produced to make money for some flood victims and it is nearly a who who's of HK stars at the beginning of the 90's. The film is probably best enjoyed if watched with other HK fans and then you can play a version of spot and name the star first. Though I was able to get quite a few, there were still many others – character actors primarily – that I could not assign a name to.

On its own merits there is not a lot to this film. It's really just a plot to shoehorn in as many cameos as possible and a few humorous skits. Though this is certainly not a film that one would want to watch more than once, I have to admit that I enjoyed this low key and occasionally amusing film quite a lot.

There is a story (introduced by Andy Lau and Teresa Mo) here as slight as it is. This is a summary with as many of the HK stars as I can name. Eric Tsang and Sammo Hung (and his right hand man John Sham) are two rival contractors and Jackie Cheung (who is married to Joey Wong) comes to both of them and tells them that a Prince from Kuwait is coming to HK to hire someone to rebuild his country. While Eric and Jackie are in the restaurant they are waited on by Sandra Ng and May Lo (Jackie Cheung's real life wife).

Eric goes to his palatial home where his right hand man (Tony Leung Chiu-Wai) is looking on as Maggie Cheung and Carina Lau practice a Peking Opera number. Eric explains to his wife DoDo Cheng that the Prince only respects those people who take good care of their fathers – and so Eric must get his father (Richard Ng) who he has not seen in ten years to come stay with them during the Prince's visit.

So Eric visits his father who is living with his daughter (Rosamund Kwan) and her husband (Tony Leung Ka-Fai) and convinces him to come stay with them. DoDo thinks he needs fancying up and so they hire gigolo, Simon Yam, to teach him manners, Eric Kot and Jan Lamb to teach grammar and Lau Kar-Leung for fencing lessons. Finally on the night of the party Karl Mak a funeral director is brought in to apply makeup.

While waiting for the guest of honor to arrive and being served by his maid (Kara Hui Ying-Hung), Eric falls asleep and dreams that guests Anita Mui, Sally Yeh, Anthony Chan, Sylvia Chang, Maria Cordero, Michael Hui and John Woo all show up. Eric's wife turns into Gong Li and is saved by Stephen Chow. In the dream Alan Tam, Tommy Wong and Raymond Wong play the Prince and his entourage.

Finally the dream ends and the real Prince (George Lam) shows up and a brew ha ha ensues witnessed by Gloria Yip and Waise Lee among others. But everything is resolved and Eric buys dinner for his dad and all his neighbors. Both Ti Lung and Kenneth Tsang serve food while Ng Man-Tat and Leon Lai cook it up. Among the diners are Leslie Cheung, Aaron Kwok, Natalis Chan, Bill Tung, Linda Shum, Philip Chan and many others!

Phew!! – and that's why I enjoyed this film. Just lots of HK stars having a good time and contributing to a good cause.

My rating for this film: 7.0

---