Modern Love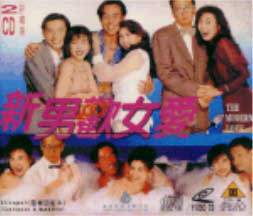 ---
It's not only fantasy and action films from HK in which the viewer sometimes has to suspend their belief a bit – but even sometimes in a simple romantic comedy exploring love in modern day HK. The basic foundation of this film is a bit ridiculous as it is about three modern women who are roommates looking for love and sex – and not necessarily in that order.

But what is so absurd is the chances of this threesome actually being friends and roommates. Chingmy Yau plays an engaged woman just returned from France and working at a sex clinic giving out advice on birth control and keeping the hubby sexually stimulated. If you look like Chingmy of course that is not a big problem! Another roommate is played by Anita Lee – an insurance salesperson – who goes through men like quarters at a slot machine. Only one night is her motto and hopefully even less than that! And the final roommate – Lily Chung – is also in the sex field – but somewhat differently – as she spends much of it on her back! She is a prostitute and seems quite happy with her work. Hey, how many jobs do you get to lie down on? Yes- just your typical three single girls in the big city – almost reminded me of Mary Tyler Moore and Rhoda!
There are a number of amusing incidents for the first half of the film – and though it is as fluffy as a down pillow – it is quite watchable. Chingmy looks both extremely cute and lovely here – and there are a number of very nice close-ups of her face. Lily Chung is quite adorable as a muddled-headed girl with good business instincts. From her filmography it appears that she has been primarily in Cat III films and I want to follow-up on a few of those. Anita Lee is also very attractive and has a few spicy scenes.

You know it is only a matter of time though before some fellows show up for the girls to get serious about and when that happens the film starts to fizzle a bit. The girls were a lot more funny before they fell in love. Chingmy starts to forget about that fellow in France and moons over Mark Cheng – who is a triad member – every girl's dream. Ya – forget about that good looking guy in France with all the money and instead run after a low level triad member who is in hiding for fear for his life! But he is nice to his mother and that's what counts! Lily gets involved with Lawrence Cheng – doing his typical nerdish role – who is shocked to find out at some point that she is not a secretary. Oh, did I mention he is not too bright either – but it is amazing what a man will forgive if a woman is well endowed! And Anita meets fashion designer Sunny Chan and decides that one nighters are no longer fashionable – what a woman will sacrifice for nice clothes!

All in all this is a cute little film with a serious message – fooling around and being a prostitute is fun for a while – but sooner or later – traditional values will draw you women back to being a one man woman. Remember that sage advice girls! Just kidding.
My rating for this film: 7.0

---
Reviewed by YTSL
Although it starts off with Chingmy Yau's character -- a marriage counselor often respectfully referred to as Miss Chung -- making some tart yet surely quite "spot on" comments regarding the contemporary state of gender relations and perceptions in Hong Kong, movies don't really come much fluffier than this romantic comedy. A measure of how silly and light-hearted is THE MODERN LOVE -- as Brian has pointed out in his review -- can be seen in the extremely high improbability of real life characters like the three female protagonists happily sharing an apartment and going out together for nights on the town. Ditto with regards to their potential Mr. Rights coming in the respective forms of: A filial triad member who remains the apple of his mother's eye; an uptight millionaire who needs to be taught how to "wa-ha-ha" laugh; and a young man with a roving eye. And then there's the rather conventional conclusion to this ultimately charming and cute rather than risqué movie about "modern love"...
I'm not sure I can adequately explain why this 1994 offering succeeded in putting this (re)viewer in such a good, tolerant and fun(ny) mood that she was filled with mirth rather than irritated by this offering's fractured and often nonsensical English subtitles (If my memory serves me right, the male reproductive organ was at one point referred to as a "ball stick"! Plus there's the attempted translation and consequent misspelling of a particular word as "concuspicent"!!). Something else to factor in is my willingness to overlook, rather than feel put-off by, the prostitute character's initials (and nickname) being very similar to mine (Hey, if Chingmy Yau is willing to lend her Chinese name of Suk Ching to the movie's nerdy male character...)!

Perhaps it's because it does seem that the film's cast – notably Chingmy Yau, Lily Chung and Anita Lee -- seem to exude such playful and joyful vibes. What I do feel is that a production that could have turned out to be rather lame didn't. While not a major laugh-o-rama, it does have segments that made me smile fairly broadly. I think particularly here of a couple of scenes -- strangely reminiscent of one in "Peking Opera Blues" when the three heroines take momentary pleasure in being in each other's female company -- which feel even more innocent than that in the 1986 dramatic work; even though, in them, this triumvirate of improbable friends cum apartment-mates are discussing such as what orgasms feel like for them!

This buoyant impish quality also is present in the depictions of the candid group counseling sessions at the Family Planning center that Chingmy Yau's character leads and supervises. For example, in one involving couples, the (female) viewer is bound to smile with her after she asks who in the room has had premarital sex and the females of the pairs only acknowledge doing so, and with some embarrassment and chagrin at their fiancés, after the males happily do so. And in another, this time for married women only, knowing amusement should just as surely come out of Miss Chung's suggestions for enjoyable sex with husbands but also responses to them from the wives.
While one really ought not to read too much into or from movies (not least this one!), I can't help but think -- based on such scenes – that maybe why THE MODERN LOVE can be enjoyable for women as well as men, albeit for different reasons, is that it does seem to celebrate as well as show female camaraderie (in a cheerful way that is rarely seen in Hollywood films; I'm not taking a pot shot here, just stating what I consider to be a fact) as well as male-female bonding which is satisfactory for all involved in them. For the most part though, I do realize that THE MODERN LOVE is one refreshingly jaunty work that should pleasantly amuse those viewers -- of whichever gender -- who take it with the pinch of salt and slice of humor that it deserves.
My rating for the film: 7.

---