Run Lover Run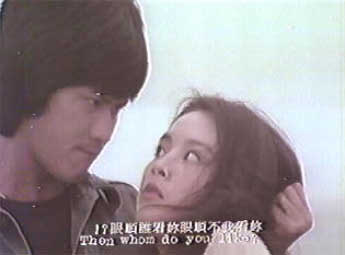 ---
When you turn on this video, it feels like you are opening a time capsule from nearly a quarter century ago - an age that feels innocent and sweet (at least at the movies!). Thus far in my slow but constant exploration of pre-1980 Brigitte Lin films (when she only went under the name Lin Ching Hsia), this would have to be my favorite. Unlike most of the others I have come across, this one would not be classified as a Taiwanese "weepie", but is in fact a light and amusing comedy.
The film looks very westernized and contemporary (at that time) and yet the story takes on very Chinese themes of family,courtship and marriage. Brigitte is almost a Chinese Gidget (series of American films in the 1960's. ) - a girl just on the cusp of turning into a woman – but in no rush to do so. Her mother clearly has other ideas though. At the breakfast table one morning she sees a newspaper article that says that there are 33% more women of marrying age than men – and goes into an immediate panic that her 21-year old daughter will never get married! She immediately starts marshalling all her resources to get Brigitte a good husband.

Brigitte could care less as she is a total tomboy and loves nothing more than playing sports with her male buddies. The viewer has the pleasure of watching Brigitte run track, do the high jump, arm wrestle, play softball, climb mountains, swim a few laps – and most amazingly – who would have thought the future Asia the Invincible would have such a great jump shot in basketball! From a Brigittephile perspective – all this activity was tremendously fun to watch. At the time of this film Brigitte was in fact about 21 but looks even younger – a slim twig of a girl – but already with the stunning face that would move a part of the world to tears and rapture with her performances. In the very last scene though she metamorphasizes wonderfully from girl to woman – and we see a hint of the Brigitte of the future in her fierce glare!

It turns out that a friend of her brothers – Alan Tang – is coming home after getting his degree in nuclear power in America – and the wheels in the mother's head starts turning. She announces to Alan's parents that the two have been in love for years and an engagement date should be set. Alan's parents are surprised that they didn't know this, but go along – because it is time for their son to settle down as well! The two children know nothing of any of this. Brigitte's father just does his best to lay low and stay out of the way of the tornado that his wife has sowed. There is no doubt as to who runs the home front.

One amusing scene is when Brigitte's mother is trying to sell Brigitte as a daughter-in-law to the other parents. Oh, she is so sweet, meek, graceful and gracious – and she is now at the library studying hard. Brigitte enters a moment later from a mountain climbing expedition covered in dirt with a dead bird in her hand!
Though they really want little to do with one another (Brigitte prefers men like Charles Bronson!), Brigitte and Alan have to keep their families happy and spend time together. Brigitte tries to pawn him off on the girlfriend of her brother who is away on military service – but then romantic feelings start setting in - but is it too late to win him back? What do you think!

The film is a warm little family comedy – with a number of amusing touches and a few tuneful songs thrown in. Brigitte is such a character – full of life – saucy – independent and bossy as hell – but the mother almost steals the film. She is just determined to marry off her daughter – and nothing will deter her!
My rating for this film: 7.5

---