Paper Marriage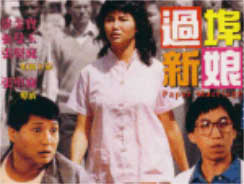 ---
This Sammo Hung film is primarily known for one thing – it is the film in which Maggie Cheung mud wrestles! Yes the Magster – one of the great actresses in HK history – one of the great faces of our age – gets down and very dirty. The scene actually only lasts for a few minutes and it is more traumatic than amusing – but it has gained a legendary status as a must see Maggie scene.

At the time this film was made Maggie did not have the acting reputation that she has today of course – films such as Center Stage and her glorious moments in Ashes of Time were still off in the future, but she was very popular at the time. 1988 was a busy year for Maggie as she acted in eleven films – one being Police Story II and then in one of her first major serious roles in Wong Kar Wai's As Tears Go By. Here though she is just having a good time and being a very good sport. Not only does she have the mud-wrestling scene, but also has a few other body banging action moments.
Sammo lives in Canada and is a bit down on his luck – out of a job and deep in debt to some loan sharks. He takes whatever jobs he can – even being a guinea pig for acupuncturists to learn their trade! So when a friend tells him that he will get paid if he is willing to marry a girl coming from HK – so that she can get her papers – he jumps at it. How lucky can a guy get – blindly getting to marry Maggie Cheung. Only in our fantasies!

The plan is for them to get married, Maggie gets her citizenship, then divorced and then Maggie will marry her real boyfriend (Alfred Cheung – who also directs this film). So Maggie shows up, they get married (with Sammo giving her a very passionate wedding kiss – can you blame him?) but Alfred disappears with the marriage money. Sammo is not too happy about this and initially kicks Maggie out – but then lets her back in – again can you blame him?
To make ends meet Sammo has to go back to fighting in the ring and Maggie has to don a bathing suit and play in the mud. Though this mud wrestling scene starts off looking like it is going to be played for laughs, in the end Maggie is beaten down and crying in the mud – actually its a sad desperate little scene.

Generally though the film is played for laughs – and Maggie does have a few classic Maggie moments and there are a few very funny scenes involving the immigration as the couple try and prove that they are in fact husband and wife in the real sense of the word. This leads to Sammo spending way too much of the film walking about without a shirt on - not to mention his pants! Joyce Godenzi has a small role as Sammo's ex-wife.

And as anyone would expect in a Sammo film, there is some action – it doesn't dominate the film by any means – but its quite good and Sammo gets to pair off against Philip Ko, Billy Chow and Dick Wei. Those are some pretty fierce opponents and some of the ring action is brutal. In another sub-plot Maggie and Sammo stumble across some illegal money and Dick Wei comes to take it back. This leads to a 20-minute romp through a mall that has some terrific fights and absolutely vicious kicks. Even the Magster gets whacked around a few times.

This was actually much better than I had anticipated – some funny scenes, some solid fights and Maggie at her "rabbit toothed" (as Sammo tells her) loveliest.
My rating for this film: 7.0

---
DVD Information:
Universe Laser and Video Co.
Excellent clear film transfer
Letterbox
Trailer
Previews of Where's Officer Tuba, Shanghai Shanghai and Owl vs Dumbo
8 Chapters
Removable subs
Easy to read subs
Very pleased with overall quality of DVD. I could never find a copy with subs before so this was great.
---