Dragon Fight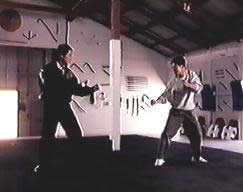 ---
During his two year hiatus in San Francisco, Jet Li made this film and one other. Though in many ways this is a standard low-grade action/martial arts film, it has some factors in its favor. The prime one being a first rate cast. First of course there is Jet in an early film before he became a big star, but there is also Dick Wei, Stephen Chow and Nina Li. This is also an early performance for both Chow and Nina. Chow shows an early indication of his ability to mix both comedy and drama here. Nina manages to look fabulous needless to say.
This is definitely one of those types of weakly written scripts with more coincidences than days in the month. That sort of thing can be fairly annoying, but the basic premise of two life long friends turning against one another is always a good sell in my book. On top of that, there are some very good fighting sequences.
Both Jet and Dick are members of a Chinese National performing team and are in San Francisco. Stephen Chow is attending the show and later gets the autograph of Jet. As the team prepares to depart at the airport, Wei decides to defect. He tells Jet – "why are we doing this – we get nothing, but a can of soda for our work." Jet tries to persuade him to stop, but ends up giving Wei his wallet with money in it and bids him good luck. The two have been best friends since childhood and members of the team for years.
Wei immediately gets accosted by a cop and in the ensuing fight kills him and accidentally drops Jet's wallet. Jet meanwhile has missed the plane and is arrested for murder. Later the car escorting him crashes and Jet escapes and runs into Chow who takes him in. Wei joins up with a ruthless triad and becomes their number one killer. The film has a good sequence in which it quickly goes back and forth between Wei efficiently knocking off the rivals of his boss and Jet and Chow bonding as friends. Nina comes into the film first as the sister of a friend of Jets and later as the mistress of Wei's boss.
Many coincidences later, Jet and Wei find themselves on the opposite side of one another and they have to decide how important an old friendship really is. This leads to a lengthy excellent fight at the end of the film.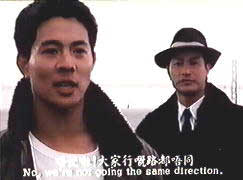 The film has a number of good non-wire fights. For the most part this is a decent low budget film with the added attraction of an excellent cast. Perhaps not a film that a non Jet Li fan would want to run down, but certainly worth the effort for his fans.
My rating for this film: 6.5
---