Sex and Zen II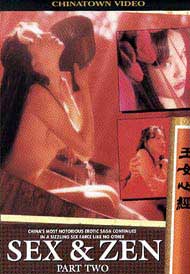 ---
This follow up to Sex and Zen is considered by most to be inferior, but I actually enjoyed it more. Admittedly, it doesnít have the eye popping assets of Amy Yip, but the charms of Hsu Chi and Loletta Lee certainly make up for her absence. What S&Z II does have besides many nubile naked females are elements of fantasy, the supernatural and just very bizarre occurrences that I enjoyed. Penises that explode are always a good selling point to me !

Tsui Kam-Kong is trying to live up to the standards of Mo Yau San, the character from S&Z I, but instead of going the easy route of having a horseís penis transplanted on him, he goes through grueling penis exercises. He uses it to break watermelons, write in the sand and have a tug of war with a bull. Please, donít try any of these at home. One would think that having three lovely randy wives would provide more than enough exercise.

His daughter is the beautiful Loletta Lee who finally persuades him to allow her to disguise herself as a male and go to school. His only condition is that she wears a chastity belt that is as dangerous as a set of Ginsu knives. One male friend unfortunately comes too close and has his penis mangled and so they go to the Happy Taoist to see what he can do. Itís too late to save it, but he does have a metal penis on hand that he attaches to him. This mechanical penis has a few neat tricks such as an ability to blow smoke and cut rope Ė sort of a combination penis and Swiss army knife. It comes in handy later on.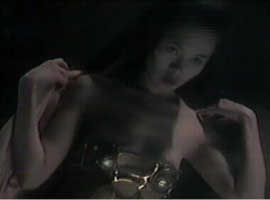 While there, a mysterious woman arrives to have her face changed by the Taoist. Loletta only sees her eyes. In repayment this woman promises to make the Happy Taoist even happier by bedding him, but it turns out that she is the Mirage Lady who is in fact an evil demon who sucks the life out of people at the point of climax. What a way to go!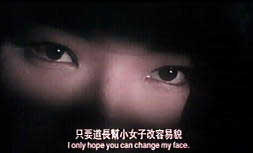 This new face turns out to be Hsu Chi and she soon turns up at Tsui Kam-Kong's house to marry his son. Soon people start dying in a horrible manner in the household. It is up to Loletta to stop this demon that is part man/part woman. Their sex duel (Hsu Chi grows a penis!) in which the first person to climax dies is a classic.

Excellent production values and beautiful women fill this trashy but seductive film to the brim and I found it to be a fairly enjoyable tawdry romp. This is I believe the first film from Hsu Chi and it really brought her to the attention of the movie going public. She is just incredibly beautiful and has no problem with displaying her charms quite openly. At the time, she did not speak Cantonese and so is dubbed in this film.
My rating for this film: 7.0
---