I Love Maria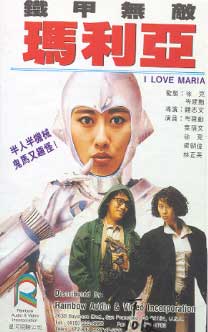 ---
I love Maria. And by the end of this film, so will you. This 1988 confection produced by Tsui Hark is a strange mix of comedy and sci –fi that takes a while to jell, but once it does it becomes a deliciously infectious little film.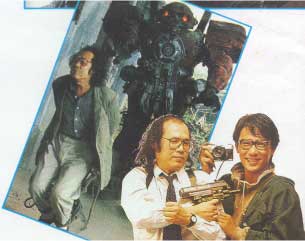 The sci- fi is warmed over Robocop with a nod to Fritz Lang's Metropolis (in which the robot was named Maria) and the comedy is right out of Hark's days as a director with Cinema City. In many ways the comedy is similar to the Aces Go Places films with its crazy gadgets and buddy comedy. Somehow it all ends up working and in the end you will find yourself feeling pretty good. Sally Yeh in a double role is terrific.

Hong Kong is under siege from a giant transformer robot that is controlled by the Hero Gang. The Hero Gang is demanding money or they will wreck havoc among the populace. Sally Yeh is the head bad guy's main squeeze.

Three rather ordinary bumbling fellows come together to fight the gang. One is John Sham - an eccentric inventor who works for the police, Tsui Hark - an ex-gang member wanting to go straight - and Tony Leung Chiu-Wan - a newspaper photographer. As is customary in these types of films, they fight among themselves as much as they do with the crooks.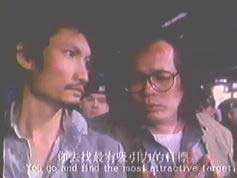 The bad guy has created a new robot model. This one is a little slimmer, a little smaller and yes very much sexier. In fact it is the perfect image of his girlfriend and it has been programmed to kill. He sends it after Tsui in order to silence him, but the robot malfunctions and Sham re-programs it to be on their side.

Tsui's sifu is Lam Ching-Ying who is also a part of the gang and at one point he saves Tsui's life. The evil Sally discovers this act and she captures him and plans to execute him. Of course it is up to the trio and the good Sally to break into the headquarters of the gang to try and rescue him.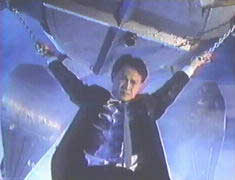 Sally is especially wonderful as the robot. She perfectly captures the robotic movements and her lovely wide-eyed look is irresistible. And that robot hauteur is very chic and becoming on Sally.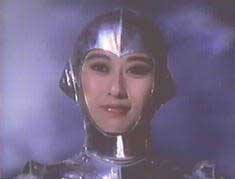 The special effects are fun if far from state of the art, the action is so-so with only Lam Ching-Ying looking competent, and the plot is nearly non-existent but the chemistry between the three main characters and the lovely charms of Sally Yeh make this a real pleasure. It takes a while for the film to start clicking. So don't lose patience with its early slow going. Once robot Sally becomes an ally of the three, it goes into high gear and you will be glad you stuck with it.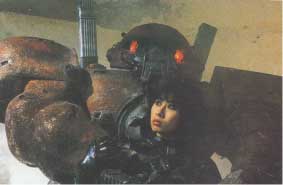 ---