Mr. Fortune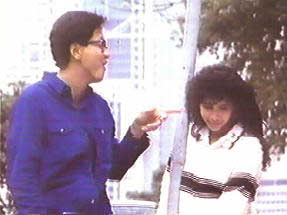 ---
I have been trying to run down this early Chingmy Yau effort for a while and finally was able to – but unfortunately there were no sub-titles. I thought I better watch it anyway, as the chances of locating a sub-titled version are likely pretty small. Though I got the gist of this light comedy, there is no doubt that I missed out on some of the humor. Still a lot of it was physical comedy and Chingmy still looks good – subs or nor subs! She does look different though from her films of a few years later but I have never been able to quite pin it down as to what looks different – perhaps it is just the hair or perhaps she had a little re-modeling done!

She is the daughter of a wealthy magnate (Roy Chiao) and is a bit on the wild side. So Chiao pressures one of his sub-ordinates to woo her and try to settle her down. She learns of this while eavesdropping on the phone and tries to escape her father's influence by climbing out the window in this apartment building.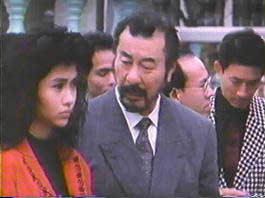 In one of those "meet cute" scenes, she literally bumps into another tenant on the window ledge and both practically fall to their deaths. Anthony Chan is out on the ledge in order to make good with his girlfriend who is angry with him. Chingmy lies and tells him that some people are after her and that she is in great danger. So he takes her in and soon his life has been turned upside down. He of course has no idea that she has a wealthy father.

Soon his girlfriend dumps him, he loses his job and he has triads after him – but he has to admit that having Chingmy around is a lot of fun. As any sane man would, his thoughts soon turn to love towards Chingmy – but problems lie ahead – don't they always?

Surprisingly, this film was produced by D&B (who usually specialized in action - Yes Madam, Black Cat) – but it is an easy going enjoyable comedy – that with subs would no doubt have been more so. It's a good opportunity to see early Chingmy before she became a sex goddess of HK films.
My rating for this film: 6.5

---