Ghost Lantern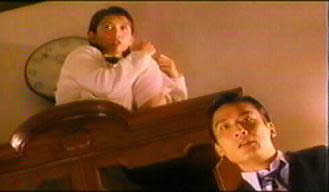 ---
This is just your basic HK triad/action/weepie/ghost/comedy/romance film that has your head spinning to keep up with the rapid switch of genres as they often literally change from scene to scene. If you can deal with this genre hopping though, the film is an absolute pleasure. For whatever reason, I rarely see it mentioned – but it is a high quality production with an absolutely terrific performance from Tony Leung Ka Fai and a charming and lovely one from Chingmy Yau.

This was produced by Wong Jing and directed by Andrew Lau (Storm Riders, A Man Called Hero and the Y&D series – of which there are a few trademark Y&D scenes in this earlier film). A number of influences can be seen here – Chinese Ghost Story, Days of Being Dumb, The Lover – but it mixes them in such a way as to make this a unique and entertaining film that ultimately is a powerful love story.

This film begins with a prologue that takes place in 1963. In it a vicious triad head (Roy Cheung) - who has some supernatural abilities - is burying someone in a location that will bring the dead man 10 lives of bad luck. Roy then goes to the dead man's girlfriend (also dead)– Chingmy – and slices off her skin – makes a lantern with it – and imprisons her soul within.

Jump ahead to 1993 and Tony Leung is a low-end triad member – he sells meat skewers on the street and is beaten up by punk kids and hassled by a cop – Tommy Wong. As he explains to a friend, his entire life has been a series of bad luck and misfortune – nothing ever goes right for him. Leung gives a wonderful and at times very comical portrayal of this down on his luck triad slacker – with little ambition and little courage – but basically a good heart.

The triad he belongs to goes up against another one that is run by the mysterious Mr Hung – just recently returned from Taiwan. When Hung sees Tony he immediately tells him with a laugh– "you have nine more lives of bad luck ahead of you" and Tony gets horrific flashes of his being murdered in a previous life. He ends up in the hospital where a man tells him to seek the help of Granny Four to understand what is happening to him. He finds out later that this man was already dead.
Granny Four is a spiritualist and is able to show him his past life and the story of his love for Chingmy and their tragic ending. Chingmy also comes to him (in spirit form) and tells him that she has been waiting for him for thirty years and that he must free her soul from the lantern.

Leung also realizes that in his past life he was this incredibly suave, debonair and courageous fellow (similar to Leung's character in The Lover) and he slowly starts taking on the character of his former life. It is just a winning performance from Leung as he makes both his lives very real and sympathetic. Along with Tommy Wong (who owed him a favor in his previous life!) Leung fights to save Chingmy's soul and for the salvation of his future lives.

This film just swept me in from the opening scene till the very last frame. It is full of heart, imagination and strong performances but at its core lies an emotional love story that crosses both time and death. It all makes for a terrifically enjoyable viewing experience.
My rating for this film: 8.0

---