King of Comedy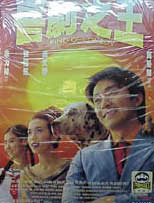 ---
I could and probably should make this review really short and simple. I won't, but I should. I thoroughly enjoyed this film from beginning to end. Period. It struck the perfect blend of comedy, romance and drama for me. Some of the scenes had me in a state of complete laughter. Other parts were quite touching. It is the best thing Chow has done in a couple of years in my opinion.
Chow plays an aspiring actor – big on acting theory, but a little short on actual experience. He primarily gets work as an extra, but has a real job as a caretaker at a Community Center. There he attempts to put on plays (Fist of Fury) that neither the audience nor his fellow actors ever show up for.
Chow gets a job as an extra in a scene that is an absolutely brilliant and extremely funny parody of The Killer. In this case though, the killer is Karen Mok and she blows away lots of people in a church with doves flying all over. This scene is actually pretty cool on its own merits – but Chow who is playing a priest and only has to get shot and lie down, refuses to die easily (ala Peter Sellers in The Party) and ruins the shot. He gets kicked off the set. He keeps coming back though and keeps messing up and getting kicked off again.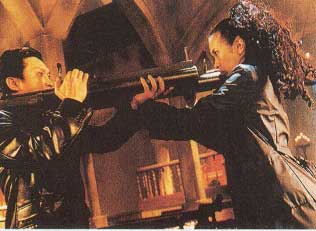 The first time we see Cecilia Cheung she is in her schoolgirl uniform walking down a street in HK with a syrupy song playing in the background. It feels like something out of a dreadful schoolgirl anime fantasy. This little mirage disappears quickly though when it turns out that she works in a hostess bar and their modus operandi is having the girls dress up in school uniforms. Cecilia is a new face on the HK scene (this was her debut), but she is a revelation in this film. Somehow she manages to be tough, tender and trashy and she creates a classic character. I hope she won't vanish from the screen as so many young actresses seem to.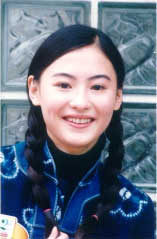 The hostess girls are having a difficult time projecting schoolgirl innocence to the patrons. Especially when clients like Bobby Yip appear with a cockroach in his hair and some worm like thing coming out of his ear. So they come to Chow for acting lessons. A nice little romance blooms between Chow and Cecilia that is really very sweet. Chow is also being hired by three triad wannabes to teach them how to be threatening. The scene of one of these guys trying to collect money from a goon and looking at Chow for acting cues is one of the silliest and funniest things I have seen.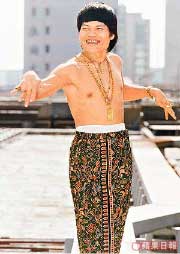 One other scene has to be mentioned. It is a snot scene. Now I know snot jokes tend to be in bad taste, but this one truly had the audience in riot gear. Chow finally gets his big shot at acting and he does a test shot with Karen Mok. She is dying and he has to bring real emotion to the moment as he bends over her. Well, he does to the point where he starts crying and out of his nose a creature like "The Blob" emerges and gets bigger and bigger and longer and longer. It has to be seen to be appreciated.
Ng Man Tat is on hand as usual in a Chow film and he also gives a wonderful performance as the shaven head scary guy in charge of handing out the lunches.
This is a really enjoyable "feel good" film that made me almost bounce out of the theater when it was over. All aspects of this film are top notch – from the acting to the story to the jokes.
I located a little information regarding Cecilia Cheung on the Internet. Go to this site for a little bio.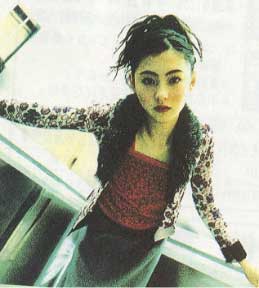 My rating for this film: 8.5
---
Reviewed by YTSL
This movie definitely has some truly funny moments. Four sequences in particular -- one of which parodied "The Killer" (a film which I have yet to see but know enough about to catch references to it); a second of which involves Stephen Chow and three trainee actors performing a scene from Bruce Lee's "Fist of Fury"; a third of which ends with a character named Sister Cuckoo (played by Karen Mok) being catapulted out of a window; and a fourth of which features the booger from hell! -- had me literally rolling on my living room floor. This being said, this Stephen Chow film is much more than just a straightforward, out-and-out laugh-o-rama...and I honestly think that it is an altogether better production for being so.
KING OF COMEDY actually has some altogether serious sections. There are some scenes in it (I think especially of two involving elderly ladies as well as a few involving the very young Cecilia Cheung) that are thought provoking as well as thoughtful. There are others which are warm, tender and touching as well as sweet (I think here of the extremely tasteful -- no, I am not kidding -- romancing of the character portrayed by Cecilia Cheung by that played by Stephen Chow). These give the movie "heart" and warmth as well as dramatic content.
It is difficult to find anything to criticize with regards to this movie which I will admit to watching twice in twelve hours (and enjoying more the second time around). All of the cast (including Jackie Chan, who
made a cameo appearance!) and crew acquitted themselves well. Although Ng Man Tat is far from my favorite Hong Kong actor, he was much less annoying here than he has been in so many other productions I've seen him in (e.g., "Millionaire Cop" and "Handsome Siblings"). Even the plug for a certain brand of potato chips at the end of the film is somewhat amusing to watch even if admittedly extraneous to the plot.
All in all, this is a high quality production. I have a sneaky suspicion though that in years to come, it will best be remembered and primarily referred to as "the movie in which Cecilia Cheung made her acting debut". To understand why I think this, one has to see this film. The fact of the matter is that while this young woman is physically attractive and has a bewitching screen presence, what is far more impressive to me is her obviously already abundant acting ability (scads of which her part called for, demanded even, and this teenager so successfully supplied).
My rating for the film: 9.0

---