The Peeping Tom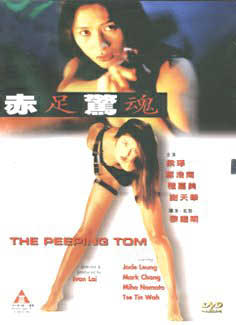 ---
Nothing like a lot of gratuitous nudity & gore every now and then and this Category III flick has plenty.

A serial killer/rapist (Mark Cheng) is on a killing spree in HK and he has a particular liking for ladies with nice legs; unfortunately for them - preferably detached from the rest of their body. He spruces up his living quarters by hanging them from his ceiling in plastic bags - no Martha Stewart award for him. After seeing Jade in a shootout, he takes a special liking to her (and who can blame him) and he intrudes into all facets of her life creating a vicious game of cat & mouse with Jade definitely in the role of the mouse. Jade is a cop though and fights back.

For the most part, it is a pretty standard serial killer tale in which the killer is always a step ahead of the police. In fact, the cops seem so incompetent in their ability to catch him that the movie becomes a bit annoying. How difficult can it be to find a killer when they have a picture of him and who always wears reddish shades and drives a white van. Anyway, much nudity throughout, but usually the women are dead with their legs cut off so it is not exactly a thrill and Jade though never unclad (damn!) looks lovelier than ever.

Japanese actress Miho Nomoto appears as Jade's sister and has a very long and pleasurable shower scene in the beginning of the film.

My rating for this film: 6.0
---
DVD Information:
Distributor - Universe
Very nice transfer for a fairly low budget film.
8 Chapters
Letterbox
No trailer - but previews of Erotic Ghost Story - The Perfect Match and Sex and Zen III
Subs - English and Chinese
Easy to read subs.
Star files - Jade Leung, Mark Cheng, Miho Nomoto.
A few facts from the file on Jade: She moved to Switzerland as a teenager to live with relatives, but returned to HK to participate in the Miss Asia beauty contest. She lost in the semi-finals and for a while took on various employment from sales clerk to modeling. She was introduced to D&B film company and they hired her to make her debut film - Black Cat - for which she won Best New Performer.

---