Satin Steel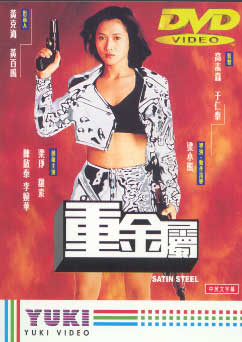 ---
This was Jade Leung's third movie (after becoming a star with the two Black Cat films) and it is a decent if not particularly overwhelming "Girls with Guns" flick. It has some great locales and solid action, but it is let down by a script that has only a modicum of originality. Clearly influenced by the first Lethal Weapon film, Jade plays a despondent and suicidal cop all too willing to take extreme risks with her life and she shows little respect for the niceties of the law. Her supervisors in Hong Kong gladly send her to Singapore to team up with Anita Lee in tracking down a gun smuggling operation headed by an evil gweilo. Though the focus is on the action, the director does thankfully manage to get both of these lovely female actresses into some form fitting and sexy attire.

Not only does Jade's character take risks with her life, but one has to be amazed at the risks that Jade the actress took as well. That this former fashion model allowed herself to be constantly pummeled and thrashed is astonishing, but that is nothing compared to Jade hanging from a helicopter as it skips the water, pulled down some fast moving rapids, rolling down a steep hill and jumping on a moving vehicle. Clearly at times she is being assisted by stunt doubles, but there is little doubt that she was doing a lot of this on her own. Generally, I would say that this is one for Jade Leung fans (like myself) simply because she looks fabulous and has a few moments of shimmering intensity that Jade excels at with her burning dark eyes.

My rating for this film: 6.5

---
Reviewed by YTSL
Prior to my watching this movie, if I had been asked to imagine what a 1994 Mandarin Films offering co-produced by Clifton Ko and Ronnie Yu -- and possessing a script co-written by Vincent Kuk (along with Roman Cheung) -- would be like, almost the last thing that would have come to my mind would have been a "Girls with Guns" work that could be said to be the reverse sex version of "Lethal Weapon". Considering that it is the handiwork of individuals most famous for their farcical comedies along with the director of "Warriors of Virtue" and "Bride of Chucky" as well as "The Bride with White Hair" then, it thus probably is best to not take this not limited budget effort -- which nevertheless spans three diverse territories (Indonesia and Singapore as well as Hong Kong) -- too seriously.

The sad thing about SATIN STEEL is that, even with its having some spectacular -- in terms of physical locale as well as action -- looking scenes, one does get the distinct sense that the movie's makers did not pull out all the stops when making it. Alternatively put: What with its having the rather game appearing Jade Leung and Anita Lee as its stars, this could have been a top-notch action flick. On the other hand, the way some of the scenes were envisioned and filmed, it might also have been the kind of Category III work that earned its rating from depictions of sex rather than violence. To put it bluntly: This female (re)viewer definitely doesn't see a logical reason for there being scenes in this flick of Jade Leung taking a shower and having sex as well as anything other than a tittilatory one for Ms. Leung and Ms. Lee being shown pursuing suspects while clad in bikini swimsuits.

Either way, the film would have benefited from having a more original as well as better quality story line plus script (which undoubtedly suffers further from its dialogue being badly translated into English). Instead, what SATIN STEEL got saddled with is a hackneyed and stereotype-reliant (as well as -reinforcing) plot involving a Hong Kong detective sergeant with suicidal tendencies -- due to her beloved husband having been murdered on their wedding night by individuals who were trying to kill her as well as him -- named Jade Leung (who is played by -- duh! -- Jade Leung) who gets sent to Singapore to track down and uncover the illegal international weapons trading of an "American Mafia leader' named Mr. Fowler (...Yeah, right).

In the city state that is infamous in Asia -- if not the whole world -- for having straight-laced, law-abiding folks, Jade gets assigned a straight-laced, "by the book" -- well, relative, to her -- partner (Inspector Ellen Cheng is portrayed by Anita Lee, and proves to be the feisty Jade's stylish and soft foil). What passes for comic relief in SATIN STEEL comes in the form of the Singaporean policewoman's foppish boyfriend, Jean Paul Belmondo (Kenneth Chan proves to be an annoying distraction for more than the film's two main women). It really is too bad that he could not be left behind in the "Lion City" when the movie moves along to Indonesia, where Fowler goes -- with the two female cops in pursuit -- to have a big meeting with eager arms buyers from an unspecified Arabian country as well as South-East Asian ones like the Philippines and Vietnam.

Something else that would have made SATIN STEEL more palatable -- at least for me -- is if the film had featured more of Russell Wong (Someone I sincerely wish could have become half as ubiquitous a presence in Hong Kong cinema in the past one and half decades as his less handsome and talented brother, Michael). Here, he adds a touch of class to proceedings as well as his lawyer-lover character, Ken, along with some passionate frisson to his scenes with Jade Leung plus angst for his scenes with his fluent Cantonese speaking patron and client, Fowler. Otherwise, it actually wasn't until pretty late into the Tony Leung Siu Hung directorial effort that there was all that much to get all that excited about. More specifically with regards to the action movie's action scenes: I have to honestly say that even during the offering's climactic chase and fight, I was more impressed by the exotic choice of location -- a volcanic area that did look very interesting -- than anything else (including the distinct possibility that Jade Leung might performed a significant portion of her own stunts for this work).

My rating for the film: 5.5

---
DVD Information:
Distributed by Yuki
The transfer is fine - quite clear with a tiny bit of speckling. At one point the transfer goes bad for about a minute, but it might just be my copy.
Letterboxed
Cantonese and Mandarin language tracks.
There is no menu available - so no extras or chapters
The subtitles are burnt on Chinese and English.

---