Viva Erotica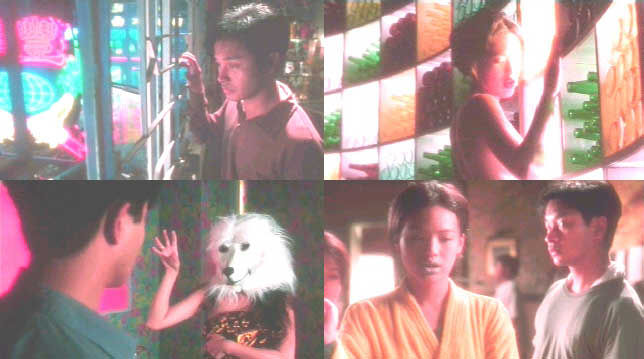 ---
This movie starts off with a surf music blast and rides the wave from there. Leslie Cheung in a nuanced understated performance without a false note portrays a director who has no choice but to start directing Category III movies as he can get no other work. The starlet of the film is forced on him by the producer and she can't act a whit (the character that is). She is played by the enchanting and often unclad Hsu Chi who I thought had some lovely moments (even when dressed!) in this movie. A small scene in which she tells Leslie about her past rang true and seemed to show some acting potential. Why he stays with his dull as dishwater girlfriend is beyond me. A witty inside look at film making and the state of cinema in contemporary HK. Cameos from Anthony Wong and Lau Ching-wan.

My rating for this film: 8.0

---
Reviewed by YTSL
For the most part, the Hong Kong movies that I view -- as well as prefer -- tend to be Category II rated ones. Nevertheless, I do feel that I have actually checked out enough Category III works -- among which are directorial offerings from Wong Kar Wai ("Happy Together"), Stanley Kwan ("Hold You Tight") and Lawrence Ah Mon ("Queen of Temple Street") as well as Herman Yau ("Taxi Hunter"), Bloody Billy Chung ("Love to Kill") or Bloody Billy Tang ("Red to Kill") -- to know that Stefan Hammond, the co-author of the influential ""Sex and Zen" & "A Bullet in the Head"" (1996) was not entirely correct in asserting that this "adults only" rating is "reserved for films with nasty sex and/or violence" (See "Hollywood East", 2000:257).

To be fair though, as the co-director and -scriptwriter (along with Lo Chi-Leung) of the provocatively titled VIVA EROTICA! noted in an interview he gave to "The Hong Kong Economic Times" to promote that which looks to have remained his sole Category III rated output, this is a misconception that the currently Hong Kong based writer shares with many (other) residents of the Fragrant Harbor. As Derek Yee further states and looks to have worked hard to demonstrate, however, it actually is more the case that "Category III is just a yardstick of censorship" (In "Hong Kong Panorama 96-97", 1997:31). At the very least, and despite the myriad opportunities to catch sight of the HKFA Best Newcomer and Best Supporting Actress winning Hsu Chi's "two points" that this stylishly shot (by Jingle Ma) movie presents to its viewers, it ought to be rather obvious to those who do behold the alternately amusingly tongue-in-cheek, sensitively touchy-feely plus -- pun not completely intended! -- serious point-making offering that it is a far cry from such shameless efforts as "A Chinese Torture Chamber Story" (a work which just happened to have been helmed by the man who conceived this Golden Harvest film's original story -- Bosco Lam).

Not that this is at all to say that VIVA EROTICA! -- which begins with a protracted plus steamy love scene between the effort's main man (Movie maker Sing is portrayed with panache by the charismatic Leslie Cheung) and his plainclothes policewoman girlfriend (May is understatedly essayed by the multi-talented Karen Mok) that has been suspected of having been put in the Catherine Hun production largely for publicity purposes -- does not possess its share of daringly eye-opening and -catching segments. In all honesty, this would seem to be an impossibility for a boundary-bending work such as that whose central character is a helmer of two artsy box office bombs, and whose one offered -- and accepted -- job in more than one year involves his (reluctantly, even while having the approval of his girlfriend and his surprisingly open-minded mother) scriptwriting and directing a sex film -- which so happens to have a title that's the exact same one as this legitimate 1996 offering -- for an intimidating individual with fingers in illegal as well as above-board commercial pies (played by Derek Yee's half-brother, Paul Chun Pui).

For quite some time, Sing continued to have misgivings re something that he is apt to see as his having been reduced to undertaking. Matters were not helped by one of his drinking buddies (many, if not all, of whom appear to be played by Hong Kong film industry insiders) suggesting that once one ventures into the porn movie world, it is very difficult to get out of it. Ditto re the VIVA EROTICA! that Sing got charged with helming having: a leading lady (named Mango and essayed by Hsu Chi) foisted upon it -- by her Triad cum studio boss Sugar Daddy -- who not only can't act all that well but also is (initially) deeply distrustful re the morals of its main male (who, as it turns out, is actually a very nice family man -- wonderfully portrayed by the surprisingly soft spoken Elvis Tsui Kam Kong); and a producer (Chung comes in the form of Law Kar Ying) who Sing suspects of being willing to do anything to make (more) money, especially after he ordered the effort's cast and crew to controversially shoot a sex scene in public (More specifically, in a phone booth on the other side of the road from the Peninsula Hotel, in plain view of gawping onlookers and sometimes plainly disapproving pedestrians who had just been innocently passing by).
Slowly but surely though, Sing warms up to his task, crew and cast. From the production's cinematographer (and Category III (plus IV) aficionado) is gained an appreciation that some porn efforts are better than others, not artless and, in fact, can be technically admirable. On his own, he comes to the opinion that making a sex film doesn't mean that he should not and cannot invest some meaning and passion into his work (the way that he did and would do with those works that people won't feel obliged to watch on the sly). Additionally, by way of working with the particular personalities that comprise the cobbled together team of experienced and inexperienced porn movie makers, the increasingly committed individual starts to see connections between this possibly creative, not just commercial, activity and "the beautiful game" (Association football happens to have been Sing's childhood passion and first love. Tellingly, VIVA EROTICA!'s co-helmer, Lo Chi Leung, has stated that "I like soccer very much; and I always think that the most interesting part of the game is not the winning team but the losing team. Soccer is a real team game..." ("Hong Kong Panorama 96-97", 1997:30)).

As co-director Lo's statement implied, VIVA EROTICA! is a film that focuses on people who are considered (by others) to be losers more so than winners. At the same time, the movie -- whose senior helmer is an ex-Shaw Brothers actor who has produced box office as well as critical hits (notably "C'est la Vie, Mon Cheri") -- doesn't necessarily advocate the route out that's resorted to by a commercially unsuccessful auteur named Derek Yee (not the genuine article but, instead, one who comes in the form of a cameo-making Lau Ching Wan!). Also, lest it not be clear, Derek Yee has declared that this imaginative effort "is not a reflection of myself. That is to say it is not a portrait of my own experiences" ("Hong Kong Panorama 96-97", 1997:31). Instead, according to members of the Hong Kong Film Critics Society, if people are intent on finding semi-autobiographical representations within the work, they should focus their attentions on a certain swollen-lipped starlet and a bald-headed veteran actor who, in real as well as reel life, have appeared in some infamous Category III productions. . . (See filmcritics.org).
My rating for this film: 8.
---