Those Were the Days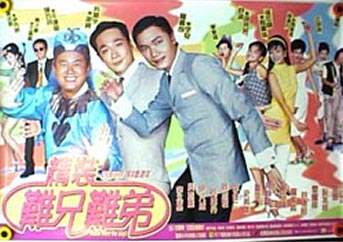 ---
I think there are a number of films with this title, but this one was a pretty feeble comedy though it had an interesting premise.
A movie award ceremony is taking place in modern day HK and a director (Dayo Wong) - modeled after I think Wong Kar Wai (never takes his sunglasses off the entire movie) - makes some comments about how bad the films were back in the 1960's & 1970's. Later that night as punishment for his snide comments, he is magically transported back to the movie sets of that time period and told by his transporter that he has to make a good film before he can return to the present. Well needless to say he is able to invent some great stuff like wires in kung fu movies! Still all in all a very dull movie. Hsu Chi has a very small and clothed role.

My rating for this film: 3.0

---
Above was the review I wrote a few years back and it only goes to show how little I knew then about HK film! At the time I watched this film I was quite new to HK film and just about every reference in the film went way over my head. I had no idea who the actors were suppose to be parodying and I had no affection or knowledge of HK Cantonese film of the 1960s. Now - way too many HK films later - I watched the film and enjoyed it a lot more. I know I am still missing many of the old time references, but at least now I get some of them and can identify some of the characters such as Josephine Siao, Connie Chan, Wong Jing, Walter Tso Tat Wah, Lydia Shum, Patrick Tse Yuen, Kwan Tak Hing, Sek Kin and Nancy Sit.

Many of the movie references - both modern and the older ones also registered and I found them quite amusing. Its odd that I found myself feeling nostalgic for a period of film history that I didn't live through - have rarely seen - and only read about - but I did and I came away from this basically silly film with a desire to see some of the old films and see the real actors/legends that were in them. So I would recommend this film primarily for people somewhat schooled in HK films and with a passing knowledge of the old time stars of the 60's. Of course, I was still bothered that Hsu Chi had such a small part - but not so much that she remains clothed - is this a sign of maturity on my part!
My New Rating for this film: 6.0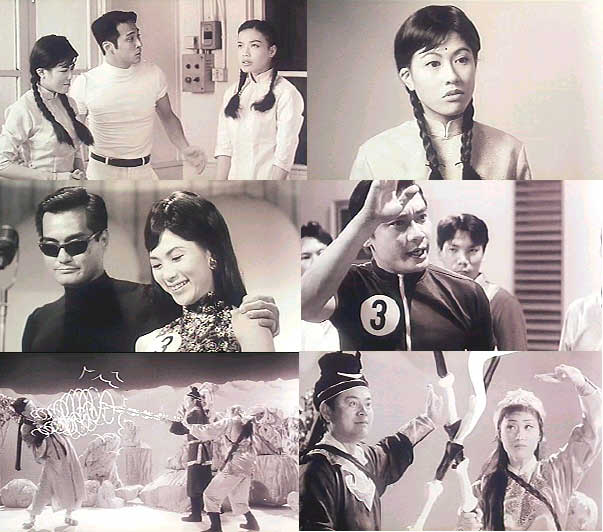 ---
Reviewed by YTSL
Considering how fond Hong Kong movie makers can be of inserting in-jokes and pop culture references into their offerings, it seemed almost inevitable that a work would get produced that purports to jokingly comment about the rivalry between Wong Kar Wai and Wong Jing. Actually, make that at least two films, since this territory was covered in the Wong Jing helmed "Whatever You Want" -- a comedic effort which had Anita Yuen playing a video addict who idolized director Wong Jing Wai while disparaging the movies of a certain portly auteur that was released in 1994 -- as well as in this 1997 Natalis Chan produced adaptation of an award-winning TVB series (Christopher Fu has described that which was entitled "Old Time Buddies" in a Mobius Asian Cinema Discussion Board post as one that "parodied the nostalgic Golden Age of HK films during the 1960s").

In this particular THOSE WERE THE DAYS (N.B. At last count, there were five Hong Kong movies that have this title), a post-modern director (Dayo Wong portrays a character who has a similar hairstyle, physical built and love of sunglasses as Wong Kar Wai) who looks down on old Cantonese movies gets sent back to the 1960s (by a supernatural figure who comes in the form of the respected veteran director, Chor Yuen) and can only return to his own time if he manages to make a movie that at least one person will like. Not content with having this individual -- whose name is referred to in this Cho Kin Nam helmed film's subtitles as Wong Ching Wai but has been identified as Wong Jing Wai in such as David Bordwell's authoritative "Planet Hong Kong" -- be an anti-Cantonese cinematic snob in public (with a propensity to scatter his critical pronouncements with foreign words and phrases), this work's producers also depict him as being disrespectful of his elders as well as more populist contemporaries (e.g., someone named in the subtitles as Wong Shing) and not above getting his girlfriend to purchase pirated VCDs -- some of them Category IVers (i.e., porn movies) -- for him to view in the privacy of his home.

Upon being transported back to the premises of a Wah Tat Studio in the year 1967 that supposedly resembles the Shaw Brothers Studio of that time period), Wong Ching Wai encounters -- and cross the paths of -- many of the stars, future luminaries and assorted other personalities of what can seem like a parallel 1960s Cantonese movie universe. Even someone as unknowledgeable about that era of Hong Kong movies as myself could recognize among them those individuals who were made out to be Kwan Tak Hing (who Law Kar Ying plays as a crabby old man who acts like he really is Wong Fei Hung), Shek Kin (best known in the 1960s as the man who portrayed Wong Fei Hung's seemingly perennial arch-rival), Josephine Siao Fong Fong (played here by -- of all people! --Hsu Chi), Connie Chan Po Chu (who comes in the form of Maggie Cheung Ho Yee), Nancy Sit (who is essayed by Joyce Chan) and Lydia Shum (played by the often male cross-dressed Lee Kin-yan). Additionally, there is the chubby father-son pair -- named here as Wong Tin Lam (Vincent Kuk conforms to my vision of what a younger Wong Ting Lam looked like!) and Wong Shing (who was but a bespectacled innocent plus idealist at this point of his life) -- who are well known to more than one generation of Hong Kong moviephiles.

Through a series of accidental and fortuitous events, Wong Ching Wai makes the acquaintance of three then still not yet famous actors (Francis Ng plays someone who is modeled on Patrick Tse, Natalis Chan's character bears some resemblance to Walter Cho, and Gallen Lo portrays a future "King of Porn" named Li Kei). After he -- who bye the bye is revealed to not necessarily be that bad a fellow -- helps the affable trio of friends (by way of future inventions as wire-enhanced kung fu moves as well as having knowledge of precisely which movies they would achieve popularity by being in), they -- and their girlfriends -- help him to get put at the helm of at least three films. Seemingly unable to help himself, Wong Ching Wai: Makes a Wong Fei Hung movie that has the martial arts doyen having a love-hate relationship with his old rival that bears more than a passing resemblance to that of "Happy Together"; produces another work whose visuals recall that of "Ashes of Time"; and looks to recreate "Days of Being Wild" (with Francis Ng and Gallen Lo's characters taking turns being Yuddy and Natalis Chan's character in the Tony Leung Chiu Wai role). As one might expect, these are not box office hits.

On a personal note: Probably in part because I could easily identify them, I found these comic movie references -- plus those to other (more) contemporary productions like "Police Story", "He's a Woman, She's a Man" and "Young and Dangerous I" -- to be among the funniest bits of THOSE WERE THE DAYS. As with the 1994 Anita Yuen vehicle, I could have done with a lot more of them. As it stands though, I felt that my viewing pleasure was hampered by my lack of familiarity with many of the older personalities and works that were being alluded to and poked fun at. Things were also not helped at all by: Such as newspaper headlines and in-film IDs of characters not getting translated (for the benefit of non-readers of Chinese); and this often casual feeling effort's subtitles being very hex-error filled (Two e.g.s of what I mean are: "He...very mandom"; and "I have staggers" (i.e., daggers)). Consequently, even though my sense is that the hearts of this anonymously scripted offering's producers were actually in the right place, what got turned out was something that wasn't half as inspired as its premise was intriguing.
My rating for the film: 5.5

---
If anyone at any time wants to help in filling out this grid - please send me an e-mail. Thanks to John Charles's book Hong Kong Filmography 1977-1997, Ranberator and James Chang for helping me fill in some of these blanks.
| | | |
| --- | --- | --- |
| Actor | Film Character's Name | Character Portrayed |
| Francis Ng | Tse Yuen | Patrick Tse Yuen |
| Gallen Lo/Law | Li Kei | Lui Kei - "King of Porn" - producer |
| Natalis Chan | Ngau Tat Wah | Walter Tso Tat Wah |
| Hsu Chi | Siu Fong Fong | Josephine Siao Fong Fong |
| Maggie Cheung Ho Yee | Ching Po Chu | Connie Chan Po Chu |
| Lee Kin Yee | Fat Fat | Lydia Shum |
| Dayo Wong | Wong Ching Wai | Wong Kar-wai |
| ?? | Wong Shing | Wong Jing |
| Vincent Kok | Wong Tin Lam | Wong Ting Lam (Wong Jing's father) |
| Peter Ngor | ?? | Shek Kin |
| Lee Siu-kei | The Director | ?? |
| Ha Ping | Siu Fong Fong's mother | Josephine Siao's mother |
| Yuen King Tan | Ching Po Chu's mother | Connie Chan's mother |
| Joyce Chan | Ka Yin | Nancy Sit Ka Yin |
| Monica Chan | Sister Chau Yee | Yu Su Chiu - daughter of mentor of 7 Fortunes |
| Ricky Yee Fan-wai | Kwan Mak Kei (the bad guy) | Mak Kei - often villain in films |
| ?? | The Boss | Run Run Shaw?? |
| Cheung Tat Ming | Brother Cheung | Sun Ma Chai |
| Chor Yuen | Chor Wood Yan | Cheung Wood Yau |
| Wayne Lai | The Delivery Boy | Roman Tam (Law Man) - singer |
| Lawrence Cheng | Tall Chuen - Actor in scene near end and in Buddhist Palm | Ko Lo Chuen - comedic actor |
| Alvina Kong | Brother Cheung's wife - Cheung Siu | Sun Ma Chai's wife |
| Teresa Mak | Dik Loh - actress in bath | Tina Leung/Di Na - risque actress back then |
Thanks to Ranberator for the following information!
Mak Kei is an actor, often portraying bad guys.
Ko Lo Chuen is a veteran comedic actor known and named for his height. Ko Lo = tall man literally.
Sun Ma Chai (Sun Ma Sze Tsang), aka Tang Wing-cheung, is a popular Chinese opera singer/actor who remained
in the public eye after the popularity of Cantonese opera waned, by hosting and often performing in
charity Chinese opera fund raisers (similar to Jerry Lewis in this respect), earning him the nickname
Charity Opera King. His wife, a former night club hostess 30 years his junior, was to enage in an ugly
fight with his children over his inheritance while he was dying of illness.
The "delivery boy" who ended up in bed with Lydia Sum Din Ha is the retired Cantopop singer Roman Tam, aka
Law Man. He is rumored to be gay. In the early 1970's he was a young unknown upstart who dated Lydia
Sum (who was by then one of the regular hosts of the popular TV variety show Enjoy Yourself Tonight). The
two often performed on the show as "The Lover's Duo" (approx. translation). They soon broke up after he
had achieved fame. Law Man is reportedly battling liver cancer.
Lastly, the boss in the movie does look like one of the Shaw Brothers. Very good casting and make up job!
---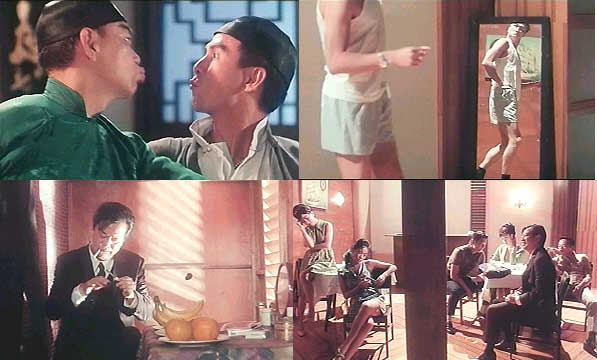 ---