Portland Street Blues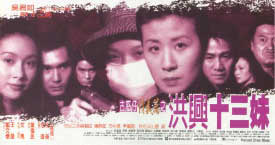 ---
An interesting look at a small patch of Triad life - with a little twist in that the main character is a female lesbian who runs some prostitutes on Portland Street and has managed to gain an unusually high status in a typically man's world. Sandra Ng plays Sister 13 and over the film she constructs a layered complex character. In flashback mode, the film traces her life and her relationships with her father - Ng Man Tat - and her friends Yun (played by the very attractive actress Kristy Yeung) and Coke (Alex Fong) and shows how she entered into the Triad life. The great beauty Hsu Chi has a small role as a broken hearted heroin addict with a grudge. She settles it in a stunning scene.

The film has a fairly realistic street feel to it that takes you right into the middle of this imagined triad world and this along with the solid performances from everyone makes it a rewarding experience. Sandra Ng's character is a spin-off of one that she played in a few of the films from the Young and Dangerous series. A few of the other Y&D characters show up as well - and Ekin Cheng shows up at the very end in true Y&D fashion. For those though who are not that keen on the Y&D series (count me as one) this film has a much more grown up, gritty dramatic tone to it that (for me) puts it miles ahead of any of the series.

My rating for this film: 8.0

---
Reviewed by YTSL
The first time I checked out the Raymond Yip directed movie that accords centre stage to a tomboyish female who is known to most as Sister Thirteen (and the HKFA Best Actress winner who portrayed her), it was with little or no knowledge whatsoever of it being an official offshoot of the "Young and Dangerous" series. In fact, so vague was my awareness then of those Triad dramas whose main characters are a long haired man named Chan Ho Nam and the rough diamond who is usually referred to as Chicken (but also has been called Chick and Cock) that I failed to recognize -- and thus was neither all that amused by nor appreciative of -- the cameo appearances in this 1998 offering that were made by the now familiar likes of Francis Ng (in a less than becoming wig!), Ng Chi Hung (whose shaggy hair-piece wasn't all that great either!!), Lee Siu Kei, Jan Lamb, Jason Chu and Ekin Cheng.

However, my lack of familiarity with the Y&D universe, saga and lore did not prevent me from being thoroughly captivated by PORTLAND STREET BLUES. As such, it is from personal experience that I state that -- much like its lead character (who Sandra Ng very capably essays) -- that which I've now viewed more than once is able to stand on its own even while there are certain benefits to be had from it being seen in the company of related others. At the same time, since the apparent Gay, Lesbian and Bisexual International Film Festival favorite -- whose release date chronologically puts it between those of "Young and Dangerous 5" and "Young and Dangerous: The Prequel" -- actually does more than help flesh out its intriguingly complex protagonist, here's suggesting that it ought not be missed by even those who doubt that they are all that curious about the individual plus "professional" background of the head of the Portland Street branch of the Hung Hing (actually not all that) "secret" society.

Still, this is not to say that this Manfred Wong produced and co-scripted (along with Ye Nianchen) offering's spotlight is squarely directed at other than the complicated character: Whose father opined of her that "It'd have been great if you had been a boy"; who told a good buddy that "I take myself as a man"; and who gets assured by him that "You are one in a thousand (in any case)". Additionally, what with PORTLAND STREET BLUES containing declarations like "You men are always heartless" and "After all, she is a woman" along with those that alternatively question, mock plus provide clues re Sister Thirteen's sexual preferences, it can sometimes seem that she is often right in the middle of a gender as well as gang war. Like many of my favorite Hong Kong films though, it really doesn't overly obsess about this potentially acrimoniously divisive issue even while choosing to not shy away from depicting some of the situations that come from being a far from passively-inclined female in a male dominated part of the world (and/or powerless person in one where the often unjustly strong are liable to prey on the weak and wreck havoc on (relatively) innocent lives).

PORTLAND STREET BLUES also is true to its filmic (and possibly cultural too) roots in its suggestion that an individual derives strength -- and maybe one's very humanity as well -- from associating with others. Indeed, one might go so far as to suggest that in the story that gets presented here, the identity and life path of the feisty Mongkok resident whose little used given name is Tsui Siu Siu actually is shown to have been defined to a large extent by her relations with -- and her reactions to the actions of -- five other individuals; all of whom looked to have been fated to lead the kind of lives that would be far from trouble-free, even if also not entirely joy-less (plus provide ample meaty material for those who played them in this character driven movie to gratefully sink their teeth into).
Although Sister Thirteen's widower father is actually not in the Lai Yiu Fai lensed picture for all that long, the lowly Triad played by Ng Man Tat does manage to fully establish in the time that he had on screen that he loved his daughter as much as, if not more than, any gambling game that allowed him to be a (temporary) winner. Another man who looks to have had a very big emotional impact on PORTLAND STREET BLUES' protagonist is quiet -- but still very hard to forget or not notice -- Coke of the Tung Sing gang (who the gorgeously hunky Alex Fong is able to make into far more than just your stereotypical physically attractive man of few words). Someone else who this (re)viewer reckons that any woman would count herself rather blessed to know -- and be cared about by -- is Ben Hon (Vincent Wan endows this Hung Hing branch boss with that ineffable something that makes him the number one fellow that I would want to be watching my back or at my side but also offering me a shoulder to cry on when the need to do this arises).

Of the two females in addition to Sister Thirteen that viewers of PORTLAND STREET BLUES are likely to not be able to forget having seen, the one who I honestly don't care all that much for is the sad individual who introduced herself as Scarface. Nonetheless, I cannot deny that Hsu Chi has earned kudos from others, including the HKFA and Golden Horse juries who presented her with Best Supporting Actress honors on the basis of her performance in this movie as the one time club girl and girlfriend of a Triad "dai lo" who had the misfortune to fall in love with an utterly callous as well as "stained" police officer (played by Jimmy Wong). For my money though, Kristy Yeung was robbed of those awards since I thought that she was amazing as Sister Thirteen's sweet-faced -- and somewhat tragically, yet still forgivingly, unrequited love filled -- childhood friend, Yun. Anyhow, I'll be content enough if there turns out to be many who share my opinion that a(ny) dramatic work peopled with supporting characters like these -- never mind a main personality like that of Sister Thirteen -- is worth savoring and applauding.
My rating for this film: 8.5

---