Dragon from Russia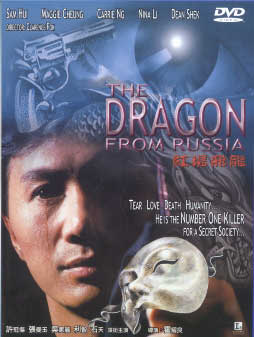 ---
This 1990 film version of Crying Freeman is often credited for ringing the final death knell for Cinema City. It looks as if the production company threw a lot of money and resources into this film, but it fared very poorly at the box office (HK$ 11 mm). To a large degree that is understandable. Though this film directed by Clarence Fok is full of his trademark splashy style, breathtaking camera movement and has some truly amazingly clever wire work/action choreography, the plot is nearly incomprehensible at times and the film holds little emotional resonance.

After a while it is almost not worth the effort of trying to make sense of it all - because there is little sense here - instead it is best to sit back and watch the spectacular wire choreography and four of Hong Kong's most beautiful actresses on the screen. Think visual - and this film is full of visual treats. One has to wonder whether miles of this film had to be left on the editing floor because otherwise there is little explanation for the leaps of logic, time and place.

Sam Hui (perhaps a bit old for this role) and Maggie Cheung are two orphans in love brought up together in Russia by Snooker (Dean Shek) who was once a member of an assassin organization - the 800 Dragons. He escaped that life with his daughter (Sara Lee) and went to live in Russia, but his past is finally catching up with him. Years later the organization - now riddled with betrayers - are concerned that Snooker knows the identities of other assassins and might reveal them to the enemy. The leader - called The Master of the Dead (and played by Yuen Tak - though in the train scene he clearly looks to be played by Yuen Wah!) has two missions in mind - silence Dean Shek and kidnap Sam Hui.

Hui is kidnapped and brought back to the assassin training facility where his memory is erased and he is trained to be a master professional killer. At the camp also is a junior trainee, Pearl (Loletta Lee), - who clearly doesn't have the heart to be a killer and finds herself having feelings for Sam. Once the training is completed and Sam has learned to kill in every conceivable way (and after being sensually tattooed by Nina Li), he is ready for his first assignment - to kill a HK businessman. This is carried out in thrilling style in front of the Peninsula Hotel - but as he escapes Maggie catches a glimpse of him.

Nina Li is another member of the 800 Dragons and is Sam's controller. She is simply stunning in this film whether dressed in a seductive kimono, a nun's habit or a stylish aviation outfit. She gives Sam orders for another kill - a top Yakuza (Lau Shun) - and at this point the film begins to spin completely off the tracks in confusion. Protecting the Yakuza is Carrie Ng (also looking lipsticked spectacular) and her husband (Pai Ying) who were both members of the 800 Dragons. It begins to get completely mixed up as the film loses the viewer as to who is on who's side and where all the action is taking place as it jumps all over the place from HK to Russia in the flash of an eye.

Sam also gets orders to kill a witness - Maggie of course - but somewhere in the deep recesses of his mind he has faint memories of her and can't bring himself to kill her (and who really could kill the Magster!) - and soon they are on the run with everyone trying to kill them. The last twenty minutes of the film in particular are a muddled mess as we lose complete sense of where we are and what is happening.

Even with the cluttered and mystifying storyline at times (for example why doesn't Carrie recognize Nina in the nun's garb), I would recommend this film for the style, the action and the sense of fun it is aiming for. This film has an action scene it seems about every five minutes and without a doubt some of the more imaginative fast wire action I have seen in a HK film. That along with these four actresses rarely looking more beautiful than here make this film a sensory feast for the eyes if not the mind.

My rating for this film: 7.5


---

DVD Information:
Distributed by Mei- Ah
The transfer is pretty good over all - perhaps it could have been letterboxed a bit more - and there is a faint line coming down the screen for large parts of the film.
Letterboxed
Cantonese and Mandarin language tracks
Subtitles: Chinese , English, Korean, Malaysian, Japanese, Vietnamese, Indonesian, Thai and None
9 Chapters
There are no extras - no trailer or other previews.
The sub-titles are easy to read.

---