Love in the Time of Twilight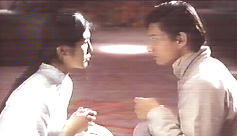 ---
This is the sort of film that only HK can make. This Tsui Hark film is a wonderfully warm blend of fantasy, romance and comedy. I loved this magical film from the first moment till the very last.
The viewer immediately enters into another world. It is in the early part of the twentieth century and a travelling fair has come to a small town. The streets are full of wonder - fortunetellers, matchmakers, performers and more. Charlie Yeung is part of a performing troupe along with her father and friends. As she wanders the streets, she keeps bumping into Nicky Wu. They are both looking for love, but it quickly turns out that they are like oil and water. Instead Nicky catches the eye of a beguiling beauty and by evening's end they are in bed together. What Nicky doesn't know is that he is being set up to assist unknowingly in a bank robbery and then be murdered.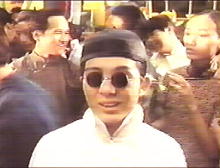 Two weeks later the fair comes back to town and his ghost appears to ask Charlie to help him go back in time and stop the murder from happening. From this point on the film becomes enchanted; a lovely and suspenseful fairy tale. Charlie goes back into time, but it seems that fate is unchangeable.
There is also a lot of comedy here and one scene though difficult to explain is one of the funniest vaudevillian styled routines that I have ever seen. Through strange circumstances, Charlie and Nicky are merged together – back to back- and how they avoid being discovered is so clever and hilarious.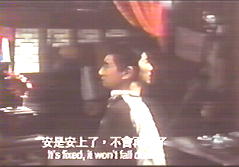 This is yet another wonderful offering from Tsui Hark – full of heart and romance and humor. Charlie Yeung gives a sweet endearing performance as she creates almost two characters – what she was before she went back in time and who she becomes afterwards.
---