Wild Search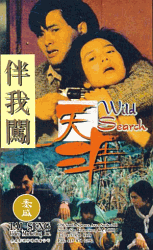 ---
Reviewed by YTSL
Before I (finally) checked out this 1989 offering from director Ringo Lam, I had already felt that I had been provided with positive evidence of the self-described "dark faced god"'s works being more likely to contain scenes of chaotic violence or unglamorous bloodletting than "Heroic Bloodshed". Ditto re it being so that -- as Law Kar observed in a HKIFF catalogue article entitled "Hero on Fire" -- whereas women are insignificant as well as secondary characters in John Woo's movies, the females that appear in this often under-rated auteur's films -- including even those with supporting rather than main parts to play in the overall proceedings -- often do have a strong bearing on the lives of his male protagonists (1997:70).

After viewing that which is one of eight cinematic efforts that paired together Chow Yun-Fat and Cherie Chung, another myth that I feel got debunked was of WILD SEARCH being basically the Hong Kong version of "Witness". To be sure, this small gem of a multi-genre offering does have as its lead character an urban cop who gets to know a female rural resident -- that he ends up falling for -- by way of a small child who had been in the vicinity of a crime that he is investigating. However, in this Nam Yin scripted work (that's about equal parts action-filled crime drama, slow -- but steady -- moving romance and possibly overly saccharine sweet family drama), the four year old Ka Ka is less the witness of a particular criminal action than the link to the major villain of the piece through her being his (illegitimate) daughter as well as that of the woman (played by Elaine Kam) who was killed while in the middle of conducting an arms deal on his behalf.

Something else that I found interesting about this quite charming movie -- that also has Tommy Wong appearing as Chow Yun-Fat's character's professional partner, Nam -- was it being so that: Even while Ka Ka's situation in WILD SEARCH would appear to be more dangerous than that of the boy witness in the 1985 Peter Weir work, no attempts were made to hide the surprisingly emotionally resilient tyke (from those people who one might think would benefit from her being permanently silenced) or provide the young girl with police protection (from anyone other than, as it turned out at one point, her disapproving grandfather). Instead, once her dead mother got properly identified (as being antique shop owner, Elaine Lee), and it was established that Ka Ka has a caring maternal aunt (who the English subtitles identify as Cher, and comes in the form of Cherie Chung) along with a curmudgeonly grandfather (played by Ku Feng) who had effectively disowned his elder daughter because she had elected to follow the unscrupulous man essayed by Paul Chun Pui), the child just immediately got placed in the care of her New Territories dwelling relatives.

At least, the affable detective sergeant (portrayed by Chow Yun-Fat) who was in charge of the police raid -- that successfully broke up the arms deal but also resulted in the death of Ka Ka's mother -- was responsible enough to provide the now effectively orphaned kid with his phone number to ring if she ever felt that she was in any danger. However, he -- who actually was named Lau Chun Peng but told the little lass to call "Mew Mew"! -- ended up causing more problems (for himself, if no one else) than solving any by pressing Ka Ka's millionaire father to financially provide for the girl who's the sleazebag's biological -- even if not legal -- offspring. Additionally, there are sub-plots in WILD SEARCH which have Mew Mew's actions and very presence in their lives complicating the relations between Cher and her ex-husband (who nursed hopes of reconciling with the woman) as well as Ka Ka and her grandfather.

Still, the really major troubles and twists in the tale stemmed from Ka Ka's mother's business partner -- a Vietnamese man named Bullet (played by Roy Cheung) who often lets his guns do the talking for him -- and cold-hearted boss cum sometime lover remaining at large for much of the film and continuing to import weapons into Hong Kong (and presumably sell to whoever was willing to plus had the financial means to buy them). Indeed, just when this (re)viewer was at the brink of being lulled into a false sense of security by multiple playings of Anita Mui's rendition of "Moonlight Represents My Heart" (a popular plus easily recognizable Chinese song that is most associated with Teresa Teng) among other things, this hitherto surprisingly gentle Ringo Lam movie morphs (back) into one where gun fights and other violent battles are the thrilling order of the day.

My rating for the film: 8.

---
It seems that this Ringo Lam/Chow Yun Fat effort often disappoints viewers who approach it expecting a rip roaring guns ablazing heroic bloodbath. Much of these expectations are based on their much better known film, Full Contact, in which Ringo took a swing at the heroic bloodshed genre with interesting results. Full Contact though is really an anomaly of their joint efforts. In their other films - Wild Search, City on Fire and the two Prison on Fire films, the focus has always been character and gritty plot with action really taking a backseat. And even with the action, it is not the over the top histronics associated with heroic bloodshed, but is much more realistic and believable. In his action scenes in this film, Chow is far from invincible and is in fact beaten up badly a few times. Even the final concluding fight is far from heroic - it is Chow simply trying to stay alive.

In the end this is really a love story - and a beautifully played out one within a crime drama structure. The romance that takes both Chow and Cherie by surprise is very tender and tentative. The film is slowly but lyrically paced and Ringo Lam seems willing to sit back, develop the characters and the relationships and allow the audience to care about what happens to them. Cherie Chung's performance is very winning and it is hard to imagine not falling in love with her.
My rating for this film: 8.0

---