Fight Back to School II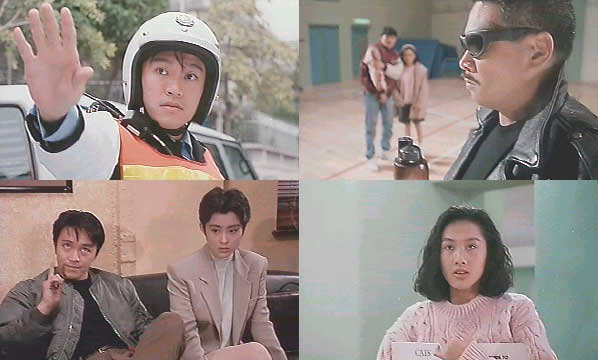 ---
Most of the same cast return from the first in the three part series as Stephen Chow once again goes undercover as a student at an International School in which a terrorist attack is expected. The movie begins amusingly as Chow is demoted and assigned first to traffic control, but he is barely able to ride a motorcycle and spends his time barbecuing meat on the roadside. It then bogs down for much of the middle before an action packed ending. Not nearly as amusing as the first though the action scenes were quite good. The movie did at least introduce me to Athena Chu who plays a student. An absolute knockout.
My rating for this film: 7.0

---
Reviewed by YTSL
For more than a decade now, Stephen Chow has reigned as Hong Kong's more or less undisputed king of comedy. In light of his exalted position and reputation, I find myself expecting to laugh myself silly when viewing his comic efforts. However, I have to admit to my not yet having howled hysterically all the way through any of the "mo lei tau" master's movies. Upon attempting to come up with a reason for why this is so, I have come to the conclusion that, more often than one might expect, this state of affairs actually looks to have been intentionally planned: To wit, this Gordon Chan helmed -- and co-scripted, along with Yuen Kai Chi and John Chan -- film's containing its share of serious action segments as well as purely farcical ones.

Indeed, the manner in which FIGHT BACK TO SCHOOL II begins and climaxes could well be said to be far more characteristic of a work helmed by the director of "First Option" (and "Fist of Legend" plus scriptwriter of "Bodyguard from Beijing") than one that is a bona fide Stephen Chow vehicle. Also, while there are plot -- as well as character -- links between that which was the eleventh top grossing Hong Kong movie of 1992 and the top comedy of 1991 that it is the sequel to, the action and dramatic ante was definitely upped in this follow up effort by having Sing Jai's Chow Sing Sing character go from being commanded to go undercover in a secondary school to search for a decidedly eccentric police chief's "friendly" pistol (in the first of this series of films) to electing to pose as student to uncover and consequently foil a terrorist plot to blow up an international school attended by the children of ambassadors but also Hong Kongers like sweet faced leading lady Athena Chu's Sandy Lai character (in the second).

On the face of it, at least, many of the things that happen to Chow Sing Sing in FIGHT BACK TO SCHOOL II also can read like something that would be more likely to happen to Jackie Chan's Kevin Chan Ka Kui (of the "Police Story" series) character. Among these are: a seemingly unearned demotion from S.D.U. trainer to traffic cop; his coming under strong pressure to get married sooner rather than later (to Cheung Man's Miss Ho character by her formidable mother); and being made the scapegoat for a botched operation. That last action in particular is what causes this movie's protagonist -- who surely felt further degraded by being addressed as "siu pang yau" (i.e., "little friend") by the officer in charge of the whole affair (not least since he comes in the form of Paul Fonoroff) -- to offer his resignation from the police force as well as resolve to show the powers that be that he could do a better job than those who he had been appointed to carry out the prime assignment.

Nonetheless, this is not to say that FIGHT BACK TO SCHOOL II ought not to be primarily classified as a comedy. And for all of my feeling that the offering -- whose main storyline as well as middle section I (also) found to meander rather too much for my liking -- did not tickle my funny bone as much as it could and should have, the truth of the matter is that this filler-filled effort -- in which the inimitable Gabriel "Turtle" Wong as well as Stephen Chow's usual comic sidekick, Ng Man Tat, have prominent supporting roles -- does contain some scenes that caused me to smile, chuckle and giggle. To be fairer still, here's pointing out my wondering how much gets lost in translation in a production in which English, not Cantonese, utterances to the effect that "Someone's escaped" and another that referred to an Arnold Schwarzenegger like "Terminator" get mistakenly rendered in the English subtitles as "Someone's discarded" and "exterminator".

At the very least, it might not be coincidental that quite a few of what this non-Cantonese (re)viewer thought were among the Charles and Jimmy Heung presentation's funnier scenes are ones that don't involve that much dialogue. In any case, it's true enough that those segments of FIGHT BACK TO SCHOOL II that I found most amusing contain much physical humor: E.g., one parody of a wrestling match (which had Ng Man Tat and Stephen Chow act as a tag team against a guest appearance making Blackie Ko); another of a homosexual love scene (which had the Chow man and the noticeably muscular Michael Chow grabbing at each other in a public bathroom setting); a few moments during which a pair of judokas (in the form of Athena Chu and Sing Jai, actually!) momentarily cha-cha-cha with each other; and a couple of "suck face" demonstrations (one of which left the movie's main man gasping for breath and reaching for his inhaler!).

Then there's the breathtakingly cheeky as well as memorable section in which an irate religious studies teacher (essayed by James Wong, of all people!) decided to give an errant student of his a punishment that he reckoned fitted the crime of not paying attention during bible study. For my money though, the most amusing sequence of all in FIGHT BACK TO SCHOOL II is that in which the individual who might well be the fastest talker in the East not only doesn't say all that much but also has his expressive visage entirely covered by a Bart Simpson mask (in a desperate bid to go unrecognized by his character's possible future parents-in-law as well as their daughter post his unexpectedly encountering them in a fast food restaurant). If only there had been more of such inspired situations (and also of Deannie Yip, whose senior police officer cum improbable piner after "Uncle Tat"'s character did not appear nearly enough in the movie). As it stands however, my possibly minority opinion is that this work is generally too filler-filled -- and consequently just not uniformly inspired or entertaining enough -- to be considered a comedy classic of the first order (or even be placed in the top tier of those offerings that have Stephen Chow as their star).
Making appearances also are Sara Lee as Athena's sister, Wong San as Cheung Man's father, Michael Dinga as one of the police supervisors, Mark Broughton as the blonde haired thug and Woo Fung as a judo instructor.

My rating for the film: 6.5

---