Tricky Brains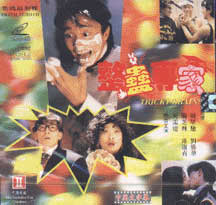 ---
With a Stephen Chow movie it is always difficult to know whether you are missing a lot of the humor due to language or to culture, but this one seemed to fall short of some of his others in terms of sophistication, warmth and plot.
Chow plays an "Expert Trickster" who is hired by clients to humiliate or destroy someone else's reputation. The opening skit is quite funny as through a series of Rube Goldberg events Shing Fui-On (Bighead) ends up in the middle of a mall, surrounded by children going the bathroom on a toilet. I didn't think much of the rest of the movie lived up to the beginning, though there were some good bits.
The plot revolves around Andy Lau who is in love with Rosamund Kwan who unknown to him is the boss's daughter. Waise Lee hires Chow to break up the romance since he wants to marry RK. Chow convinces Lau and his "pa pa" Ng Man-Tat that he is a long lost brother/son. Two funny scenes with NMT - one doing aerobics in tight leotards and then ballroom dancing in drag. My favorite cutie, Chingmy Yau, shows up as the friend to RK who sets things right. A bit of meanness in the humor and the fact that it was being done against the good guys created a less than hilarious premise.

---