Flying Daggers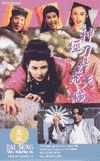 ---
I am not sure what to make of this film except that it was completely silly. It was part Kung Fu, part sword fighting movie, part The Addams Family, part Monty Python and lots of Naked Gun all mixed together in a mind boggling madcap romp. It has a great cast - Tony Leung Ka-Fai, Jackie Cheung, Maggie Cheung, Cheung Man, Ng Man Tat, Pauline Chan,Yuen King-Tan and Gloria Yip - and they all seemed to have great fun playing their roles; in particular Maggie as Flying Cat.
The plot doesn't really matter, but it is about 4 bounty hunters chasing after Jackie - Red Fox - and his wife Maggie in the days of lore. Everyone has wacky powers of one kind or another. It was really absurd with lots of modern references - such as Madonna's bra plate thrown in for no reason and I found myself laughing quite a bit.
As in many of these kung-fu flying comedies, the action and the wire work is actually done very well. So in the end there is not only a funny fight, but a well staged one as well.
---