---
In my attempt to discover more about Bollywood I picked up and read a number of books and give a few brief thoughts on them. All of them to different degrees have some value, but my main complaint is that no one has written a really enjoyable book about Bollywood that revels in its glamour, its explosion of color, its grand melodrama, its peculiarities, its moments of pure exhilaration, its occasional craziness, its wild fashions, its beautiful and charismatic actors, its perfectly cheesy films (ala Disco Dancer) and its basic sense of grander than life entertainment. All these authors take their subject so seriously and talk about the classic actors and the classic films, but never discuss the lesser films that so many of us love like a bad haircut. They amazingly generally avoid discussing the music and dancing like the plague as if they are embarrassed that it is in their films. I hate to tell them but that is what mainly makes their cinema so special. Someone has to tell these people to lighten up and write a book that makes people excited about getting into Bollywood films - not books that creak with conventional thinking.
---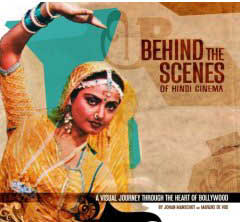 Behind the Scenes of Hindi Cinema
By Johan Manschot and Marijke De Vos
Hardcover
2005
150 pages
$30
This colorful book purports to take a look behind the scenes of Hindi cinema, but does so with such superficiality that it feels quite unnecessary. The book is beautifully laid out and designed though and lightly covers the subjects of:
Publicity
Censorship
Devotion – it connects cinematic themes to religion and myth.
Production Companies
Credits – the heroes, heroines, villains, vamps, choreographers, director and composers
Mythology and Folklore – a useful chapter that depicts the main characters in Indian mythology and their use in film
Marriage
The Enemy – the various forms that the enemy take in Indian cinema – i.e. colonialists, Pakistan
Songs
Tamil Cinema
Distribution
You can probably read the book in an hour or two at most, but will likely often stop to look at the terrific pictures that accompany the text. Filled with loads of stills and posters it is very enjoyable from that respect – just not a lot of meat to this.

---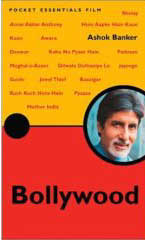 Bollywood
By Ashok Banker
Paperback
2001
91 pages
$7
This is a terrific little book that is simplicity itself. Banker reviews what he considers the fifty essential films of Bollywood. They range in period from the silent's to Lagaan in 2001. Each review is from a page to a page and half in length and he structures them with a section on plot and then explains why this is an essential film with lots of nuggets thrown in. He points out the highlights of each and gives some helpful "more like this" recommendations. The reviews are well written, to the point and informative. Of course, the selections could be argued but most of these as far as I know are generally considered classics. A few titles are: Devdas (1935), Kismet (1943), Awara (1951), Pyassa (1957), Mother India (1957), Waqt (1965), Teesri Manzil (1966), Zanjeer (1973), Bobby (1973), Sholay (1975), Baazigar (1993), HAHK (1994) and Kuch Kuch Hota Hai (1998).

---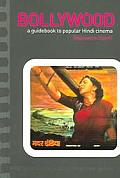 Bollywood – A Guidebook to Popular Hindi Cinema
By Tejaswini Ganti
Soft back
2004
221
$27
Rather academic in nature and dryly written, this overview of the Bollywood film industry contains a lot of interesting and useful information. Much of it covers the same territory as many of these other books – the big stars and the more important films – but it comes at this from a more sociological angle (the author is a dreaded anthropologist) and also delves into some areas that the others don't and these were the ones that proved most valuable to me.
In the first chapter she covers the most basic question some may have – "What is Bollywood" and then goes on to give about 45 pages on the history of the industry. She ties this though into the social and political happenings that were influencing film making such as Partition and the state of emergency that Indira Gandhi imposed in the 1970's.
The second chapter in particular was very informative for me as it discusses the financing of films and how they are distributed around the country and how population areas are divided into classifications. The film making process also receives some attention in particular the process of getting the songs written and produced.
Up next are 1-2 page profiles of the "key figures" in the industry and she covers 14 directors, 5 musical directors and 14 actors. After that are 25 1 page reviews of the "key films" of which most are the usual suspects but she surprises with a few like Satya, Khalnayak and Gunga-Jumna.
The final two chapters are of only peripheral value – one chapter in which she quotes a number of industry figures on different aspects and the final chapter is a chronological listing of key events in the growth of Bollywood. There is a lot of good information in this book, but its stiff writing style might put some off.

---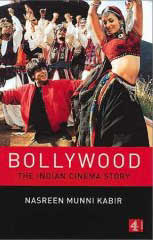 Bollywood – The Indian Cinema Story
By Nasreen Munni Kabir
Soft back
2001
224 pages
$20 (but difficult to find now for some reason)
Of the books discussed on this page, this one is definitely the best and most digestible one for those new to Bollywood who want a basic primer that covers the history and personalities of Bollywood. In very readable prose the author methodically goes over the major areas of interest and covers nearly everything that one could want to know to get up to speed in a short period of time. Just the fact that he chose my favorite scene in an Indian film (the famous train number in Dil Se) gives you comfort that this isn't another dry academic discourse on film theory.
He begins with that he calls the "Basics" – a short history followed by chapters devoted to:
The Hero – the major male actors
The Heroine – not surprisingly the major female actresses
The Villains and the Vamps – just what you expect but a nice bit on everyone's favorite vamp, Helen
Working Wonders – the evolution of the mythological film
Calling the Shots – the more famous directors
Singing Through the Ages – the use of music in film and the playback singers
Dancing to the Music – more on the composers, the choreographers and the dancers
This is an excellent book that admittedly only skims the surface in many respects but accomplishes what it sets out to be – a very useful introduction to Bollywood.

---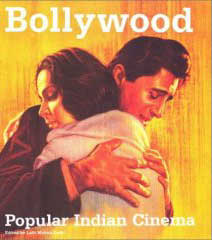 Bollywood – Popular Indian Cinema
Edited by Lalit Mohan Joshi
Hardcover – Coffee Book size
2002
343 pages
$50
This is a rather lovely book that is flush with gorgeous pictures from Bollywood films and accompanied by informative text. The book is actually a series of essays on various themes around Bollywood – all written very well.
The chapter "Bollywood 100 Years" is just as it sounds – a historical recap of the growth of the industry and the highlights and trends along the way.
"Play on . . . The Music" is written up by Gulzar, one of the industry's great lyricists and poets. He goes into detail about the many influences of Bollywood music – their local and regional roots, how it has evolved over the years and many of its leading composers and singers.
"The Classics and The Blockbusters" talks about the dream factory that is Bollywood and the ingredients that make them that way – the music, the dance, the stars, the moral themes and how the times have changed all these elements.
"Heart of The Movie" goes more into the moral themes that are at the heart of the film's structure and how much of this is simply a nod to their Hindi religious background.
"Making Movies in Mumbai" is from well respected director Shyam Benegal and he explains the difficulties in making films in today's environment. With the widespread popularity of television it has become difficult to get financing for smaller artistic films as producers are looking for a blockbuster and thus songs have become the most important aspect in marketing a film. He uses a few of his own films as examples of the issues.
"All Time Greats" talks about the biggest stars in Bollywood from the beginning up to Aamir Khan with little biographies on them. The best part of this section are simply the big glossy photos.
"Villains and Vamps" are my favorite characters in the older Bollywood films and this section goes over the most famous actors who played them.
The final chapter is titled "Bollywood Next Generation" and describes some of the recent big stars and directors.
The text is certainly of value but most people will come to this book for the pictures, which are plentiful, large and at times stunning.

---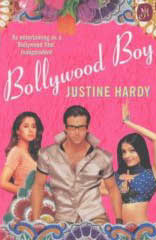 Bollywood Boy
By Justine Hardy
Hardback
2002
262 pages
$16
One night in a fashionable bar in Mumbai where all the beautiful people hang out, the author noticed the crowd go into a tizzy when a tall handsome man passed by. She quickly learned that his name was Hrithik Roshan and his debut film "Kaho Naa . . . Pyaar Hai" had catapulted him into being the biggest sensation to hit Bollywood in years. Being a journalist and having been stationed in Delhi for over ten years, she naturally saw a story here (and was admittedly smitten herself) and thought she should get an interview with him. Easy enough one might suppose?
This is her very amusing tale of the yearlong odyssey that passed in her obsessive attempt to do so. Her continuous attempts to connect with the Roshan family meet with a constant lack of interest and messages that he is out shooting and can't be reached. This goes on and on until finally at the end of the book she tracks down her target and has her interview. But that isn't really the point of the book – it's not the destination that counts in this but the journey getting there. Hardy delves deeply into the world of Bollywood and talks about it to everyone – from juice wallahs to an old actress turned brothel owner to a fledging director to an elderly choreographer who marvels at Hrithik's dancing ability. It is all quite light and frothy and very entertaining. By the time she talks to Hrithik he is exhausted from all the expectations and his star is already tarnished with a few bombs, but in the end this makes him all the more human – just a guy who had no idea how he became so famous so quickly.

---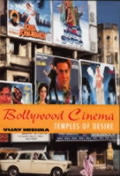 Bollywood Cinema – Temples of Desire
By Vijay Mishra
Soft back
2002
269 pages

The fault lies more with me I am sure than with this book, but reading through this highly academic look at Bollywood was difficult and at times nearly indecipherable to me. My wants from a book on Bollywood are simple – to increase my knowledge on the industry, various films and various personalities. This film accomplished very little of that. It is so caught up in scholarly jargon and film theory that more often than not I had no clue what the author was trying to say. He references everything under the sun and tries to relate it to Bollywood film in what at times feels like little more than showing off.
I am sure for those with more patience and brain power than I have (and that would likely be most of you), there may be some terrific information within, but I soon became exasperated and flicked through the pages looking for specific notes of interest to me. And there were a couple – an excellent chapter on Amitabh Bachchan and a critical look at the influence wrought by the success of playback singer Lata Mangeshkar. If the book had more nuggets such as these it would have been worth the effort of slogging through the writing style, but at least for me there were not many.

---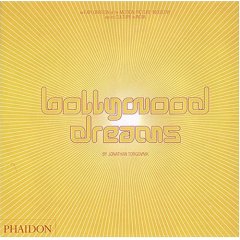 Bollywood Dreams
By Jonathan Torgovik
Hardcover – Coffee Book size
2003
115 pages
$31
This is a lovely and interesting collection of photos taken by the author that attempt in a small way to capture and document the Indian passion for their films. It begins with photos of the traveling cinema circuit in which the films are taken to small villages in rickety old trucks and shown against an outside screen or in a beat up old theater. He captures the audience, the projectionist and others who make this all possible.
His next section are a group of shots taken on the sets of a few films while they were being made. Madhuri Dixit, Shahrukh Khan and Manisha Koirala are in some of these. He focuses on both the grand and the small – the boys who sell the filmi magazines, the men who paint the gigantic posters that tower over the cities and the simple experience of going to the movies. It's a very fine collection.

---

The Bollywood Saga – Indian Cinema
By Dinesh Raheja and Jitendra Kothari
Hardcover – Coffee Book size
2004
146 pages
$22
Sumptuous is perhaps the best way to describe this book – an assortment of ravishing pictures from films that immediately grab your attention with the lustrous Aishwarya Rai on the cover and a seductive Kareena Kapoor lying on her side on the inside page. The book is structured within various time periods from 1913 to 2003 and there is a good deal of text going into some detail on the films and the personalities, but in the end it is the pictures that you will remember – a close-up of Waheeda Rehman from Guide, a young Dimple Kapadia in her swimsuit from Bobby, Rekha in the rain and many more. Still for those new to Bollywood and wanting to know a bit more while looking at the pictures, this is actually a fine and quickly readable overview of its history.

---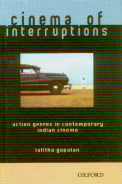 Cinema of Interruptions – Action Genres in Contemporary Indian Cinema
By Lalitha Gopalan
Soft back
2002
198 pages
$18
Don't let the title mislead you into thinking this is a fanboy generated book about Indian action films. Yes, it is focused on the action genre but it is a very academic look at the genre through the prism of film theory and is at times a very arduous journey to get through. That doesn't mean that it isn't of interest, but you have to earn your rewards here by immersing yourself in a lot of film jargon. In the end though I am not sure that the points that the book is trying to make are entirely clear.
Basically the premise of the book is that what she defines as "interruptions" is integral to the structure of the popular Indian film. These "interruptions" are the song and dance sequences, the interval that films have in the theater (not so on DVD of course) and censorship. By censorship she means that the strict censorship by the Board of Censors strongly affects the final product because the filmmakers take this into account long before it is actually handed over for approval.
Much of the remainder of the book are specific case studies in which she picks various films and applies her theory – these being Avenging Women in Indian Cinema, Masculinity at the Interval in J.P. Dutta's Films, Mani Ratnam's Nayakan and Vidhu Vinod Chopra's Parinda. Now from a subject matter perspective, these are certainly very interesting choices that I was happy to know more about them – in particular the chapter on Avenging Women was all new to me – but unfortunately she loads all this down with a heavy load of theory that was more than my poor brain could handle – at least at the level which I approach film books. This is clearly not a book for the beginner and it's hard to say exactly who might be interested in it.

---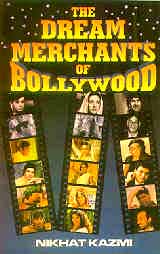 The Dream Merchants of Bollywood
By Nikhat Kazmi
Soft back
1998
199 pages
$20
Author Nikhat Kazmi, who is a film critic for The Times of India, writes on many of the classic stars and directors who have made Bollywood into a factory of dreams and tries to explain the audience's strong affinity for them. She does this in a series of essays on specific personalities, devoting 4-5 pages on each. She divides the sections by the actresses (The Feminine Mystique), the actors (Men Can, Men Should) and the directors. There is also a small section titled "When Zeroes become Heroes" in which she discusses some of today's male stars.
The stars covered are: Meena Kumari, Nargis, Madhubala, Waheeda Rehman, Zeenat Aman, Sridevi, Madhuri Dixit, Guru Dutt, Raj Kapoor, Dilip Kumar, Shammi Kapoor, Dev Anand, Rajesh Khanna and Amitabh Bachchan. The directors are Yash Chopra, Subhash Ghai, Manmohan Desai, Prakash Mehra, Mahesh Bhatt, N. Chandra, David Dhawan, Indra Kumar, Sooraj Barjatya and Mansoor Khan,
The portraits of each are well written, go into some of the most famous roles of the actors and discuss the image that they portrayed to the audiences. The pieces on the directors tend to be a bit longer and discuss their style and vision. It is an easy read but certainly more for those interested in the older films and long gone stars.

---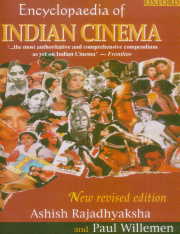 Encyclopaedia of Indian Cinema
By Ashish Rajadhyaksha and Paul Willemen
Soft back
1999
532 pages
This is sort of the monster in the closet - a huge compendium of information of all aspects of Indian cinema. It is not a book that you would sit down and try reading cover to cover though, but instead a great reference to use when you need to look something up or someone piques your curiosity. Though this version was updated in 1999, the book still does suffer from a scarcity of information on Indian cinema post 1990, but has an enormous amount on pre-1990 film.
The book is divided into a few categories.
First is a basic chronicle by year of the major events from 1896 to 1998.
This is followed by a 200 page section with short to medium biographies on the important personalities in the film industries (all of them - not just Bollywood) – from actors to producers to directors and so on. Again it has next to nothing on any of the recent stars in India and also omits many of the lesser esteemed actors that one would hope to find such as Helen or Mithun Chakravarti. Still there are hundreds of entries along with filmographies.
Finally, there are over 300 pages of film reviews in chronological order – most of them a paragraph or two in which they detail the plot, give credits, running time and the relative importance of the film. It is rather an extraordinary accomplishment and it's difficult to imagine how anyone could have found the time to see all these films in one mere lifetime! Or perhaps two as there are two authors.
This is really for someone who likes to research film or fill in blanks, and I would guess that even the Internet has little of this data on it and if so certainly not in such an organized easy to locate manner.

---

Indian Cinema – A Visual Voyage
Conceived by The National Film Development Corporation
Hardcover – Coffee Book size
1998
290 pages
This project, which was undertaken to commemorate 100 years of Indian cinema, is a wonderful compilation of film stills that begins with one from 1897 and goes up to the 1990's. The vast majority of the stills is black and white and opens a world rarely seen by most casual Bollywood film watchers.
The first section are of the Indian silent films and proceeding sections are divided by various periods that the authors classify as "The Studio Era and the Early Star System – 1936 – 1945", "Downfall of Studio System and Birth of the Mega Star – 1946 – 56", "Creative Resonance's – 1957 –68", 'Indian Cinema at Cross-Roads – 1969 – 95" and "The Song and Dance Phenomonon". Even after most Indian films had turned to color by the mid-60's the stills generally are still in black and white and its only the later films in the 80's and 90's that are usually in color.
Along with the stills is some text giving a bit of information on the film pictured. For the most part I would say the photos tend be more interesting than gorgeous. So if you are looking for lots of pretty colorful pictures, this would not meet those criteria.

---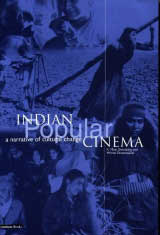 Indian Popular Cinema – A Narrative of Cultural Change
By K. Moti Gokulsing and Wimal Dissanayake
Soft back
1998
135 pages
$20
This book looks at Indian cinema from the perspective of how its culture affects its film and though far from a breezy read, it has some interesting sections. After first getting though an almost mandatory section on the history of its cinema, the book begins to analyze the various genres – mythical, devotional, drama and romantic – and states that "Indian popular films are basically morality plays where good triumphs over evil".
This is then tied into the themes of religion, ethnicity, family and caste and how that is interwoven into the fabric of Indian film. Another large section explores women in film and how they are represented on the screen – the roles of the wife, the mother, the widow and how that is evolving in society and on the screen.
The book hits on a number of other areas briefly, but of most interest might be the last chapter in which regional cinema is discussed with a page or two devoted to defining the Kannada, Telugu, Marathi, Tamil, Malayalam and Bengali film industries. I wish this section had been more in depth but at least this gives you an idea of what and where they are.

---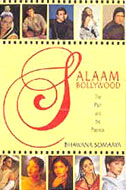 Salaam Bollywood
By Bhawana Somaaya
Hardcover
1999
250 pages
$16
A few years back I picked up this book to read, but after about fifty pages I had to put it down because at the time I had so little knowledge of Bollywood and its denizens that little of this meant anything to me. Who were these people the author writes of I wondered. Now having watched many more movies – in particular older ones – and having read a few other books, I gave it another go and quite enjoyed it. This is a memoir by one of the better-known Bollywood journalists/gossip mavens in Mumbai.
Easily readable, she tells of her beginnings in the business back in mid-70's when as a college student she was hired to help out in a small magazine and at the time had no interest in the film business and had little knowledge of the stars. The magazine soon folded but another start-up came calling and hired her as their correspondent in Mumbai. Before she knew it she was interviewing some of the biggest stars of the era and soon was making lifelong friends with some of them (Amitabh writes the forward to the book).
There are particular stars that she writes about the most – Rekha, Amitabh, Rajesh Khanna, Dimple Kapadia, Parveen Babi, Shabana Azmi – and though she covers some of the scandals of the time (the break-up of Rajesh and Dimple) or the major events (Amitabh's near death), this isn't an expose by any means. It is more a wistful look back at a more glamorous time in which she decidedly feels nostalgic about and she clearly has little patience for the new generation of stars (Aamir in particular has her disdain). At times she writes movingly such as when recounting the early death of Smita Patel or that of Raj Kapoor. For those with an interest in seeing a little bit behind the gloss and into the lives of the stars from the 70's and 80's, this is a good and quick read.

---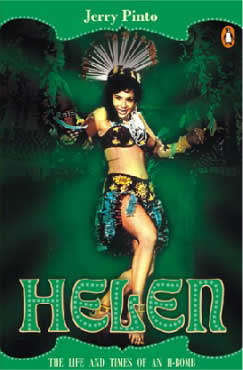 Helen - The Life and Times of the H-Bomb
By Jerry Pinto
Paperback
2006
256 pages
If you have become a fan of the Bollywood films from the 1950's and 1960's, chances are a lot of this may be due to an exuberant spitfire of a dancer simply called Helen. Her appearances in films should be marked with an exclamation point and a sip of a dry martini. With her hypnotic hips making suggestive come ons, a series of outlandish costumes that would make Elton John and Madonna envious, flashing spinning dazzling footwork and a "don't turn your back on me" grin, she came to symbolize everything that made those films so fun, so campy, so fab, so sublime. No one even seems to know how many films she appeared in - somewhere between 500 and one thousand perhaps - occasionally as the heroine, sometimes just as an item dancer to give some quick pizzazz to the film and most often as the vamp who trawls through the bright sparkly cabarets, shady dingy dance halls, gaudy designed hideaways and our imagination. She is a jolt to our pleasure glands. A happy pill.
This book from Jerry Pinto is a hymn to her - a thank you for all the hours he spent watching her in the movie houses and on TV. As he admits upfront, he has little to add to the small amount of knowledge about her personal life - she is a very private person and refused to be interviewed by him. So he relies on common knowledge about her and what he could find in the old gossip magazines - precious little. Her fascinating background is covered quickly in a few chapters and then he spends the remainder of the book writing about her films and her appearances in them - many many films! He approaches it not so much from a chronological perspective, but more from a thematic one - the different types of characters that she played over the years and what she represented to the audiences.
Though early in her career she got to play the heroine, it soon became clear that she much better fitted the role of the social outsider - the vamp, the woman gone wrong, the woman often destined to die for breaking all the polite taboo's of what a woman should do and be in Indian society. Much of this stemmed from her own status as an outsider. Born in the late 1930's, her father was French and her mother Burmese. By the time that WW II had broken out her father had died and her mother had married an Englishman, who then died in the war. When the Japanese invaded Burma, a very young Helen and her mother walked out of Burma into India where they settled down to a life of near poverty. One of her mother's friends was Cuckoo, a well-known female dancer in Bollywood films and the mother convinced her friend to mentor Helen in dancing and to get her work in films. She began as a chorus girl in the films, but got one of her first breaks playing a Chinese woman Chin-Chin-Choo in Howrah Bridge (1958) and the song she danced to became a huge hit - "My name is Chin-Chin-Choo, Hello Mister how do you do".
This was to become her m.o. - playing foreigners or Westernized women adorned with names like Ruby, Kitty or Miss Lily - and dancing in some of the best songs ever written for the screen - often accompanied by the throaty vocals of Asha Bhosle. Pinto conjectures that being a non-Indian allowed her to play the immoral and sexually liberated vamps that she did - the audiences could accept that from her. It certainly stood her well if that was the case - her career zoomed through the 60's into the 70's (Don, Sholay) to finally come to a slow halt in the 1980's (into her 40's at that point and still kicking her heels up better than most) when she became the second wife of script writer Salim Khan (father of Salman Khan). Over these years and still continuing she managed to become an icon, a cult figure, everyone's favorite dancer.
Besides of course detailing many of the films of Helen, the book also allows the reader the opportunity of putting together a wish list of many films that sound great - not the classics we all have read about too often but the B-ish films full of smoke filled rooms, revenge, betrayal, detectives, wanton women and spies - and of course Helen. These are the films that make me keep coming back for more.

---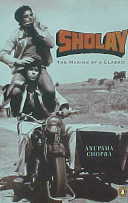 Sholay – The Making of a Classic
By Anupama Chopra
Paperback
2000
187 Pages
When Sholay was released in 1975 it initially looked like it was going to die a tragic painful death. The critics dumped on it with apparent glee as a big bloated disaster and audience numbers began to dwindle almost immediately as they sat through showings in total silence. The director and actors were shocked and dismayed at its reception as they thought they had made a classic film. Well, they had in fact and soon the tide began to turn like a tidal wave in the public's reaction to the film as houses began to fill and everybody began talking about this new film that set new standards for Bollywood movies on so many levels. Within weeks people were quoting lines from the film (a record with the dialogue was a huge seller) and even the actors in small roles who barely register the first time through became cult icons and were swarmed by fans of the film everywhere. The film was to run for five years and it set a box office record that held up for almost twenty years until Hum Aapke Hain Kaun came out.
By any measurement it is the most popular and enduring film in Indian history and one that has fanatical adherents that will come close to violence if you disagree with the merits of the film. There is no comparable film in Hollywood in terms of its place in the hearts and minds of Indian film fans – maybe if you combined Gone with the Wind, Casablanca and Citizen Kane – but even that would likely fall short. To understand the impact of the film now one has to set themselves back in the 1970's when most Indian films were romances with languid leading men and the few action scenes tended to be poorly shot and cheaply made. Sholay changed all of that – an enormous amount of money was poured into the project and action choreographers were hired from the U.S.A. to shoot and plan the fights – and most importantly the film didn't really revolve around romance at all (though it still has its place in the film) but instead around two roguish crooks, an honorable Thakur and a villain who was to become the most despised (and thus loved) bad guy in Indian film. It is the relationships between these four that drive the film and made it feel so fresh and exciting to fans.
Personally, I had avoided the film until I finally bought this book and thought it would be silly to read it without having seen the film. I felt that there were just too many expectations placed on the film that it couldn't possibly live up to and a few non-Indian friends who had seen it had shrugged it off with a basic "it's ok but it's all been done before" – and so this made me reluctant to take on this film as I suspected that I would feel the same. After seeing it, I would to some degree say that both camps are right – it had been done before and made no new strides in cinema if you take Hollywood into account – and yet it is very effective in what it does and is a terrific film in many ways. The writers, Salim-Javed, would be the first to admit that they were tremendously influenced by other films – in particular the Hollywood western (Sholay is often termed a "Curry Western") where it is easy to spot the impact of films like "Butch Cassidy and the Sundance Kid" and "The Magnificent Seven" on their thinking. They wanted to make a western, but within the Indian context and in the modern age. And it works.
There are certainly sections that just don't play well any more (at least to me) – a couple comic bits that feel horribly stale (in particular a Charley Chaplinesque Hitler jailer that was painful to get through), but even these parts were very popular at the time. Another weakness is the pacing of the film that allows the tension to dissipate at times as our two heroes seem to forget what they were hired to do and lackadaisically wander about the small village totally unprepared for an attack. Even the action scenes are basically forgettable now – solidly made for sure but in truth nothing we hadn't seen in dozens of westerns. What makes the film still work today are two relationships that are timeless in their power and sentiment. The wonderful chemistry and friendship of Veeru and Jai is one of the best portrayals of male bonding that I have seen on film – and this from a veteran of loads of Hong Kong male bonding films! Early in the film this is picturized and the mood set for their amiable and loyal friendship in the wonderful song "Yeh Dosti" as they travel along on a two-car motorcycle. The other relationship that takes a hold of you is a nearly unspoken one between Jai and the widow Radha that is practically nothing but a series of far away looks but they burn.
In case you haven't seen the film, here is a very short summary. A Thakur, (Sanjeev Kumar) who was once a police officer, hires two small time crooks to capture a vicious dacoit (Amjed Khan) and his gang. The police have been unsuccessful in doing so and the Thakur feels these two men (who he knows to be tough and somewhat honorable from past experience) can do the job. They flip a coin and when heads comes up they accept. The gang has a terrifying hold on a small town in a barren desolate area – and Jai (Amitabh) and Veeru (Dharmendra) begin to put up some resistance to them. They also find time to fall in love – Jai with Radha (Jaya Bhaduri) and Veeru with the village chatterbox Basanti (Hema Malini). Mixed in are of course some great songs from R.D. Burman and a dance from Helen. If you haven't seen the film you should – and then read this book from Anupama Chopra.
Anupama is the wife of filmmaker Vidhu Vinod Chopra and she takes a very uncritical but highly enjoyable look at what took place behind the scenes to make Sholay work. It is a terrific read as she first explores the gestation period – two young not very well known writers named Salim Khan and Javed Akhtar came to Ramesh Sippy with an idea for a movie in four sentences. He liked the idea enough to ask them to write a script around it and soon he decided to take this film and make it a landmark in Indian film with enormous resources around it and the best talent in the industry.
Once the script was complete, they had to find the right actors to play the parts. Though he was much younger than his character everyone thought Sanjeev was perfect as the righteous Thakur looking for revenge and justice. Dharmendra was on a film roll at the time and was easily picked as the outgoing and jovial Veeru, but the choice to play Jai was a tough one. Ramesh was tempted by this tall brooding actor named Amitabh Bachchan, but most people in the industry warned him not to as Bachchan was considered box office poison after numerous flops – but Ramesh went with his instinct and took him on. Of course, by the time Sholay even began filming Amitabh had become a huge star with the release of Zanjeer. The two female roles were comparatively small, but Ramesh still wanted stars in them – and he persuaded both Hema and Jaya to accept them. The final major piece was the dacoit Gabbar Singh, who many felt was the most interesting character in the film with the best dialogue. Ramesh didn't want to fall back on the usual actors who played villains and took on Danny Dengzongpa who had become a villain star in the recent Dhund. But the film took so long to get started that it began to conflict with another film Danny had accepted and he had to drop out – and with filming about to begin they looked around in panic for someone to step in – and finally chose a totally untested actor who was known on the stage but hardly at all in film – Amjad Khan – and his portrayal of Gabbar made him both a star and the bogeyman that mothers used to scare their children to sleep at night.
The filming ran into enormous logistic problems and expenses went way beyond budget and the film took a few years to shoot with numerous interruptions as stars went off to shoot other films – but Ramesh had a vision that he refused to budge from. The author writes of personal things as well – the married Dharmendra began to fall in love with Hema who reciprocated - but the pressure made him begin to drink and he would often show up at his shootings more than a little tipsy (later on in fact Dharmendra took her as his second wife). Right before shooting began Amitabh married Jaya and not long after she was pregnant - and shooting had to be delayed as she was looking too plump for her widow's role. The most pressure was on Amjad to make this a role of a lifetime work and at first he could not make a go of it – and some such as Salim-Javed pushed for him to be replaced and then later for him to be dubbed with an actor with a stronger voice – but Ramesh stuck with him. In the end Ramesh made the film he wanted – though he was crushed when the Censors forced him to change and re-shoot the ending to a much less powerful one. He continued to make films of course but nothing ever came close to the success of Sholay.
The book is a breezy and affectionate read and one highly recommended.

---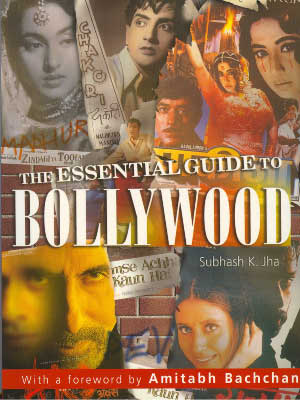 The Essential Guide to Bollywood
By Subhash K. Jha
Paperback
2005
158 pages
$11
Unfortunately, "The Essential Guide to Bollywood" isn't really all that essential to have. I continue my endless quest to find a book on Bollywood that takes a different path than all the myriad of books on the subject - a book that covers the unusual films, the cheesy films and the cult films and one that is geared more towards gossip and personalities than a reiteration of the "classic" Bollywood. This book is simply a compilation of 200 one-two paragraph reviews of what the author considers to be the best films from Bollywood (as well as a few "Parallel Cinema" selections). He catagorizes the films by genre - drama, comedy, war, family, thrillers, romance, historical, action - which seems in itself to be a bit counter productive as so many Bollywood films cross and demolish any sense of genre. The vast majority of his selections fall into "drama" - 88 pages worth while action gets shortchanged with only 4 pages. This disparity indicates the authors frame of mind. Where is "Don" and "Disco Dancer"!
The writing itself is fine and one can't argue too much with the films he includes (at least the ones I have seen - though some of his more recent film choices may seem a stretch such as "Na Tum Jano Na Hum" and "Yuva"), but with such a small amount of content provided for each film there is no room for any real insight or context given. Most damaging though is that the writing rarely makes you want to run out and buy the film - it doesn't make you not want to see the film - but there is a real lack of excitement about the films in all but a few cases. Nevertheless, the book does cover a number of films that were unknown to me and just for the fact they they make it to his list will make me want to seek some of them out. And the low price tag is certainly a plus.

---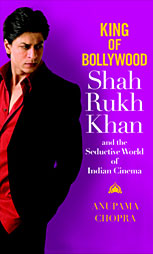 King of Bollywood: Shah Rukh Khan and the Seductive World of Indian Cinema
By Anupama Chopra
2007
222 pages
Hardback
$25
When you are the biggest super star in a country of some billion people that makes you by default one of the biggest stars in the world and Shahrukh Khan is most certainly that on every level. He has ruled Bollywood for over a decade and his enormous charm, high visibility and acerbic wit have created a bigger than life personality that goes well beyond his screen persona. This biography from Anupama Chopra is a terrific read as she unveils various layers of his life and details his steps to stardom. It often reads like a Bollywood movie in which the hero overcomes all the obstacles in his path to become successful and to win the girl of his heart. To a large degree this describes Shahrukh's life as he grew up a lower middle class Muslim with no connections to the film industry and brazenly inched his way towards stardom and married his Hindi girlfriend against the wishes of her family.
What I found most fascinating in the book were the pages devoted to his life pre-stardom. His family came from Peshawar (now part of Pakistan) and his father and uncles were involved in the Independence movement in the 1940's but were part of a Muslim group that did not want the Muslims to break off from India. When events became perilous the uncles sent Shahrukh's father Meer to New Delhi to study and to keep him out of harm's way. After Partition the family was put on a blacklist in Pakistan because of their political sentiments and Meer was not allowed to return to Pakistan to visit family for decades. Meer graduated from university but never made much of his life on a professional level. He married Fatima in 1959 and in 1965 Shahrukh was born. Shahrukh grew up on the cusp of poverty – his father always barely keeping their heads above water and his mother pitching in. Early on he became a Bollywood fan and in particular like so many others at the time worshipped Amitabh Bachchan.
His father died when Shahrukh was a teenager and he was devastated by it. He began joining school theatrical productions – acting in plays like Annie Get Your Gun and The Wiz. He quickly became known for his dramatic and flamboyant acting style. In 1984 he met Gauri Chibba, four years younger than himself and a Hindi from a good family. They dated secretly for years because her family would never approve of this relationship from both a religious and a class perspective. After graduating from school Shahrukh was able to get some work in TV and had some success with a series called Fauji in which he played an army academy cadet. The show aired in 1989. His TV career continued and he moved to Mumbai to foster it. His mother Fatima who had encouraged him so much to pursue acting died in 1991 and never saw him become a star. He married his sweetheart that same year. And began his film career.
Around the events in Shahrukh's life, the author places it all in context to what is happening in both the film industry as well as in the country. The one criticism that could be leveled at the book is that it goes very easy on Shahrukh and is generally very uncritical of him. That may not be too surprising since the author is a friend of his as well as an insider in the industry and did not likely want to get on his bad side. She does allude a few times to his darker side – his fiery temper, his enormous ego, rumors of his homosexuality and his ability to hold a grudge for a long long time. One story of him harassing a reporter is priceless. Still, Shahrukh is clearly a hero in her eyes and that is the way he is portrayed in the book – a man who through sheer determination, a sense of fate and great confidence rose from humble origins in Delhi to conquer Bollywood and it is quite a tale.
Pictures from the Book:
SRK's grandfather, father, mother and sister
SRK as a teenager: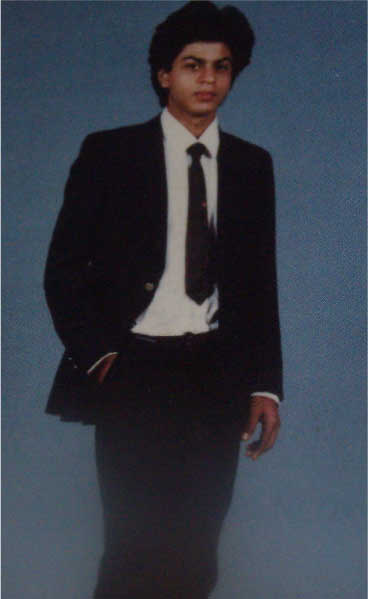 ---
By Julie Aspinall
Paperback
274 pages
2007
Shilpa Shetty had been having a moderately successful career as a Bollywood actress for nearly 14 years – never getting the A list films that went to actresses such as Kajol, Rani, Karishma and other big stars – but still appearing in films the next level down and over her career she co-starred with nearly every top male lead at some point. Still, now in her early 30's, the handwriting seemed to be on the wall that her years as a leading lady were numbered – even if she still received the informal accolade as having the best body in Bollywood. There was no reason for tears though as she had apparently piled up the money during her career (currently est. at 15 million Pounds) and having never married was still living with her well-to-do parents in their large Mumbai apartment. Then in a matter of a few weeks she became perhaps the most famous Bollywood actress outside of India.
Her agent convinced her to appear in a UK reality show called Big Brother for the not too shabby fee of 357,000 pounds (around $700,000). In this show a number of not quite celebrities anymore have to live in a house for a number of weeks totally cut off from the outside world and perform various tasks that either endear them to the watching audience or alienate them – in which case they are either voted out of the house or simply don't get enough votes in the final showdown. You can also leave on your own volition which a number of this group did. The group had a wide diversity from film legend director Ken Russell to singers Leo Sayer and Jermaine Jackson to the A-Team's Dirk Benedict to honestly a bunch of people who I have never heard of and have no desire to.
The show turned into an international pariah when a few of the lesser known women in the house turned on Shilpa and referred to her in ways that could be called racially and ethnically insensitive. Much of this went on out of Shilpa's hearing but not of the viewers and as the weeks went by the outrage at what was being said grew enormously in the UK and in India – to the point where a number of British politicians had to apologize to India. None of this uproar was known to the inhabitants of the house, but eventually a vote off was declared between Shilpa and the main instigator, Jade, a low class wanker and it was seen as a referendum on what kind of country England had become – one with its traditions of tolerance intact or had it become a racially divisive nation where ignorance ruled. In the end Shilpa kicked her butt and the country sighed in relief. In fact, Shilpa ended up winning the whole thing and came out of the house to find herself famous and in great demand both in the UK and back home where she was being seen as a heroine and a staunch representative of Indian values. In truth, she does seem a bit of a stuck up snob who well might have rubbed many of us the wrong way if forced to live with her for weeks.
Faster than you can say Shipa Shetty shops for sea shells at the seashore 100 times this book was written and showed up on book shelves. It is the kind of book that you can find in drugstores – right between the latest from Stephen King and the latest diet fad. Written quickly and seemingly researched primarily with the aid of Google and from watching the tapes of the show (the first 135 pages are devoted to a headache inducing regurgitation of the details from the show) and the rest is basically a litany of quotes about or from Shilpa that the author got from either the internet or the infamous Indian gossip magazines. It is a truly horribly written mess that is so fawning and obsequious to Shilpa who can do no wrong that you might think it was written by Shilpa herself, but then you would think that it might actually have some insight to something. The book was a tedious chore to get through, but for your pleasure here are some of the pertinent facts of Shilpa's life.
"born on 8 June 1975 in Karnataka, southern India, she was an attractive child right from the start"
"Four years later her younger sister, Shamita, was born, and the family's happiness was complete"
Her mother is quoted as saying after a difficult birth that Shilpa "was here for a reason and that the Lord had a role for her to play on this earth"
A servant brings her breakfast in bed everyday but since she hates to be seen without make-up on she turns her face away until the servant is gone.
Shilpa has a black belt in karate.
She is 5'10 – one of the tallest actresses in Bollywood.
She first came to some attention for a soft drink "Limca" ad at 16.
"Shilpa in some ways harks back to a time when Britain was a more civilized place than it is today"
Her first film was Baazigar in 1993 with two other unknown actors who were never heard of again – Shahrukh and Kajol.
Shamita is also an actress.
She had a love affair with Akshay Kumar that ended badly for poor Shilpa.
Had a nose job.
Shilpa says that "love is an overrated emotion". Also that she doesn't believe in premarital sex – but that making love is o.k.
She is no longer necessarily looking for a mate of the same nationality – so put your running shoes on boys – remember that 15 million number and that's real money – Pounds.
Her father was arrested for extortion but all charges were later dropped.
Her parents are named Sunanda and Surendra, her sister Shamita and if she had a pet I would guess its name would begin with a S.
Some fashion tips from Shilpa to help you gals get through your busy days:
"Wear big earrings but nothing on your neck. Pick one item of clothing that's striking and keep everything else understated. Never follow trends. Always match your belt with your shoes and bag. Never do your face in public".
Some of her better known films: Metro, Dus, Fareb (only film she has co-starred with her sister in), Phir Milenge (played an HIV patient), Dhadkan, Shool, Baazigar.

---