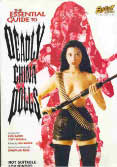 Deadly China Dolls
compiled by Rick Baker & Toby Russell
Published by Eastern Heroes - 1996
Paperback - 255 pages
$50-60
---
If one of the reasons that you have tuned into HK films is the plethora of beautiful charismatic HK actresses, this is an essential book for you. The entire subject matter is focused on these women that so enliven the screen.

All your favorites are discussed here with particular emphasis on the action heroines. Many of the early action goddesses are covered such as Ivy Ling Po, Lilly Lee, Angela Mao, Judy Lee, Polly Kwan and Hui Ying Hung. Not only are their careers discussed, but information about their personal lives is also included at times.

Much space is obviously devoted to the great femme fatales of the 1980ís - Moon Lee, Yukari Oshima, Cynthia Khan, Michiko Nishawaki,The Heroic Trio - Michelle Yeoh, Maggie Cheung & Anita Mui. And just about any other of the action starlets are in here somewhere.

There is certainly a strong smell of cheescake here as there are many many pictures that revel in the beauty of these women. A small section goes into the subject of Category III actresses.

This is a must for anyone that loves these women, but it is not the easiest book to find or the cheapest. Contact Eastern Heroes to find out where an outlet may be that sells it near you.
---