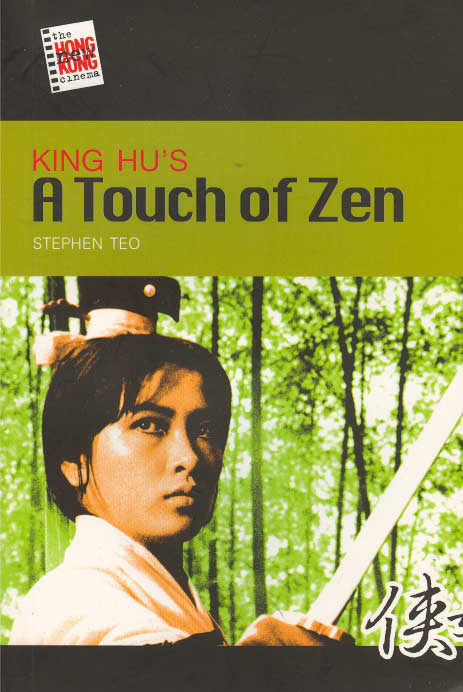 King Hu's - A Touch of Zen

---
By Stephen Teo
Paperback
2007
119 pages
HKD 122
Come Drink with Me, Dragon Gate Inn and A Touch of Zen directed by King Hu in the 1960's are considered the touchstones of the modern wuxia film. The wuxia film had certainly been around for a very long time, but it was generally thought of as low brow entertainment. In fact, the Nationalist government in China during the early 1930's had banned these types of films as being a bad influence on the populace (as an intriguing footnote, this forced some companies to move to Hong Kong to make these films – the eldest Shaw Brother being one of them). These three films from King Hu though dramatically changed that perception. The films were elegant, graceful, artistic, well acted, complex and most important to King Hu, drenched in Chinese culture and history. Wuxia was never the same again. If you watch the wuxia films of Tsui Hark and Chor Yuen, the influence of Hu's films is readily apparent. Advances in technology and improved martial arts training and choreography allowed their films to be faster, sleeker and more gravity defying, but all the basics came from Hu.
That King Hu remade this genre is a surprise considering his background. Primarily because as he admitted he had no particular liking for martial arts films, but he was fascinated my Chinese history and this was an opportunity to bring it to the screen. Born in the Mainland, he left Beijing in 1949 to go to Hong Kong. He had artistic aspirations and was able to find work in the Mandarin film industry in Hong Kong that was thriving due to the large scale migration from China after the Revolution. He worked in various functions for different studios and landed up with the Shaw Brothers in 1958 as a scriptwriter and an occasional actor. He is a small rather odd looking fellow on the screen without much presence and certainly no one that you would suspect of later becoming a great director. In 1965 he directed his first film, Sons of the Good Earth, a story about fighting the Japanese during WWII. Shaw had noticed the success of the Japanese samurai film throughout Asia and wanted to follow suit with a Chinese sword fighting film. The result was King Hu's Come Drink With Me in 1966. It was a large success and jumpstarted the ensuing avalanche of wuxia films in the Hong Kong film industry. It also forcefully established the character of the female swordfighter in the character of Golden Swallow played by Cheng Pei-pei. Strong female action characters were prominent in most of Hu's films and were to be recurring characters in many Hong Kong action films.
Though the Shaws were to follow up on the success of Come Drink with Me with many wuxia films, King Hu was not going to be a part of that. During the shooting of the film, he and the Shaw's were constantly in battle over expenses and the pace of filming and so they parted ways – with Hu moving to Taiwan to work with the Union Film Company. His first film for them was Dragon Gate Inn in 1967. It was a huge box office success all across Asia and allowed Hu to push for an even bigger film, A Touch of Zen. A Touch of Zen took nearly three years to complete and went far over budget – and practically drove the film company out of business. A town was constructed just for the film and then allowed to sit there for a lengthy period of time so that it would take on an aged look. So much film was shot that the movie had to be broken down and shown in theaters in two parts. It was a disaster at the box office. Yet it is critically considered a masterpiece and was invited to Cannes when being invited to Cannes meant something. This though didn't occur until 1975, long after the film had left theaters and almost been forgotten.
In his fine book, A Touch of Zen, Stephen Teo covers this territory but leaves most of his pages for a critical examination of the themes and style of the film. This was a very ambitious film from more than a budgetary perspective – Hu had a lot he wanted to touch upon and along with a number of action sequences (some of them forced on him by distributors) he has various almost conflicting themes going on. Teo breaks them down to these:
A ghost story (the basis of the film comes from a short story by Pu Songling, famous for his supernatural tales).
Identity – characters are not what they initially seem.
Wuxia romance
Political allegory
Religious metaphysical fable
Sexual ambiguity – in the original story the main character has homosexual liaisons, but this is only hinted at in the film.
Along with watching the movie – available on DVD – this makes for a fascinating read and adds elements to what is already a great film on its own.
This book is part of a series about Hong Kong film published by Hong Kong University Press. The others in the series are:
Fruit Chan's Durian Durian by Wendy Gan
John Woo's A Better Tomorrow by Karen Fang
Stanley Kwan's Center Stage by Mette Hjort
Wong Kar-wai's Happy Together by Jeremy Tambling
Tsui Hark's Zu Warriors From the Magic Mountain by Andrew Schroeder
Wong Kar-wai's Ashes of Time by Wimal Dissanayake
I believe most of these are available on-line.
The background information above on Hu was also obtained from Teo's article in the HKIFF book, Transcending the Times: King Hu and Eileen Chang.

---