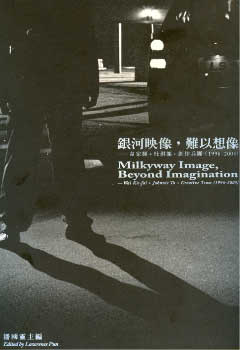 Milkyway Image, Beyond Imagination

---
As the 1997 Handover approached most of the Hong Kong film industry went into a creative and quantitative funk, but it seems to have had the opposite effect on Johnnie To as he went on to do the best work of his life. In 1997 To and Wai Ka-fai formed the Milkyway Image production house in which they were to soon be making films that were some of the best in the history of Hong Kong and by doing so kept the feeble pulse of the film industry beating. There was really nothing in To's background to predict this - he was certainly a competent director and on occasion hit the jackpot with a film like Heroic Trio , but his films were very much studio animals and he seemed to have no particular vision of his own. That was to quickly change.
Milkyway's initial films reflected the mood at the time - dark, pessimistic and fatalistic (Too Many Ways To Be No. 1, The Longest Nite, Expect the Unexpected, A Hero Never Dies, Intruder) that not only had an overriding sense of unease and distrust of authority but also had pointed references such as a vicious immoral Mainland killer coming to Hong Kong in Intruder and death being the end result of going to the Mainland in Too Many Ways. The black mood began to lift by 1999 as he showed a more optimistic viewpoint in The Mission, Running Out of Time and Where a Good Man Goes. These crime films that Milkyway became famous for were always on the edge – stylish, tense, real, poetic and innovative. No one else was making crime films as good as this anywhere. But the problem was that they were more popular outside of Hong Kong (as per Subway Cinema's Milkyway Festival in 2000) than at home. Box office results for many of their films were rather dismal. They needed to start making money and so began to go much more commercial. Running Out of Time was something of a turning point in that To used Andy Lau and like so many directors before him found box office success. To was to utilize Andy in a number of successful films that turned away from noir to comedy and romance - Needing You, Love on a Diet and Yesterday Once More but still used his appeal in other crime films such as Full Time Killer and the philosophically mind bending Running on Karma. For a period of time his foreign fans began to worry that To had gone too commercial and would never return to Milkyway's razor sharp roots – but with the recent releases of the two Election films and Exiled everyone is once again breathing easier!
This book, Milkyway Image - Beyond Imagination, is a celebration of Milkyway's first nine years and seems to have had the full co-operation of the Milkyway people. It begins with an overview essay on Milkyway from David Bordwell and then selects what it considers to be the top 10 Milkyway films. For each of these films there is an interview with a major contributor and then a lengthy essay from various writers. It is a terrific and informative read. This is really for Milkyway fans as there are literally hundreds of spoilers within. They assume you have seen the films and these are not reviews as much as analytical works on the films. At the end of the book are brief summaries of their other films.
These are the top 10 films in chronological order:
Too Many Ways to Be No. 1
The Longest Nite
Expect the Unexpected
A Hero Never Dies
Running Out of Time
The Mission
PTU
Running on Karma
Throw Down
Election
This is the entire filmography:
1997
Final Justice - Dir. Derek Chiu
Too Many Ways to Be No. 1 - Dir. Wai Ka-fai
The Odd One Dies – Dir. Patrick Yau
Intruder – Dir. Tsang Kan-cheong
1998
The Longest Nite – Dir. Patrick Yau
Expect the Unexpected - Dir. Patrick Yau
A Hero Never Dies – Dir. Johnnie To
1999
Where a Good Man Goes – Dir. Johnnie To
Running Out of Time – Dir. Johnnie To
Sealed with a Kiss - Dir. Derek Chiu
The Mission – Dir. Johnnie To
2000
Spacked Out – Dir. Lawrence Lau
Needing You … - Dir. Johnnie To/Wai Ka-fai
Help !!! - Dir. Johnnie To/Wai Ka-fai
Comeuppance Dir. Derek Chiu
2001
Wu Yen - Dir. Johnnie To/Wai Ka-fai
Gimme Gimme Dir. Lawrence Lau
Love on a Diet - Dir. Johnnie To/Wai Ka-fai
Fulltime Killer - Dir. Johnnie To/Wai Ka-fai
Let's Sing Along – Dir. Matt Chow
Running Out of Time 2 Dir. Johnnie To/Law Wing-cheong
2002
Second Time Around – Dir. Jeff Lau
Fat Choi Spirits - Dir. Johnnie To/Wai Ka-fai
My Left Eye Sees Ghosts - Dir. Johnnie To/Wai Ka-fai
2003
Love for all Seasons - Dir. Johnnie To/Wai Ka-fai
Looking for Mister Perfect – Dir. Ringo Lam
PTU – Dir. Johnnie To
Turn Left Turn Right - Dir. Johnnie To/Wai Ka-fai
Running on Karma Dir. Johnnie To/Wai Ka-fai
2004
Breaking News - Dir. Johnnie To
Throw Down Dir. Johnnie To
Yesterday Once More - Dir. Johnnie To
2005
Election - Dir. Johnnie To
2006
Election 2 - Dir. Johnnie To
Exiled - Dir. Johnnie To
2007
Sparrow (not released yet) - Dir. Johnnie To
I was surprised not to see Beyond Hypothermia on the list or mentioned at all. I had always thought that it was their first film in 1996 and looking at it last night on DVD the Milkyway name is certainly credited. It was directed by Patrick Lau who directed a few of their other films and starred Lau Ching-wan who was to star in so many of their films (but sadly few of late), but there must be some technical reason that it is not included I assume.
Looking at their films I realized that I have seen nearly all of them though not their two most recent releases - Election 2 and Exiled – so with that as a preface here are my top 10 Milkyway films. It overlaps with many of their picks obviously but I am not a big fan of Throw Down which Johnnie To claimed was his favorite film and he could not understand why it was not held in higher regard – errr … judo is boring Johnnie. Two that I included are Needing You – one of the best romantic comedies in years – and Spacked Out – a very different type of film for Milkyway about four female high school friends on the fringes of society with an enormous amount of heart.
In order of preference:
The Mission
A Hero Never Dies
Running on Karma
PTU
Election
Spacked Out
Needing You …
Running Out of Time
Too Many Ways to Be No. 1
Expect the Unexpected
Milkyway has so few clunkers in their filmography - even the vast majority of the ones I left off the list are very solid to good films. The only ones that I think worth avoiding are the clumsy romance Yesterday Once More, the not very funny comedy Let's Sing Along and the irritatingly chaotic Help!!! But even these films have their fans.
The Interviewees are:
Too Many Ways to Be No. 1
Wa Ka-fai
"Too Many Ways To Be No. 1 had a complete script before shooting began. After this, we began shooting without a script and all subsequent Milkyway Image films have been made without one"
The Longest Nite
Lau Ching-wan
"Everything was a blur. During the making of The Longest Nite, no one knew what the plot was"
Expect the Unexpected
Simon Yam
"The most interesting thing about making Expect the Unexpected was you had no idea what he (To) was doing so you wouldn't unconsciously speculate what to do in the next scene. And since you didn't get to read the script beforehand, you had no idea what would happen next, so the outcome was always unexpected."
A Hero Never Dies
Cheng Siu-keung (Cinematographer)
"A Hero Never Dies must have the richest colourplay of all films (Milkyway films). The characters were hyperbolic so we complimented them with exaggerated vibrant colors."
Running Out of Time
Andy Lau
"During the making of ROOT, I felt suddenly that Johnnie To had a lot of faith in me. In the past I was haunted by the feeling that he didn't trust me"
The Mission
Chung Chi-wing (Music)
"While working on The Mission, To gave me an old Mandarin song as reference. I thought of using the Cha Cha beat. Luckily for me, he approved of that music very quickly, so everything went smoothly. The whole process took only two or three weeks!
PTU
Lam Suet
"I had been a grip for many years and was getting bored with the job. I wanted a change. I was also interested in acting. So I spoke to Johnnie To. The first film I played in was The Longest Nite but I only appeared very briefly. My first real role was in Where a Good Man Goes."
Running on Karma
Bruce Yu (Production Designer)
"At first we all thought the film was similar to Love on a Diet. It was only when we arrived on set that we realized it was not a comedy but a serious and philosophical story about life."
Throw Down
Yau Nai-hoi (Scriptwriter)
"In effect, this film reflects, to a great degree, Mr. To's ideas. Mr. Wai had initially wanted to make a morale-booster with strong comic elements. But things changed during shooting."
Election
Johnnie To
"My filmmaking career has progressed from exploring, following to self-searching."
Here are just a few scans from the book.
I am not sure if the book is available on the Internet but it can be picked up in Hong Kong at various bookstores.

---