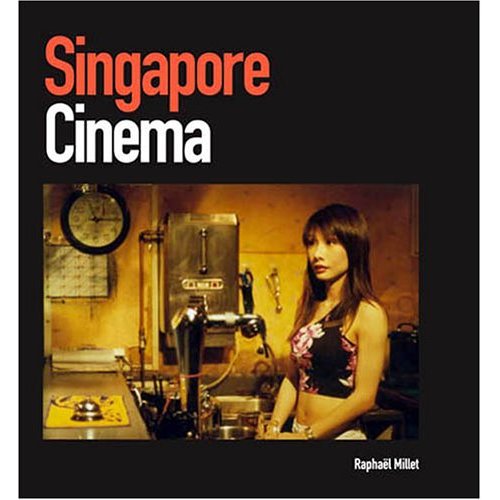 Singapore Cinema
By Raphael Millet
2006
151 pages
Hard Cover

---
Thanks to this work from Raphael Millet, a large veil of obscurity has been lifted from the films and film industry of this small city state tucked away at the end of the Malay peninsula. My guess is that when most people even bother to think about Singapore's film industry they think of it only in terms of the recent spate of small films that have achieved some international exposure over the past five years. In fact as this book makes clear Singapore once had a thriving rich film industry with a large audience base, well known production companies and their own gallery of stars and directors.
There is to some degree a large crossover between Singapore cinema and Malaysian cinema since Singapore was once part of Malaysia until it became independent in 1965, but the writer defines Singapore cinema as films that were produced by companies that were housed in that city even though most of the talent came from outside of the city as well as much of the actual shooting. The growth and development of Singapore cinema had of course an enormous impact on the cinema of another city to its north – Hong Kong. Indeed one could speculate that without Singapore, the Hong Kong film industry would have been a very different animal. Three Singapore companies that first were in the exhibition and distribution business with theater chains around Malaysia eventually went into film production in order to supply themselves with a steady stream of films. These were the Shaw Brothers, Cathay and Kong Ngee (a major producer of Cantonese films in the 1960's with their stable of stars such as Patrick Tse and Connie Chan). The films that these companies produced for a Chinese audience are not really the subject of this book though – those he considers as Hong Kong films – but before moving into Hong Kong film both Shaw and Cathay for a number of years made films for their local Malay audiences.
These local films have an interesting parentage – financed by Chinese owners, the acting talent was primarily Malay and some Indonesians, the language of the films was Malay and many of the directors were Indian or Filipino. Their marketing area was Malaysia and Indonesia, while the overseas Chinese living in these countries were basically ignored in these films and few films were made for that audience – though Chinese films were continuously imported from Hong Kong or Taiwan for them to see. This was the basic arrangement until 1965 whereupon Malay films began being made in Kuala Lumpur and the films that began to be made in Singapore were made for the 70% Chinese audience in the city.
I sighed in relief when I read the author's introduction, "This work is not an academic dissertation. Nor is it loaded with gender, postcolonial, post-structuralist or modernist analyses". Thank god. Instead it is simply a very well-researched and well-written narrative of the history of Singapore cinema. The book is divided into six sections – "Early Days 1902 – 1945", "The Studio Era 1947 – 1972", "Decay and Oblivion 1973 – 1986", "From Survival to Revival 1987 – 2005". These sections are followed by a filmography of many films with some credits and a summary if he knows it. Many of the early films like everywhere else have been lost for good and are impossible to see. The final section is a page on how to find and watch some of these films. There are also many pictures included which is always a big plus for me! I purchased it in the Kinokuniya Book store in the KLCC mall in Kuala Lumpur for 85 Ringits ($23), but it is available on the Internet as well. It is a great addition to the steady flow of books on Asian cinema and one I highly recommend.
Below I have a short timeline of some of the key events in Singapore cinema gathered from this book – to get more detail, please buy the book.

---
1902 – The first public screening of a film in Singapore by a Parsi exhibitor.
1904 – The Paris Cinema became the first legitimate cinema hall
1925 – Runme Shaw moves to Singapore to open the distribution business of the family films being produced in Shanghai
1926 – The first film is shot in Singapore and produced by Liu Peh Jing. It was called "Xin Ke" and was about Chinese immigrants in the city. It was one of the last films shot using the Chinese language and Chinese actors for decades.
1927 – Run Run Shaw joined his brother and they formed the Hai Seng Company – they soon opened their first theater – by the end of the 30's they owned 139 theaters in Malaysia, Singapore, Thailand and Indochina
1934 – "Leila Mujnun" was released and is considered the genesis of the Malay focused films for the next 35 years. It was directed by B.S. Rajhans – brought from India which began a tradition of Indian directors for years to come. It also began a well used theme of films about lovers in different social strata and their difficulties. It had a number of other Indian film influences as well such as songs and dances. Most of the actors came from the "bangsawan" (Malay opera) world.
1935 – Cathay (then called Associated Theaters) entered the exhibition business and began to build and buy theaters around the region.
1938 – The Shaw's begin producing Malay films and made eight features between this year and the advent of WWII. They initially employed Chinese directors from the Mainland but did not have a lot of success with them as they didn't understand the Malay culture.
1939 – The Cathay building goes up – used as the logo in their HK and Malay films.
1941 – The Japanese occupy Singapore and Malaysia and most film production comes to a stop.
1946 - The first film after the end of the war was produced and directed by B.S. Rajhans – "Seruan Merdeka" for an independent company. It was unsuccessful though because the theater chains owned by Shaw and Cathay would not show it – a major reason that no independent film scene ever really took off in these years.
1947 – Shaw formed Malay Film Productions which became their arm for making Malay films. By the time they closed in 1968 they had made about 160 Malay films. B.S. Rajhans became their in-house director and made their first7 films.
1953 – The Cathay-Keris production company was formed by Loke Wan Tho and another successful theater owner, Ho Ah Loke. Under this name they begin producing Malay films. They too were to use Indian directors at first.
1955 – P. Ramlee directs his first film, Penarek Becha, and this multi-talented singer, songwriter and actor begins a trend of a slow shift from Indian to Malay directors.
1955 – Cathay forms MP&GI in Hong Kong to make Chinese films. Kong Ngee at the time was a distributor and exhibitor of Chinese films in Singapore and decided to also get into the production game by forming a company in Hong Kong to make films in Cantonese.
1957 – The first of the Pontianak series produced by Keris-Cathay and directed by B.N. Rao. This Malay version of a female vampire has endured over the decades and was the subject of a big hit in Malaysia in 2004. The first few in the series starred Maria Menado, an Indonesian actress, and this brought her much fame.
1958 – Orang Minyak (Oily Man) – cult horror film directed by L. Krishnan for Keris-Cathay. Other Orang films were to follow and many years later The Shaw Brothers were to make their own version in Hong Kong.
1960 – Merdeka Studio set up in Kuala Lumpur by Ho Ah Loke. This was the beginning of the shift away from Singapore to Malaysia for Malay films. The Shaws were later to buy it and kept producing Malay films until the late 70's.
1961 – Shaw opens their studio in Hong Kong
1966 – The first in a series of Singapore like Bond films were made – starring Jefri Zain in "Gerak Kilat". Two of the sequels were shot by none other than Lo Wei!
1968 – Shaw closes their studio in Singapore
1972 – Cathay closed down their studio in Singapore
1973 – First independent film made in the decade – "Ring of Fury", a kung fu film starring Peter Chong. It was banned though in Singapore due to its portrayal of gangsters and supposed advocacy of vigilantism. From this point on films produced in Singapore were targeted at the Chinese audience.
1977 – Filipino producer Bobby Suarez begins a series of B action films made in Singapore and Malaysia– the most famous being "They Call Her . . . Cleopatra Wong" – starring the lovely 19-year old Marrie Lee from Singapore. This though was the death knell for Singapore films and nothing else was made in Singapore until the early 90's.
1991 – "Medium Rare" was the first local film made in Singapore since Cleopatra Wong, but it starred an American and was directed by a Brit.
1995 – Eric Khoo makes the seminal "Mee Pok Man" and this begins the revival of the Singapore film industry. He follows this up with "12 Storeys" (1997) and "Be with Me" (2005). He also helped produce films that brought forth other film talent – Jack Neo and Roystan Tan.
1998 – The comedy "Money No Enough" starred Jack Neo and became the biggest box-office hit in Singapore history. Other similar films were to follow – "That One No Enough" (directed by Neo).
2002 – "I Not Stupid" directed by Neo receives a fair amount of international exposure. "Homerun" in 2003 did the same.
2003 – Another young director, Roystan Tan, receives much international publicity for his film "15" that delves into the dark side of Singapore.
2005 – "The Maid" a horror film is directed by Kelvin Tong and is picked up by US distributors.

---