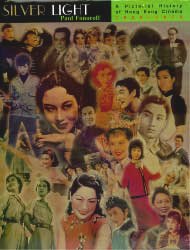 Silver Light: A Pictorial History of Hong Kong Cinema - 1920 -1970
By Paul Fonoroff
Hardcover
216 Pages
Joint Publishing HK

---
With the initial releases of the Shaw Brother films and the likely release of many of the classic Cathay films on the horizon, there has been a real upsurge of interest recently in pre-1970 Hong Kong films. These films hold a real mystery and allure to many as they have been nearly impossible to see for decades and there has been very little information available on this period in film (at least in English).
One of the commentators on a few of the Shaw Brother's DVDs is current HK film critic Paul Fonoroff. Over the years he has received a number of brickbats thrown in his direction due to his often harsh criticisms of Hong Kong films post 1985, but his commentaries leave no doubt of his love for the HK films from the 1950s and 60s. They also leave little doubt as to the huge amount of information that he has somehow accumulated regarding these films and the actors. This obvious affection is also very much reflected in his book Silver Light.
Apparently Fonoroff (who by the way has had cameos in such films as Once Upon a Time in China II, Final Option and Fight Back to School II among others) has been collecting HK film memorabilia for many years – posters, pictures, magazines and handbills. His collection is quite amazing and he shares some of it with us in this marvelous tribute to the HK films from a past age. This book is chock full of wonderful images (400 of them) of films from long ago – bringing a lovely hint of a world that has nearly vanished except in the memories of the people who saw them. Simply leafing through the book and gazing upon the pictures of stars that I knew little about made me curious to know more about them – stars like Linda Lin Dai, Grace Chang, Betty Loh Di and Li Lihua who seemed to contain a cool sleek glamour that almost doesn't exist in this day and age.
The first picture of a Hong Kong star is from a 1924 movie magazine called Silver Light and the book then chronicles the years and films up until 1970. With each picture Fonoroff writes up a little blurb explaining who is in the shot and what film it is from and often handing out wonderful bits of information on the actors. It is a fabulous and glorious compilation of pictures that begins to uncover these lost years of film and makes you yearn for more. Thankfully with the releases of some of these films, this yearning can now be fulfilled to some degree.
The book unfortunately is not the easiest to find – I purchased my copy in Hong Kong but you can try to get it online. Some possible sites are:
www.oldbookroom.com
www.chinabooks.com
www.buchhandlung-walther-koenig.de
Its not the cheapest of books, but one that I am very glad to own.

---