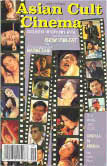 Asian Cult Cinema Magazine
edited by Thomas Weisser
E-mail - AsCuCinema@aol.com
$6
---
Issued on a bi-monthly basis, the editor is Thomas Weisser - same author as of the Asian Trash Cinema books. I use to enjoy this a lot more than I do now, though I still pick it up at the newsstands when I see it. The focus seems to have become even more obsessed with Japanese Pink films (sexually oriented films) that don't hold a lot of interest to me. HK films are often paid scant attention and the contemporary HK films get practically no ink. It seems to me that a magazine should cover new films - not just the same old stuff.

You will sometimes get a good article that will cover some subject in depth, but more often than not it is some S&M Japanese film.

Be careful - the back cover always displays a scantily clad Japanese actress on it as I once discovered to some embarrassment while reading it on a NY subway.

---