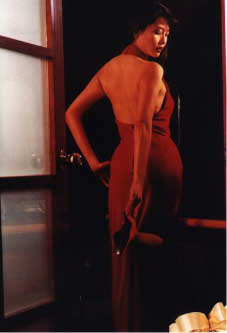 ---
People talk about Chingmy not being able to act. To me that's like complaining that Mark McGuire can't bunt. People don't pay to watch McGuire bunt and people don't pay to see Chingmy act. They come to see Chingmy because she is simply the sexiest actress in the world. It's just there - in the way she moves, the way she flirts, the way she smiles. If you don't feel that sexual energy from your seat, I would advise a check-up with your doctor. Have him see if your pulse is still beating.
She has also had the good fortune (due admittedly to her relationship with Wong Jing) to appear in a number of good films along with some great co-stars such as Jackie Chan, Chow Yun Fat and Jet Li. But she holds her own. My eyes are always following her every move. I would also argue that within the range of films that she chooses - light comedy to cartoon like action to provocative roles- she excels. I think she is a fine comedian and like another Sex Goddess - Marilyn Monroe - I think an appreciation for her acting will surface at some point in the future.
---
Naked Killer - this sizzling exploitation fare made Chingmy into the sex goddess of HK. From hot pants to evening gown, she just devours the screen with her purring sexuality. A sex icon is born.


City Hunter - Chingmy brings a zestful zip to this Jackie Chan cartoon like movie. As a rival detective, she looks so good that you barely notice that short guy next to her.


Kung Fu Cult Master - Chingmy saves Jet Liís life in this fantasy kung fu feast and looks so good doing it.


I am your Birthday Cake - strictly for the Chingmyphiles like myself. A silly film in which she metamorphasizes butterfly like from a studious sedate woman into . . . well Chingmy and all that implies.


Lover of the Last Empress - I think she was actually trying to do some acting in this one - but somehow her role as a concubine learning how to be sexy and provocative was not a big stretch for Chingmy.


God of Gamblerís Return - secondary role to Chow Yun Fat, but when she slides down that banister with gun blazing it made the movie for me.


Raped by an Angel - a pretty awful movie by most standards, but the one scene of Chingmy intentionally luring a rapist by performing a strip tease is worthy of a visit.


Street Angels - Chingmy in the world of hostess bars and triad members is as you might imagine somewhat trashy, but having her partnered along with Hsu Chi is a delight to the senses.


1941 Hong Kong on Fire - Chingmy and her sister Veronica Yip are amazingly intense in this otherwise exploitive film about surviving under Japanese rule.


Ghost Lantern - wonderfully played out by Chingmy and Tony Leung Ka Fai as their love withstands the test of time and death. Chingmy makes for a very beautiful ghost!
Hold You Tight - Stanley Kwan gives Chingmy an opportunity to act and she does a wonderful job in this very intimate look at relationships and sexuality.



---