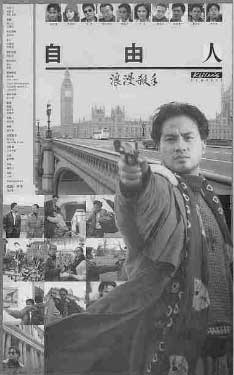 ---
Simon Yam is easily the most versatile actor in HK. He can be incredibly smooth and charismatic as in A Bullet in the Head or vicious beyond belief as in Dr Lamb. But like Michael Caine, Yam can be justly accused of taking just about any work for a paycheck. He has acted in nearly one hundred films. So he has shown up in a lot of really bad films - sometimes only for a few minutes - but even in these he classes up the screen with the style he always brings with him.
---
Bullet in the Head - He is not one of the three main characters, but as a CIA agent in war torn Saigon, I thought he stole the show. I came away from that film thinking who was that guy and why isnít he a major star. He just exudes charisma in this film.


Police Confidential - In this edgy Kirk Wong production, Yam plays a slightly bent cop, who is framed for murder and embezzlement. He is terrific as he fights against the powers that be.


Scarred Memory - A masterful performance here as Yam plays an ex-triad thug who has been beaten so badly that he is now a bit of a simpleton. With the help of the delicious Veronica Yip, he regains his mental health and finds his humanity.


Full Contact - Yamís most flamboyant role as he plays a vicious homosexual killer to the hilt and seems to be enjoying every moment of it especially when he coos to Chow Yun Fat ďYouíre the one I admire most. What a pity I canít sleep with you. You are so cruel. I want to die with youĒ.


Naked Killer - itís tough sharing the screen with hot as a poached egg Chingmy Yau, but Simon almost keeps his own in this classic film. He is a cop who is as impotent with a gun as with a woman until the sight of Chingmy recharges his batteries of lust.


Casino - Yam plays the top triad leader on the island of Macao - from his beginnings to his arrest. The film itself gets a bit tiresome in it's recurring violence, but Yam puts in an excellent charming yet deadly performance.


Bullet for Hire - Yam is an old fashioned hitman in this small but enjoyable tale of loyalty and honor.


Crystal Fortune Run - in this slight high spirited stylish action tale, Yam is just an ordinary booze drinking cop being buffeted between heroines Anita Yuen and Man Cheung. Fun little film to try and follow.
Gigolo and Whore - Simon has played a gigolo in a number of films. His sleek looks and classy personality make this a natural fit. In this one he teaches Carina Lau to be the perfect prostitute.



---

Click to see a few non-movie pictures of Simon Yam

---


To see other references for this actor on this site - simply enter the name below.




---