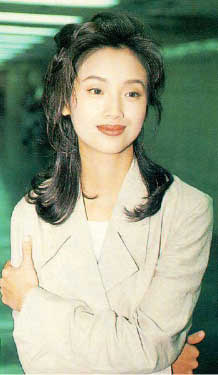 ---
The first time I saw Wu Chien-lien (often referred to as Ng Sin-Lin) in the film Eat Drink Man Woman I was enthralled. Her face is near perfection. I am not sure why exactly, but it has a combination of angles and lines that is so elegant and yet still sweet and welcoming. When she smiles it seemingly comes from the heart. I was thrilled when I later discovered that she was a star in HK films and I have seen a few, but need to catch a number of others. I would love to see her in more Taiwanese films because I think her best work that I have seen so far was in Eat Drink. She needs more opportunities like that to play real grown up characters.
---
Eat Drink Man Woman - this Taiwanese family drama with elements of comedy is easily one of my favorite films . WC-l is the middle daughter in a family of three girls and their widowed father. The story revolves around each girl and her relationship with the father and the other men in their lives. WC-l is simply wonderful as she gives a poignant, multi-faceted performance. It was love at first sight for me. Before you start watching though, I advise that you order some Chinese food to be delivered because believe me the craving for it will come soon into this film.


Beyond Hypothermia - WC-l plays against type here as a professional killer with no room inside for emotion or sentiment until she meets a gentle noodle maker.


Treasure Hunt - an interesting, but flawed film in which WC-l teams up with Chow Yun Fat. WC-l lights up the screen whenever she is on it as she plays a woman with mysterious magical powers.


Moment of Romance I - this 1990 film spring boarded WC-l to popularity in HK. In this one, Andy Lau and the gang he is in kidnaps her as a hostage after a robbery. Later he is told to kill her. Not surprisingly, he prefers kissing that sweet face to putting a bullet in it.


Moment of Romance II - Three years later they came out with this one, but it actually has no relation to the first one besides WC-l starring in it and it being a marshmallow romantic story. In this one it is Aaron Kwok who falls under her spell.


The Returning - one of her best performances as she plays a woman who has moved in to the house of a long dead - from suicide - HK writer and slowly WC-l is possessed by her spirit.