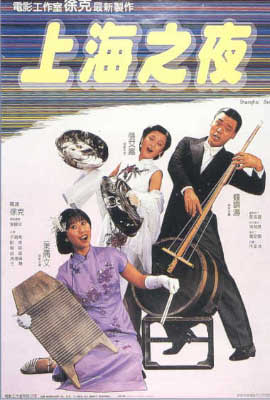 Shanghai Blues
---
Without a doubt, the creative explosion of HK films in the 1980's was to a very large degree due to the creative presence of Tsui Hark. Either as director or producer he was behind many of the great classics and most of the trends that shook the HK film industry. The incredible thing is not only the quality of so many of his films, but also the genre hopping that took place. Heroic bloodshed, the supernatural, kung fu, fantasy, comedy were all covered by Tsui Hark in a brilliant and innovative manner.
He went to film school in Texas and brought back to HK a wonderful insight into mixing elements of the western and HK film styles. Unfortunately, his recent forays into the world of Hollywood and Van Damme have shown very little of this enormous talent to American audiences, but I will gladly match up his filmography against anyone in HK or out. I think he is one of the most influential film artists of our time. Following is a list of some of these films in chronological order. It is an inspirational and mind-blowing list.

---
1983 - Zu:Warriors of the Magic Mountain (Dir)
1984 - Shanghai Blues (Dir)
1986 - Peking Opera Blues (Dir)
1986 - A Better Tomorrow - (Prod)
1987 - Chinese Ghost Story (Prod)
1988 - I Love Maria (Prod)
1990 - Once Upon a Time in China (Dir)
1990 - Swordsman II (Dir)
1992 - Dragon Inn (Prod)
1992 - Wicked City (Prod)
1993 - Iron Monkey (Prod)
1995 - Love in the Time of Twilight (Dir)
1995 - Chinese Feast (Dir)
1995 - The Blade (Dir)
---
To see other references for this actor on this site - simply enter the name below.
---