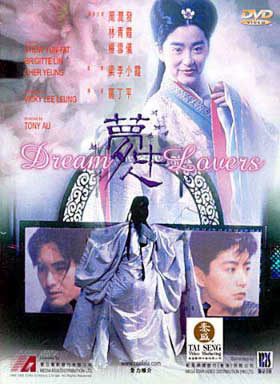 ---
Even though the vast majority of western viewers first got into HK cinema because of the incredible action films and action stars, at some point they will discover that HK has quality films of every genre. There are many films that will touch your heart and perhaps make you cry. Here are some of my very favorite romantic love stories.
---
A Fishy Story - this is a lovely fairy tale based on Breakfast at Tiffanys. Maggie Cheung is delightful and never lovelier as the Holly Golightly character. This film is pure class and charm.


Roof with a View - Tony Leung Ka-Fai and Veronica Yip are lonely next door neighbors who are just meant for one another.


Lost and Found - Kelly Chan discovers that she is dying and then embarks on a journey of discovery and love in this incredibly touching film.
Fly Me to Polaris - as emotionally manipulative as this film may be, it is hard to not fall into its sentimental clutches. A dead man has five days to spend on earth to see the woman he loves - but he can't tell her who he was. Cecilia Cheung is perfect as the object of his love.


Shanghai Blues - one of the most joyful films I have ever seen. Two strangers meet under a bridge during war time, fall in love and promise to meet after the war. This film will both move you and make you laugh uncontrollably at times.


Love in the Time of Twilight - delightful and very amusing love story of two people fated for one another - but first he has to die and come back in time for them to realize this.
Dream Lovers - Chow Yun Fat and Brigitte Lin play two couples - one long ago in the past and their re-incarnated souls in the present. They begin to dream of their past lives and have to come to terms with what this means.
An Autumn's Tale - Chow Yun Fat stars in another wonderfully poignant and heartfelt romance. Cherie Chung comes to America and initially looks down on her somewhat uncouth distant cousin - but slowly they come to realize how much they mean to one another.
He's a Woman, She's a Man - this UFO production hits all the right notes and the result is an exuberant story of finding love among a great deal of sexual and gender confusion.
Eight Taels of Gold - one generally would not think of Sammo Hung as a romantic lead, but he is perfect in this bittersweet tale of love and lost opportunities.
City of Glass - this is a beautifully produced film of two lovers - Hsu Chi and Leon Lai - who die in the first scene of the movie. The film then goes back in time and traces the ups and downs of their relationship over many years. It is very nostalgic and very touching at times.
King of Comedy - this Stephen Chow film focuses more on character and relationships than any of his previous films and the results are charming, funny and thoroughly enjoyable. Cecila Chung is simply amazing in her debut film as a hostess girl with a heart of gold.



---