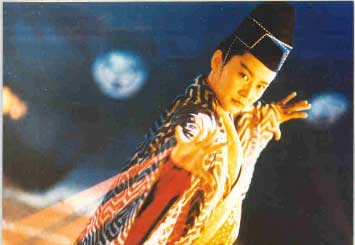 ---
A HK Icon. This Taiwanese actress dominates the screen like very few actors ever. Her every scowl, glare or teasing smile is like a bolt of electricity. During the 1980's & 90's she was cast in a number of fabulous fantasy themed films in which she displayed enormous magical powers - sometimes on the side of good; sometimes not. In her classic film Swordsman II she plays an evil sexually ambiguous tyrant, yet you can't help but be hypnotized by her magnetic screen presence.
After her marriage to a Hong Kong businessman, Brigitte retired from the film business. There are rumors from time to time about a possible return, but she appears to be very happy being a mother and wife. We can only hope that she is offered a film worthy of her comeback.
Here is an interesting if slightly academic article on Brigitte that was published in Film Comment in 1996.
---
Peking Opera Blues- Brigitte as the daughter who has to betray her father for the sake of her country is the centerpiece of this brilliant heartfelt film.


Swordmans II - the role of Asia the Invincible is one for the ages. She or is it he? - is absolutely electrifying on the screen in this fantasy action sexually ambiguous outing.


Dragon Inn - in this remake of the classic King Hu film, Brigitte plays a heroic swordswoman fighting against the evil forces of the imperial Eunuch.


East is Red - Brigitte returns as Asia the Invincible and is as fascinating a character as ever.


Fire Dragon - in this one Brigitte plays a woman with the ability to throw fire balls and other incendiary objects at her enemies. She begins on the side of the bad guy, but love brings her over!


Deadful Melody - another wonderful baleful glowering performance from Brigitte as she uses the destructive powers of a magic lyre to revenge the death of her parents.


Dream Lovers - Brigitte is amazingly good in this very adult film as she pairs off with Chow Yun Fat in a brilliant and moving love story that crosses lifetimes.


Chungking Express- Wong Kar Wai picked Brigitte to play the mysterious hit woman in the blonde wig, sunglasses and bright red lipstick in this intriguing confection of a film. It turned out to be her last film before her much too early retirement.


Ashes of Time - Just before Chungking Express, Wong Kar Wai also cast Brigitte as the tragic character Yin/Yang in this beautiful film. The images of her in this film are breathtaking and unforgettable.


Amazon Commandos- doing her best Snake Pliskin imitation, Brigitte has to seen to be believed in this wonderfully cheesy action outing.
Handsome Siblings- Brigitte plays a kung-fu master who loses her heart to the handsome Andy Lau and only their love can defeat the deadly Ice Palm in this schizophrenic wushu film.



---


And some additional picks from YTSL

Red Dust - Brigitte gives a very moving portrayal of an eccentric and largely luckless author in this period melodrama which swept the Taiwanese Golden Horse awards (and won Brigitte a coveted Best Actress prize).

The Bride with White Hair - Brigitte is both the title character and heart of this romantic martial fantasy drama which also stars Leslie Cheung. Director Ronnie Yu and cinematographer Peter Pau really know how to highlight her very expressive eyes as well as other physical attributes.

Boys Are Easy - The Brigitte-Tony Leung Kar Fai tough cop-effete gigolo pairing is the funniest of this comedy about three sisters who scamper to get boyfriends in the most unorthodox ways upon thinking that their father is dying and knowing that he would like to see them in relationships before he departs from the realm of the living.

Run Lover Run - In the best and funniest of the old (1970s-early 1980s) Taiwanese Brigitte movies Iíve seen thus far, the young Lin Ching-Hsia plays a carefree athletic college student whose mother is desperate to get her married off to a friend of the leggy lassí elder brother.


---

Some non-movie pictures of Brigitte Lin


---

To see other references for this actor on this site - simply enter the name below or go to her review section here.


---