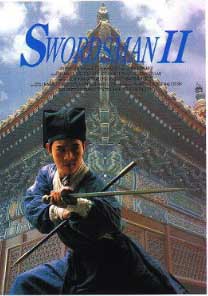 ---
There are still a number of Jet Li films that I have yet to see which will explain their absence from this list. All of the Once Upon a Time films or the Fong Sai Yuk films for a starter. I will certainly see them in the future. Many people in fact list some of those as his very best, but even so the ones listed below certainly showcase his amazing speed, agility and incredible body control along with his wonderful boyish charm.
An excellent overview of Jet's career by Trish Maunder can be located here on the Internet

---
My Father is a Hero - my favorite acting performance from Jet Li who as an undercover cop has to pretend even to his wife and child that he is a criminal. Some terrific action sequences as he goes up against Yu Rong Guang with the assistance of Anita Mui and Tze Miu.


Swordsman II - Jet Li and Brigitte Lin fight and play with each other across an incredible brightly colored canvass of a film that never fails to amaze.


Tai Chi Master - the film has some down time, but the action scenes - though wired to the hilt - are terrific as Jet and Michelle Yeoh take on an entire army of warriors.


Kung Fu Cult Master - another fantasy almost drug induced film with Jet Li having some stunningly imaginative wire action sequences.


New Legend of Shaolin - here Jet Li teams up with Chingmy and Tze Miu to fight off the villains in this entertaining though at times quite silly film.


Black Mask - stylish, futuristic film with Jet Li as a humble super hero fighting to save HK.


High Risk - Jet Li races through this over the top Die Hard type film with great ease and humor. Many people seem to have disdain for this film, but it's never stop to get your breath pace was great fun for me.
Fist of Legend - the fight choreography in this film is simply stunning - so pure so clean so graceful. And the action is set against the background of a fascinating period of history. This is a must see film.
Shaolin Temple - this is the first film that Jet did in 1982 and though it is a very traditional kung-fu film it very much showcases his wonderful abilities. There is very little wire work and Jet utilizes nothing but raw talent.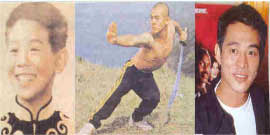 ---
YTSLís additional picks
Once Upon a Time in China I - This powerful offering packs a punch in the action and dramatic departments, and Jet Liís portrayal of the patriotic -- but not necessarily anti-Western -- Wong Fei Hung lies right at the heart of it.
Once Upon a Time in China II - The first sequel to OUATIC I features more action than the first film of the series (to take advantage of Jet Liís Master Wong having not one but two worthy opponents in the form of characters played by Donnie Yen and Xiong Xin Xin), and thus may well be the most loved by fight fiends of this series of Tsui Hark productions.
Once Upon a Time in China III - A ďmust seeĒ movie for those who are lion dance enthusiasts, this work also has much to offer those (others) who appreciate Jet Liís martial artistic moves and/or boyish charm.
Fong Sai Yuk - No one who sees this often light-hearted feeling kung fu film -- that also has its share of dramatically emotional moments -- will ever accuse Jet Li of being incapable of looking anything other than angry or stone-faced.
Hitman - Seemingly disliked by many Jet Li fans (in part because its headlined star has to share a substantial amount of screen time with other actors, notably Eric Tsang), the sole Hong Kong production in which Jetís real voice can be heard is nevertheless one that I enjoyed viewing (in large part because it has this physically cute guy showing an attractive gentler side to his character than usual).

---