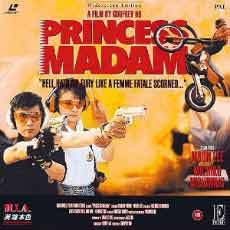 ---
Woman warriors have long been a staple of HK films. I am not sure whether this tradition is steeped in their history and folk tales or if it is a creation of the movies, but even in the kung fu flicks of the 1960's and 1970's actresses such as Ivy Ling, Angela Mao, Judy Lee, Polly Shang Kwan among others performed in some great fierce action roles.
But it was really in the 1980s, that this genre came into its' own when Michelle Yeoh, Moon Lee, Cynthia Khan, Yukuri Oshima and many others took it to a new realm of over the top violence and stunts. The Girls with Guns genre was born. I love these films. Many of them are totally ridiculous and made on a very low budget but the women have such charisma that I can enjoy watching even the worst of them. Unfortunately, at least for now this genre seems to have passed its peak and is no longer in vogue - but here are a few to get started with.
---
Yes Madam - The popularity of this 1985 film starring Michelle Yeoh and Cynthia Rothrock established the "girls with guns" genre as a respected form of movie making. There are some slow periods in this film - but when Michelle and Cynthia are beating up on the bad guys it is a revelation. The last 20 minute fight with the two of them taking on a roomful of men is astonishing and therapeutic.


Beyond Hypothermia - cool and sleek and often filmed in blue hues, this story of an emotionally detached professional hit person - the stunning Wu Chien-lien - who kills with no pity or remorse is hypnotic. The last bloody carnage is a slap in the face.


Black Cat - Jade Leung - doing a remake of La Femme Nikita - displays a feral intensity as a CIA trained killer that I find somehow very sexy and alluring.


In the Line of Duty III - Cynthia Khan took over for Michelle Yeoh in this series and though she does not have Michelle's grace, she certainly gives it everything she has. Some great intense fight scenes; in particular her final confrontation against Michiko Nichiwaki and Dick Wei.


Princess Madam - Moon Lee and Sharon Yeung as cops team up against the evil Michiko Nishiwaki in this amazing twisting over the top action film. Absolutely body check fight scenes.


Dreaming the Reality - Moon Lee and Yukari Oshima are brought up and trained to be perfect killing machines by their foster-father, Eddie Ko. Complications arise which forces them to go against each other in what is easily one of the very best Girls with Guns films.


Beauty Investigators - great little film as two novice policewoman - Moon Lee & Kim Je Xee - investigate a nightclub for a serial killer and come across a professional Japanese killer - Yukari Oshima.


In the Line of Duty IV - Cynthia Khan returns - teamed up with Donnie Yen - in this action packed - never leave time to worry about the ridiculous plot - film. Some terrific fighting from Donnie - and Cynthia fighting on top of the moving ambulance is wonderful.


She Shoots Straight - an incredibly intense film that has layers beyond the typical GwithGuns film. Joyce Godenzi dazzles and Carina Lau goes ballistic - this is simply a brilliant film.


Royal Warriors - Michelle Yeoh's follow up to Yes Madam is full of incredible action, but at times it is quite intense and downbeat. Her final drag out fight leaves you breathless and in a state of exhaustion.


My Young Auntie - a much earlier and gentler film in which Kara Hui Ying-Hung uses wonderful kung fu to show up her evil relative. This film is just a perfect delight with amazingly synchronized kung fu routines.
Her Name is Cat - the Girls with Guns genre was pretty close to dead when this 1998 film gave it a bit of spark. Almen Wong is glorious and though the film has its weaknesses it is worth it to catch Almen do her thing.



---