To Live and Die in Tsimshatsui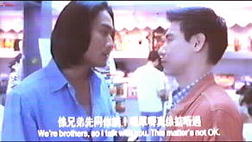 ---
Another triad tale from HK, but I thought this one was very intriguing and involving even if it covers familiar ground. At the core of the film is a surprisingly good performance from Jacky Cheung. I say surprisingly because he has been known to overact (thatís putting it kindly) from time to time, but here he captures the confused and tortured soul of his character very well.
Jacky is an undercover cop who has infiltrated a triad gang run by Coffin Sing, a man that he clearly admires. In the opening scene Jacky stares in the mirror and asks himself ďAm I a man or a ghost?. Can I betray my friend?Ē. He does as he notifies the cops where to locate Coffin and in the ensuing arrest Coffin is shot dead. In the aftermath of his death, the triad splits into two camps - one run by Roy Cheung and the other by some nasty tattooed type. Jacky sides with Roy while his friend another undercover cop - Ah Bong - joins the other group.
Other complications and characters soon enter the film. Jacky and Ah Bong meet Tony Leung Ka-Fai during a barroom brawl and they become good friends. Into that same bar slinks Wu Chien-lien in aviator sunglasses and a white mini-skirt causing many heads to spin. It turns out that she is the foul mouthed sister of Roy Cheung but underneath the hard veneer she is someone desperately in need of love.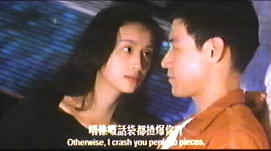 Roy Cheung turns out to be a fairly good guy and again Jacky is again faced with the same dilemma. At the same time the unavoidable confrontation between the two triad groups comes closer and closer and Jacky has nowhere to turn.
The film is very well paced and the interaction between the triad groups and among themselves seemed very interesting and real to me (though I obviously have no idea how triads behave!). There were some nice twists and well played characters throughout the film. Shing Fui-On as a veteran cop, Gigi Lai as Jackyís girlfriend and Xiong Xin-Xin as a killer also do good jobs. There is not a lot of action, but it is well done and fits realistically into the framework of the plot.
For those who donít know, Tsimshatsui is a neighborhood in Kowloon - first stop off the train from Central - where there are many nightclubs and associated activities.
---